Why getting your flu vaccine is more important than ever
Fever. Cough. Muscle pain. Sore throat. Headache. Lack of energy. Difficulty breathing. When we hear these symptoms we may think of COVID-19. However, it's that time of year when we must again start to consider influenza (flu).
The flu vaccine is recommended every year for everyone ages six months and older – and now is the time to plan how you will get your family vaccinated. The vaccine is updated annually with strains of the flu virus that are expected to circulate through the community.
This year's vaccine covers four types of flu, three of which are different from last year's vaccine. It takes about two weeks for antibodies to develop in your body (to have protection from the vaccine), so it's best to get vaccinated by September or October.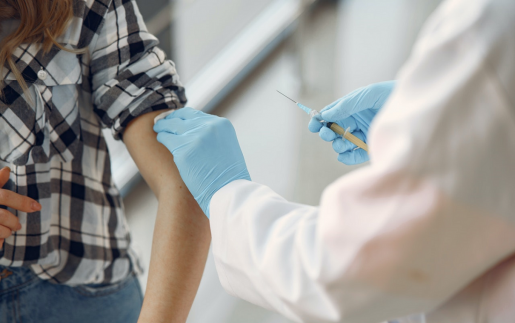 If you've opted to vaccinate yourself and your family against the flu in the past, thank you for doing your part to prevent community spread, excess office visits, hospitalizations, and deaths due to the flu. If you've declined the flu vaccine in the past, for one reason or another, this is the year to reconsider the importance of protecting yourself and others.
We do not want to see families suffering with both flu and COVID-19 at the same time – as having one viral infection can make it easier for another virus to make you very sick. In addition, our hospitals, medical staff, school systems, small businesses and other vulnerable populations should not have to handle the preventable burden that widespread flu activity would bring to a community already struggling with COVID-19.
The flu affects individuals differently, but can lead to hospitalization and death, even in previously healthy people. While children with COVID-19 have been shown to have much milder illness compared with adults, the same cannot be said for flu. Last flu season, record numbers of children were hospitalized with the flu, requiring oxygen support or mechanical ventilators to help them breathe, chest tubes to drain infection from their lungs, and fluids through IVs for hydration.
Approximately 50% of children who are hospitalized from the flu every year were previously healthy. Groups who are considered especially high risk for complications from the flu include young children, older adults, pregnant women and anyone with chronic conditions like asthma or other lung disease, obesity, heart disease or kidney disease.
Fortunately, many of the strategies we use to prevent the spread of COVID-19 will also help curb the spread of influenza.  Currently, the Southern hemisphere is seeing less flu transmission due to public health measures put in place for COVID-19, such as face coverings and social distancing. Hand washing, frequent surface disinfecting, and avoiding sick contacts are other strategies that will help prevent the spread of both the flu and COVID-19.
Still, it is the flu shot that has been shown to be the most effective intervention we have to prevent flu transmission and hospitalizations. Remember – the flu shot is safe, and you cannot get the flu from the flu shot. If you are vaccinated but still get the flu, you're less likely to experience a complication, be hospitalized, or die from the flu. In 2019, 188 children died from the flu in the U.S. Historically, up to 80% of flu deaths in children ages six months and older have been in unvaccinated children.
As children return to in-person school and businesses open with fewer restrictions, please make sure you and your family get protected and help prevent a catastrophic outbreak of influenza in a community trying to stay afloat in the midst of COVID-19.
Call your doctor to schedule your family's vaccinations. You can also find a flu vaccine near you.
-By Dr. Amira Said, a pediatric resident physician at Texas Children's Hospital and Baylor College of Medicine and Dr. Claire Bocchini, a pediatric infectious disease specialist at Texas Children's Hospital and Baylor College of Medicine