The journey to ENT: An interview with Dr. Julina Ongkasuwan
Editor's note: This is the third in a series of Progress Notes posts featuring Baylor College of Medicine students interviewing physicians and faculty members in recognition of Women's History Month 2020. Read post one and post two.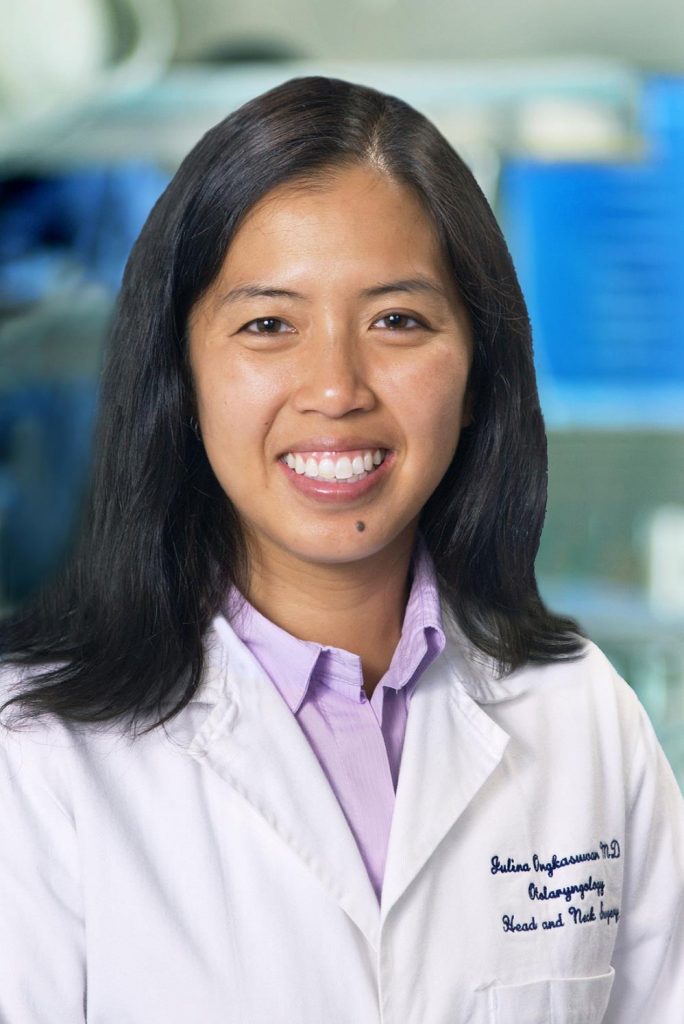 In this post, Claire Chapel talks with Dr. Julina Ongkasuwan.
Dr. Julina Ongkasuwan is an assistant professor of otolaryngology at Baylor College of Medicine and director of the Pediatric Voice Clinic at Texas Children's Hospital. She trained at Baylor and the University of California-San Francisco and specializes in pediatric otolaryngology and laryngology, specifically care of the professional voice.
Her depth of knowledge and passion for teaching has been a great inspiration to me early in my medical career. The following is a Q&A reflecting on her decision to pursue ENT and laryngology, her career, and advice for young trainees.
Q: Why did you choose ENT/laryngology as a specialty?
A: Well, I always think the first decision point is medicine vs. surgery. I like working with my hands – I used to sew as a kid and craft and make clothes. Surgery suited that fidgety aspect of my personality. I liked the finesse of what is required in ENT. Also, the ENTs I met in med school were so nice! I felt like they were so normal.
I didn't decide on pediatrics or laryngology until very late in my training. I encourage most of our residents to not subspecialize too early because I think it's important to get a broad training. I like to sing, but I am not very good, so I love laryngology. I love the larynx and the instrument, and I like being around singers. Then, I chose pediatrics because kids are fun.
Q: What advice would you give your younger self?
A: I did not have a life during training. I did not have a life outside of residency. But we worked a lot, so my whole life revolved around work. It still does, frankly. And I don't mind… especially because my husband was a surgery resident while I was an ENT resident, so our entire life was here. My best friends were here, and still are, at work. I think it depends on what you want. It makes it easier to work because I love the people I work with.
Q: What advice do you have for early medical learners experiencing failure?
A: When we look at applicants, grit is so important. Being able to work through your failures and persist through them. Intelligence only takes you so far. In surgery, some of it is just pure brute force to get through it.
There's a line in Hamilton that I like: "All I have is a tolerance for pain, a couple of college credits, and a top-notch brain." I feel like this epitomizes all of medical school and residency – because you've got some schooling, but it's the tolerance for pain that matters. If a paper gets rejected, you just have to take a deep breath, look at the criticisms, take them to heart, try to incorporate them, and try again. You are going to get rejected. And you totally have to be sad and angry about it, then move forward and try again.
Q: What experiences do you think are unique to women in the field?
A: The children component is unique, no doubt. Being pregnant. Operating while pregnant. Being on maternity leave. When you've worked really hard to build referrals, leaving for three months is hard.
Deciding when to have kids is also difficult. There's no good time to have kids. I had the privilege of being younger when I was going through training, so I waited. But not all of our trainees have that privilege.
My husband is awesome and very supportive. We split child-care evenly. But still, the bulk of parenting still falls on the mom. If you're breastfeeding, nobody else is getting up in the middle of the night with the kid. You're getting up, every night for that period of time. Plus taking calls. Plus working. Plus pumping during the day. It's just completely exhausting. At the same time, you're on tenure track and trying to build your career.
Q: Do you have any ideas on how to get more women interested in surgical subspecialties, and how to retain them in the field?
A: I am not aware of a huge rate of drop out. Everyone I know who has had a kid has come back to work. I do think it's different than some of the other subspecialties in that way. There is an active effort to make sure we match women into our program. We also have to mentor and conduct research with female med students to help bolster their CVs so they can match into good programs.
–By Claire Chapel, second-year medical student at Baylor College of Medicine