The path to gynecologic oncology: Q&A with Dr. Tracilyn Hall
Editor's note: This is the fourth in a series of Progress Notes posts featuring Baylor College of Medicine students interviewing physicians and faculty members in recognition of Women's History Month 2020. Read post one, post two, and post three.
In this post, Brielle Crovetti talks with Dr. Tracilyn Hall.
Dr. Tracilyn Hall is a gynecologic oncology surgeon who is currently in her fourth year as a Baylor College of Medicine faculty member after finishing her fellowship at Harvard.
After sitting down with Dr. Hall, I was inspired and motivated to give it my all every day to achieve my end goal of becoming a powerful woman in medicine.
Q: What was your path to becoming a gynecologic oncology surgeon?
A: I went to medical school at Texas Tech and I was in Lubbock for the first two pre-clinical years. I then finished my two clinical years in El Paso, where I developed a passion for operating. Based on my clinical experiences, I knew it was either going to be general surgery or obstetrics and gynecology.
A good family friend of mine let me work in her Ob/Gyn office as a medical assistant during the summer, and I fell in love with the gynecologic part of the specialty. Having trained in El Paso, I knew that a lot of women who didn't have access to care would go on to develop advanced cancers. I ended up doing my Ob/Gyn residency at Methodist Hospital and Baylor, and my time there finalized my decision to become a gynecologic oncologist surgeon.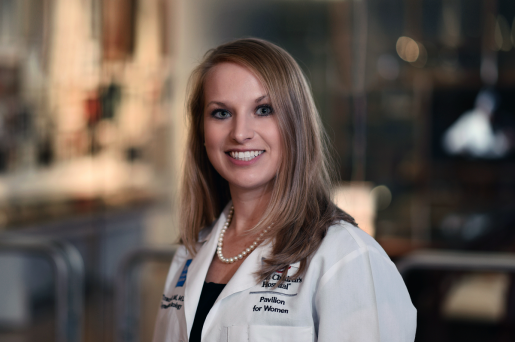 Q: Do you have any advice for physicians in training on how to choose their specialty?
A: We, as medical providers, are passionate and privileged to have the opportunity to help our patients. We are driven, but life happens. Life happens as a student, as a resident, and as a fellow so knowing that you could stop at any of those landmarks and be happy is something to consider. My mentor told me to choose a residency that I would be happy pursuing a career in regardless of if I continued on to fellowship, so I also encourage the same.
Additionally, I am proud that I spent the extra time and appreciated all of the training during residency, even though I knew I didn't want to deliver babies forever because it made me a better surgeon. For example, I feel confident when I am called into a C-section delivery room, because I can think back to my training and can better help my patients. It is important to recognize that even if you are doing something in your training that you don't plan to do in the long run, you can still learn from it.
Q: What does a normal day look like for you?
A: It varies and depends on if I am on service or not. Typically, I do two days in the OR, two days of clinic, and one day that is either a mix of administration time, didactics for residents and medical students, or overflow clinic. In reflecting on my schedule and typical workday, I encourage others to pay attention to the practice set up wherever you go, because there is always a tradeoff. For example, a smaller practice gives you more autonomy but a larger practice may allow you more personal time.
Q: Did you ever run into a situation where being a woman really played a role in your final decision?
A: Absolutely. I have had some attendings make comments such as: "You can't be a good surgeon and a mom because you can't be a good surgeon if you aren't in the OR all the time."
Looking back at their perspective, I think they meant it as a genuine statement. I do agree that a big part of being in the OR is repetition and practice. However, there are certain life decisions and hurdles that female physicians face that are completely warranted.
For example, I am finished with all my training, double board certified, but still single and without kids. Would I have wanted to do anything to preserve my fertility? It is helpful, especially as a woman, to have those conversations and reflections with yourself as well as a good mentor. There are many ways to fulfill maternal aspirations, and it is a deeply personal decision that I think everyone should think about, but it should not limit you. These decisions should play a role in your career path because everyone wants something different in life. We each have different gifts and passions and that is what makes the world interesting.
Q: Any final words of wisdom?
A: The big thing with being a woman in surgery is realizing that any single one of us is capable of being a phenomenal surgeon and still being a great mom, wife, mentor, and/or great teacher. It's all just a matter of about how you go about doing it. For any one person who discourages you, there is someone else who encourages you.
-By Brielle Crovetti, second-year medical student at Baylor College of Medicine