Life after weight loss surgery: Gaining a new perspective
On Nov. 26, 2018, Gayle Steinberg underwent a surgery that would change her life forever. As a lifelong dieter who had battled with her weight for as long as she could remember, Gayle had a gastric sleeve surgery, also known as a vertical sleeve gastrectomy. The procedure involves the removal of a portion of the stomach, which results in reduced food intake and, eventually, weight loss.
"As I got older, my weight became more of a struggle," she said. "I considered surgery in the past, but I've always had a fear of anesthesia and never really felt it was the right time. I got to a point where it was difficult for me to get through the day. If I had a meeting across campus, I would be winded before I got there. I was starting to feel my age at 63."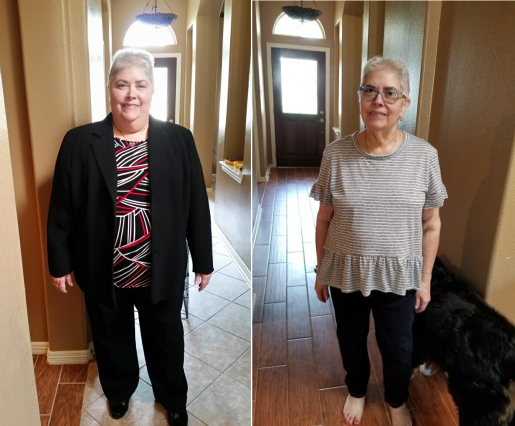 Prior to surgery, Gayle was familiar with what the process would entail. She has been a nurse for 41 years and has worked alongside surgeons from several specialties, including bariatrics, for 30 years. Currently, she is the Director of Perioperative Services at Baylor St. Luke's Medical Center.
After working with Dr. Carlos Galvani, a bariatric surgeon at Baylor College of Medicine, Gayle decided that she would move ahead with the procedure. Galvani would be her surgeon.
In addition to being overweight, Gayle also experienced symptoms of metabolic syndrome, a group of conditions that often occur together secondary to obesity.
"Once I made the decision, I did not second guess myself. I felt this was something I needed to do. I just kept thinking that at some point, the weight was going to go, and I was going to feel good. I didn't focus on the surgery itself. I focused on the benefits."
Since the surgery, Gayle's lifestyle has changed significantly. "I am precise about what I eat, and I am more mindful than ever. I have made so much progress," she said. "Right now, I weigh less than I ever have in my adult life. I feel fantastic."
The renewed sense of vitality has been a game-changer for Gayle, who is a single, working mother. She now has the energy to get involved in activities after work and continue to care for her daughter, who has a disability. She also loves walking her dog, Ranger, in the park.
What would she say to someone who is considering bariatric surgery? "There is this idea out there that bariatric surgery is an easy way out. The operation is not a magic pill. You still need to make choices, many times, every day. You also learn how to be more mindful of your food intake. But it is so worth it. If anyone told me I would feel this good at this age, I would not have believed them. Plus, I love that I can try on my daughter's clothes! "
Additional Resources
Interested in weight loss surgery? Visit a free informational seminar and meet weight loss surgeons at Baylor.
Learn more about the Weight Loss and Metabolic Center at Baylor or call (713) 798-2682.
-By Debbie Sugarbaker, editor in the Michael E. DeBakey Department of Surgery at Baylor