Healthy Habits: Strength training, nutritious substitutions key for Jennifer Cleveland
It can sometimes be difficult to find ways to stay healthy, so we've asked members of our Baylor College of Medicine community to share what they do in their daily lives to maintain a healthy lifestyle.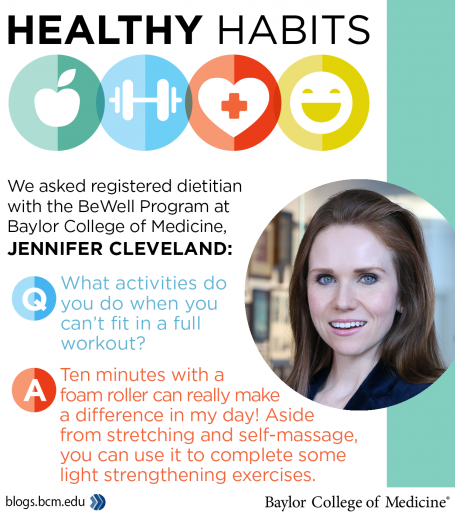 Jennifer Cleveland, registered dietitian at Baylor, shares some of her healthy habits with us.
Q: What health decisions start your day?
A: Resisting the urge to hit snooze is the best thing I can do to ensure a productive day.
Q: What is your go-to healthy breakfast?
A: My daily homemade latte is my first priority, but I also know that I do best with a pretty substantial breakfast. Lately, I am having a flax waffle paired with a protein/fat (two scrambled eggs, peanut butter, etc) and a little fruit and sometimes a vegetable, too.
Q: What is your favorite type of exercise?
A: I incorporate walking into my day, which serves as a more passive but consistent exercise routine. I do this by visiting our various Baylor worksites around the Texas Medical Center by foot as much as possible. I then walk my two dogs for thirty minutes in the evening. I also try to take one strength class (reformer Pilates or barre) and one cardio class (cycling or rebounder) per week.
Q: What keeps you motivated during your workout?
A: Mostly, I'm trying to wear out the younger of my dogs during our walks! During my formal workouts, I focus on the fact that this habit will help me maintain muscle and bone mass.
Q: Has the BCM BeWell Program encouraged any of your healthy habits?
A: Definitely! Before joining BCM BeWell, I didn't keep track of my steps. Those points really help motivate me to add a little distance to my walks. I'm also trying to break into the top 900 on the Getaway to Good Health leader board. I also love so many of the other programs such as visits from the Faithful Paws therapy dogs.
Q: What activities do you do when you can't fit in a full workout?
A: Ten minutes with a foam roller can really make a difference in my day! Aside from stretching and self-massage, you can use it to complete some light strengthening exercises.
Q: What is your favorite healthful snack?
A: Nuts, string cheese and a small fruit, or cottage cheese with a vegetable. These combos all contain protein, fat and fiber to keep me full.
Q: Do you take vitamins and if so, which ones?
A: As a woman of childbearing age, I take a multivitamin to be sure I am getting enough folate/folic acid. I also take an omega-3 supplement.
Q: How do you make an unhealthy recipe healthy?
A: Just add greens and/or fiber! Add beans and collard greens to a hearty soup, and you can reduce the meat without noticing. Add spinach to tomato sauce for pasta. Add chia or ground flax seeds to muffins, smoothies and oatmeal. The options are endless.
Q: What is your nighttime skin regimen?
A: I'm a SkinCeuticals fan. Purifying cleanser, Glycolic Acid Overnight, Eye Balm, and Triple Lipid Cream.  More important to me though is my morning vitamin C serum, sunscreen, and a wide-brimmed sun visor for sun protection!
Q: What hobbies do you have to help you relax?
A: I love to spend some time reading a novel before bed. I'm part of a small, informal book club that I really enjoy.
Q: What is your go-to Houston restaurant for a healthy meal?
A: True Food Kitchen.
Q: Do you use an activity tracker or Fitbit and what is your daily step goal?
A: I do have a Fitbit and aim for 10,000 steps.
Q: What is your favorite health tip that you live by?
A: Do your best at consistently completing the simple stuff, like filling at least half your plate with fruits and vegetables, getting a reasonable amount of sleep, and actively dealing with life's stressors.
Additional Resources
Dr. Philip Carrott visits museums, enjoys cycling to stay active
Dr. Sobia Khan enjoys painting, restful sleep and vegetable lasagna
Read more healthy habits from members of our community.
Learn how Baylor promotes a culture of healthy living and wellness.