Healthy Habits: Dr. Sobia Khan enjoys painting, restful sleep and vegetable lasagna
It can sometimes be difficult to find ways to stay healthy, so we've asked members of our Baylor College of Medicine community to share what they do in their daily lives to maintain a healthy lifestyle.
Dr. Sobia Khan, assistant professor of medicine at Baylor, shares some of her healthy habits with us.
Q: What health decisions start your day?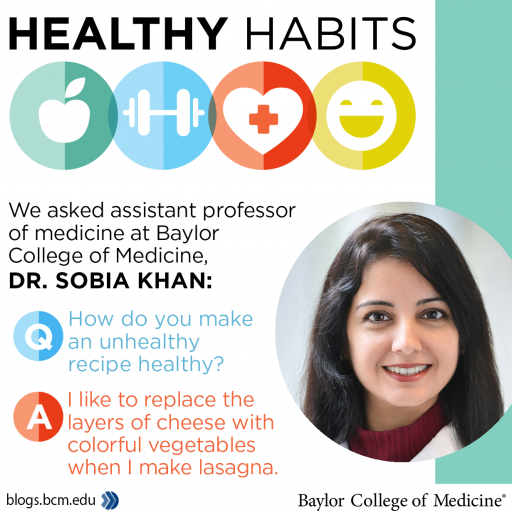 A: Staying motivated to go to the gym after work.
Q: What is your go-to healthy breakfast?
A: Almond milk, mixed berries and and a pineapple smoothie.
Q: What is your favorite type of exercise?
A: Yoga and biking.
Q: What keeps you motivated during your workout?
A: Watching TED Talks on different subjects.
Q: Has the BCM BeWell Program encouraged any of your healthy habits?
A: It helps me stay mindful of taking more steps every day.
Q: What activities do you do when you can't fit in a full workout?
A: Yoga and brisk walking.
Q: What is your favorite healthful snack?
A: Guacamole with baby carrots.
Q: Do you take vitamins and if so, which ones?
A: I take vitamin D3 2000 IU daily and a phytomultivitamin every other day.
Q: What do you include in your child's lunch?
A: Slices of peaches, oranges and kiwi.
Q: How do you make an unhealthy recipe healthy?
A: I like to replace the layers of cheese with colorful vegetables in lasagna.
Q: What is your nighttime skin regimen?
A: Almond oil.
Q: What hobbies do you have to help you relax?
A: Oil painting and reading books.
Q: What is your go-to Houston restaurant for a healthy meal?
A: Fadi's Mediterranean Grill.
Q: What is your favorite health tip that you live by?
A: Getting restful sleep every night.
Additional Resources
Brisk walks, watching comedies help Dr. Asim Shah stay balanced
Dr. Joslyn Fisher enjoys boogie boarding, high-protein meal substitutions
Read more healthy habits from members of our community.
Learn how Baylor promotes a culture of healthy living and wellness.