What are you doing this summer? SMART students honed their communication skills in the first elevator pitch competition
Meet this summer's SMART students, the next generation of scientists in the works. These undergraduate students in the Summer Medical and Research Training, or SMART Program come from a variety of disciplines to gain experience conducting biomedical research projects for 10 weeks at Baylor College of Medicine.
This year, a third of the SMART students (34) volunteered to compete in the SMART program's first elevator pitch competition that took place June 28. Their goals were to gain a deeper understanding of their research project and to effectively communicate and network with members of their lab and the Baylor family as they developed their pitch. Once completed, students presented their 90-second pitch to explain what they did this summer to friends, colleagues and graduate and medical school interviewers.
From the preliminary round, eight students were selected by a panel of judges to advance to the final elevator pitch competition.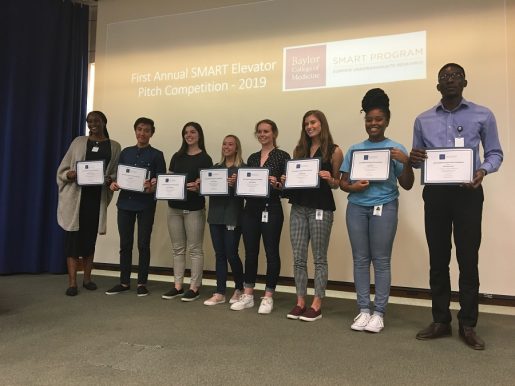 Here are the final four:
Honorable Mention: Trung Nguyen, "Dr. Jekyll and Mr. Hyde: The story of a common tumor suppressor in head and neck cancer," PI: Dr. Vlad Sandulache
Third Place: Brit Hatlestad, "Crying tears of joy for an NGLY1-deficient animal model," PI: Dr. Rodney Samaco
Second Place: Stephanie Chigbu, "Breath-saving breakthroughs on RSV," PI: Dr. Pedro A. Piedra
First Place: Jordan Lazenby, "One gene, two genes, red gene, blue gene," PI: Dr. Koen Venken
Awards: 1st place – $100, 2nd place – $50, 3rd place – $25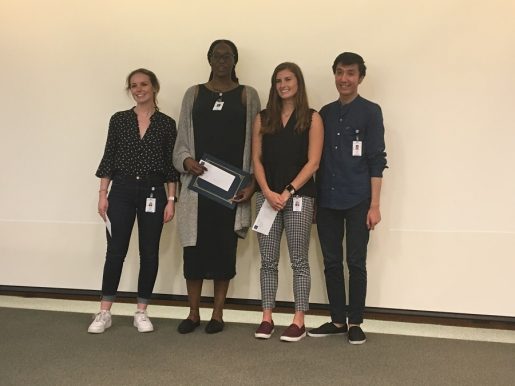 The SMART program offers biomedical summer research projects for undergraduates in a supportive environment with supplemental educational activities.
In addition to learning about science through research, daily seminars, discussion groups and extra activities, SMART students expand their experience by getting to know the other participants as well as other members of the community at Baylor. The program also includes compensation for participants.
The SMART program has gained nationwide recognition from students, their advisers and granting agencies as one of the most successful programs ever created due to Baylor's incomparable resources in the Texas Medical Center and people who truly believe in opening doors of opportunity to college students.
Receive From the Labs via email