Healthy Habits: Low-carb meals, family time help Lisa Yutong Tian stay balanced
It can sometimes be difficult to find ways to stay healthy, so we've asked members of our Baylor College of Medicine community to share what they do in their daily lives to maintain a healthy lifestyle.
Lisa Yutong Tian, instructor and nurse practitioner in the Department of Neurology at Baylor, shares some of her healthy habits with us.
Q: What is your go-to healthy breakfast?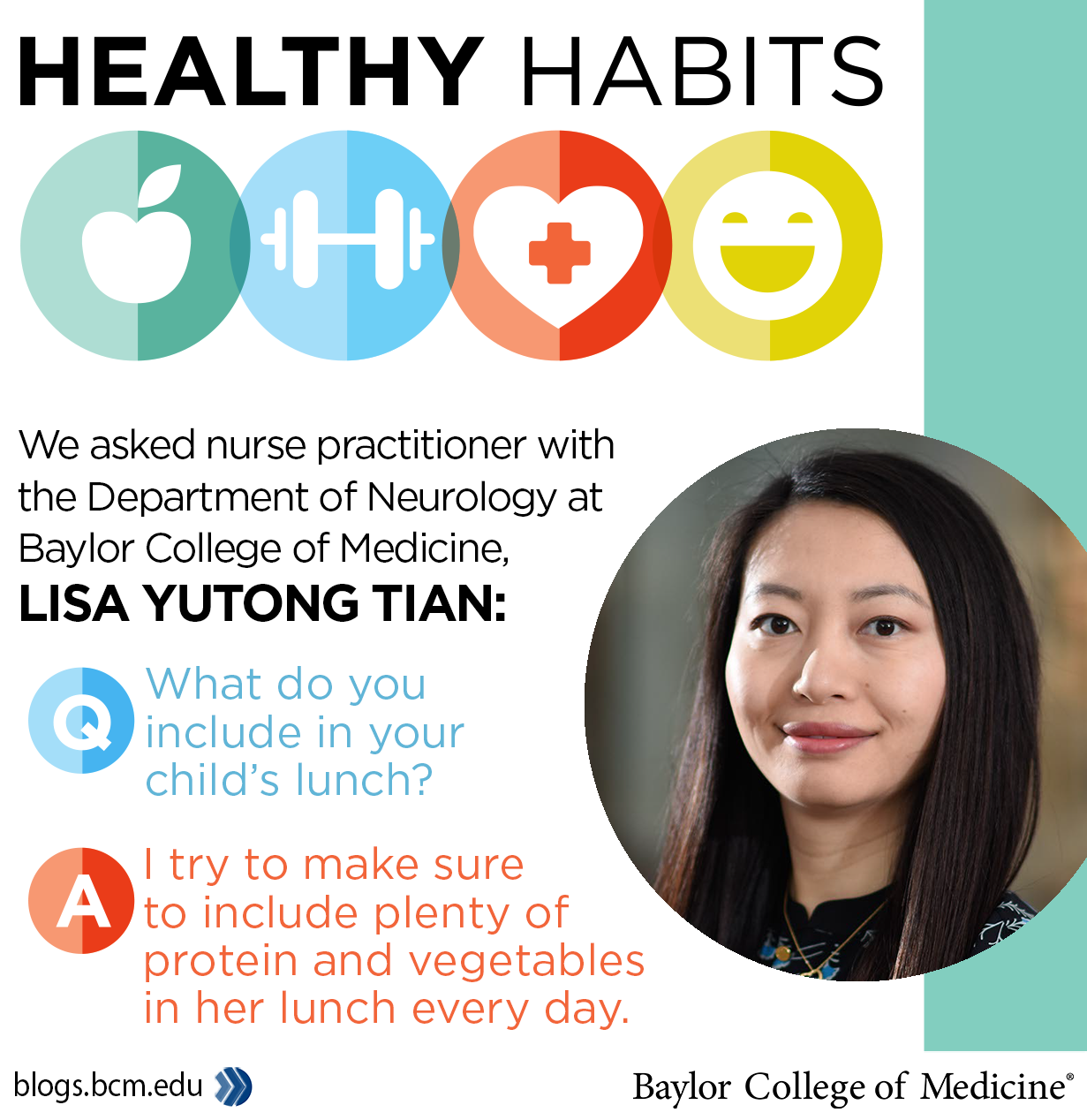 A: I enjoy eggs and oatmeal.
Q: What is your favorite type of exercise?
A: Swimming.
Q: What activities do you do when you can't fit in a full workout?
A: Walking with my babies and my dog is a great substitute for a workout.
Q: What is your favorite healthful snack?
A: Cheese and almonds.
Q: Do you take vitamins and if so, which ones?
A: I take Vitamin D.
Q: What do you include in your child's lunch?
A: I try to make sure to include plenty of protein and vegetables in her lunch every day.
Q: How do you make an unhealthy recipe healthy (healthy substitutions)?
A: I like using an air fryer instead of deep frying.
Q: What is your nighttime skin regimen?
A: I remove my makeup and use skin serum every night.
Q: What hobbies do you have to help you relax?
A: Walking my dog!
Q: What is your go-to Houston restaurant for a healthy meal?
A: Fadi's Mediterranean Grill.
Q: What is your favorite health tip that you live by?
A: I have a history of diabetes in my family, so I maintain a low-carb diet and consume very little sugar.
Additional Resources
Dr. Zehra Tosur enjoys baking, practicing mindfulness
Uplifting music keeps Dr. Christina Weng motivated and energized
Read more healthy habits from members of our community.
Learn how Baylor promotes a culture of healthy living and wellness.