Healthy Habits: Dr. Zehra Tosur enjoys baking, practicing mindfulness
It can sometimes be difficult to find ways to stay healthy, so we've asked members of our Baylor College of Medicine community to share what they do in their daily lives to maintain a healthy lifestyle.
Dr. Zehra Tosur, assistant professor of medicine at Baylor, shares some of her healthy habits with us.
Q: What health decisions start your day?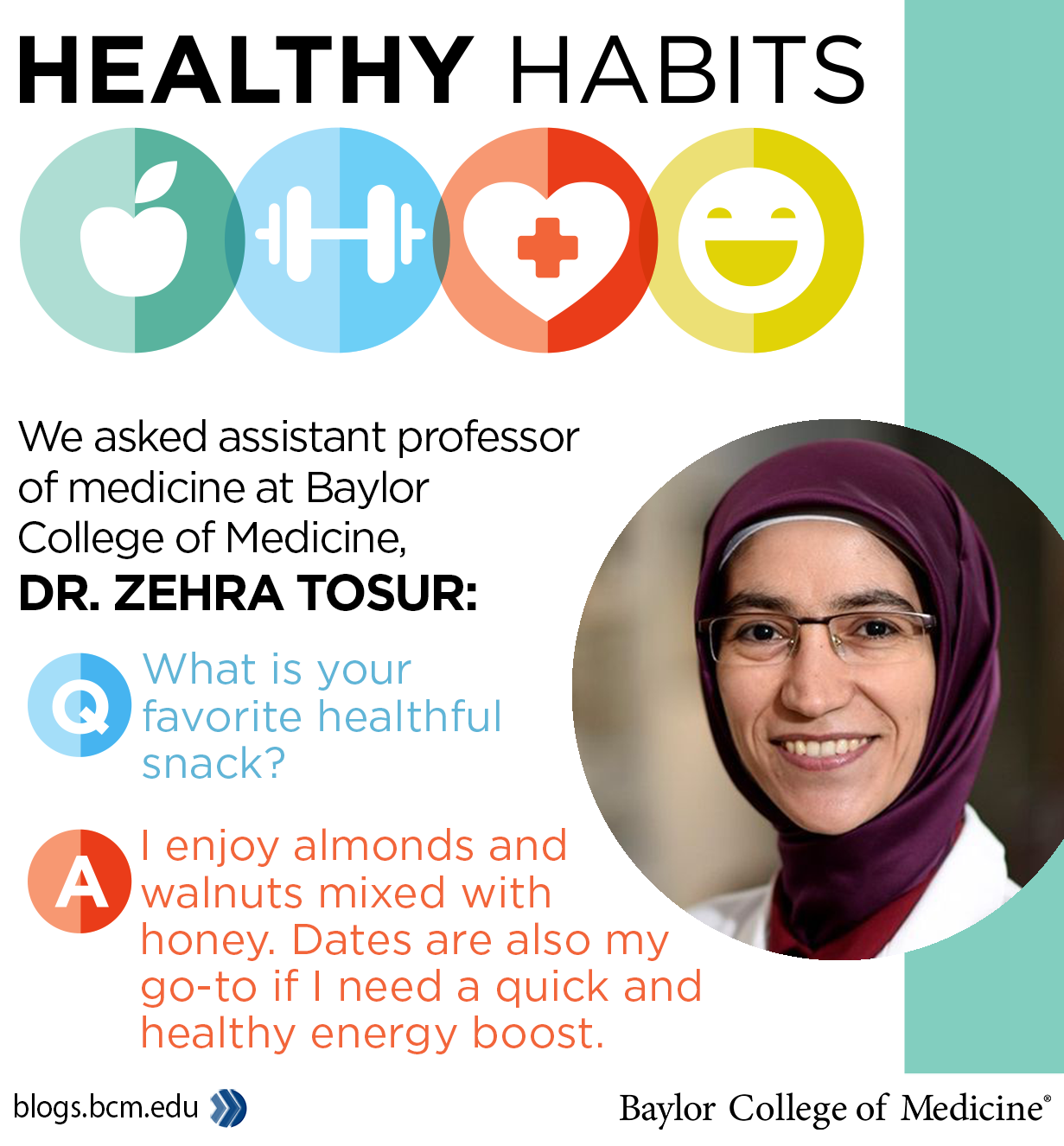 A: Waking up early even on the weekends and holidays. Breakfast is a must for our family.
Q: What is your go-to healthy breakfast?
A: Scrambled eggs, white cheese and olives.
Q: What is your favorite type of exercise?
A: Brisk walking.
Q: What keeps you motivated during your workout?
A: I always tell my patients to exercise. It would not be effective advice if I didn't practice my own words everyday. This keeps me motivated to do more. Feeling refreshed and energized after exercise is also another motivating factor.
Q: What activities do you do when you can't fit in a full workout?
A: Thanks to my daughter, I stay active and on the go.
Q: What is your favorite healthful snack?
A: I enjoy almonds and walnuts mixed with honey. Dates are also my go-to if I need a quick healthy energy boost.
Q: What do you include in your child's lunch?
A: My daughter is three years old. Thankfully, she enjoys a variety of food including oven baked fish, chicken, or home cooked veggies such as cauliflower, green beans, squash. I think delaying her exposure to sweets and candies as much as we could helped her a great deal to develop taste buds more keen to healthy foods.
Q: How do you make an unhealthy recipe healthy?
A: I make fried potatoes in the oven instead of frying them on the stove. That way, I use very little oil and I think it turns out tastier and healthier. I also add spices such as rosemary or sesame. I make sure to slice them very thin.
By the way, I am thankful to whoever invented the non-stick parchment paper.
Q: What hobbies do you have to help you relax?
A: Baking, spending quality time with my family and road trips.
Q: What is your go-to Houston restaurant for a healthy meal?
A: My favorite restaurants are Fadi's and Crisp Doner Cafe, which we may only go to once a month or so.
However, I'm always a little skeptical about the healthiness of any restaurant food, even it is called vegan or "Mediterranean." We try not to sacrifice home-cooked meals. That's why our Sunday afternoons are dedicated to cooking and meal prepping for the week, which is a great stress reliever when we return home from work at night.
Q: What is your favorite health tip that you live by?
A: I practice self-compassion and mindfulness as best as I can. I value mental and emotional health as much as any other aspects – many times, this is the driving factor for staying motivated to make healthy life style choices.
Additional Resources
Uplifting music keeps Dr. Christina Weng motivated and energized
Dr. Eric Storch plays soccer, walks daily to stay moving
Read more healthy habits from members of our community.
Learn how Baylor promotes a culture of healthy living and wellness.