Healthy Habits: Outdoor walks, new hobbies keep Dr. Diana Stewart motivated
Taking care of your health is a priority and nobody knows that more than physicians and healthcare providers.
It can sometimes be difficult to find ways to stay healthy, so we've asked members of our Baylor College of Medicine community to share what they do in their daily lives to maintain a healthy lifestyle.
Dr. Diana Stewart, assistant professor of pediatrics-hospital medicine at Baylor, shares some of her healthy habits with us.
Q: What health decisions start your day?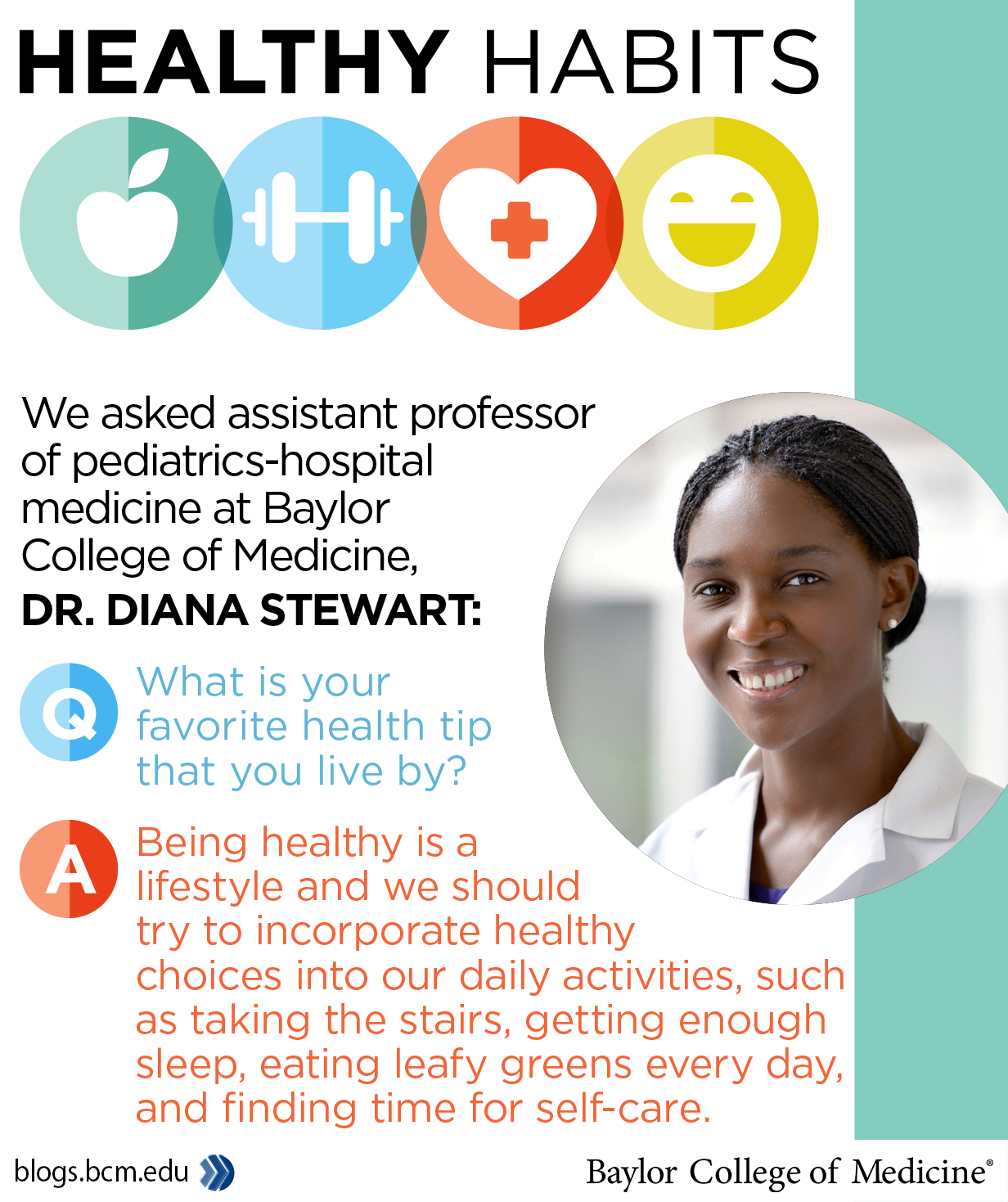 A: Brief prayer of gratitude to promote a positive attitude and eating breakfast, which allows you to perform better and decreases the likelihood you will overeat throughout the day
Q: What is your go-to healthy breakfast?
A: I typically combine a small carb with protein. My usual breakfast is oatmeal and almonds. It gives me energy and generally keeps me full until lunch. If I have time on the weekends, I really like a toasted avocado and egg sandwich.
Q: What is your favorite type of exercise?
A: I like a mix of everything. I enjoy running, high intensity training (combination of cardio and weights like Orange Theory), kickboxing, swimming, and yoga. I do not have a lot of time with four kids so I utilize a lot of the free apps that offer on-demand courses that can be taken at home.
Q: What keeps you motivated during your workout?
A: Music. A great song can push me over a mental hump.
Q: What activities do you do when you can't fit in a full workout?
A: I am a mother of four and I always carry a gym bag in my car. It allows me to be flexible in case I get off early. I typically try to walk or run at the park (two or three miles) before I pick up my kids. When I can't fit in a full workout, I try to use an app. They allow you to choose from 10 minutes up to one hour. I also try to put a workout into my life schedule. If my kids are at sports practice, then I will run for the first 30 minutes of their practice and watch them the remaining 30 minutes.
Q: What is your favorite healthful snack?
A: I love fruit. My daily snack always includes apples and nuts. I usually eat two apples a day. They are high in fiber. I also snack on almonds, which have good healthy fats and are very filling.
Q: Do you take vitamins and if so, which ones?
A: This should be discussed with your primary care provider based on your needs and your nutritional deficiencies. I am currently breast feeding so I am taking prenatal vitamins with iron.
Q: How do you make an unhealthy recipe healthy (healthy substitutions)?
A: I always look to see what I can substitute. For instance, instead of butter, I will use olive oil. I try to use turkey or chicken if meat is required in the recipe. I always try to add veggies to the recipe or eat the recipe with green leafy vegetables. I usually try to cut the salt in half.
Q: What is your nighttime skin regimen?
A: I have a simple regimen. I clean, exfoliate, and then apply an oil-free moisturizer.
Q: What hobbies do you have to help you relax?
A: I enjoy exercising, trying new things, spending time with my family and friends, doing something for others, listening to music, yoga, going to plays, musicals and concerts, and playing board games with my kids. I think as long as I am a taking a breather from work, it allows me to relax.
Q: What is your go-to Houston restaurant for a healthy meal?
A: We typically go to a place that is family friendly. Our go-to healthy restaurants are Hungry's, Zoe's, Bella Green (formerly Ruggles Green), Field of Greens and Green Vegetarian Cuisine.
Q: Do you use a pedometer or Fitbit and what is your daily step goal?
A: I currently do not have one. This is one of my goals for this year. Since I have just come back from maternity leave, I have not been able to exercise as much as I want to so I want to motivate myself by getting a pedometer.
Q: What is your favorite health tip that you live by?
A: Being healthy is a lifestyle and we should try to incorporate healthy choices into our daily activities, such as taking the stairs, getting enough sleep, eating dark leafy greens everyday, or finding time for self-care.
Additional Resources
Dr. Camille Leugers enjoys home cooking and morning walks
Morning meditation, preventive health motivate Sarah Keyes
See how Baylor stays fit with more healthy habits from members of our community
See how Baylor promotes a culture of healthy living and wellness