Making a difference through disaster recovery efforts
When natural disasters strike, it's critical for those in need to receive help from those outside of their respective area. After Hurricane Katrina devastated New Orleans 11 years ago this week, Baylor College of Medicine faculty members quickly assembled a clinic to meet the medical needs of those who evacuated from New Orleans to Houston.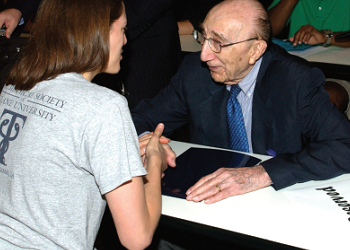 Students from the Tulane University School of Medicine were also displaced by the storm, so leaders from both Baylor and Tulane created a plan that allowed Tulane's first- and second-year medical students to continue their studies at Baylor.
In addition to assisting during disasters that strike stateside, Baylor faculty, staff and trainees have assisted relief efforts internationally, in countries such as Haiti, China, Ecuador, and Indonesia, after those areas were severely affected by natural disasters.
Additional Resources
Read more about Baylor's shared time with Tulane.
Baylor College of Medicine has joined the Houston Chronicle in celebrating Houston's history in a six-month retrospective project. This story is part of an ongoing feature that can be found on our website. Now through October, we'll be highlighting our shared history with the community.