Healthy Habits: Limited sodium intake, sleep hygiene key for Dr. Nancy Moran
Taking care of your health is a priority and nobody knows that more than physicians and healthcare providers.
It can sometimes be difficult to find ways to stay healthy, so we've asked members of our Baylor College of Medicine community to share what they do in their daily lives to maintain a healthy lifestyle.
Nancy Moran, Ph.D., assistant professor of pediatrics-nutrition at Baylor, shares some of her healthy habits with us.
Q: What health decisions start your day?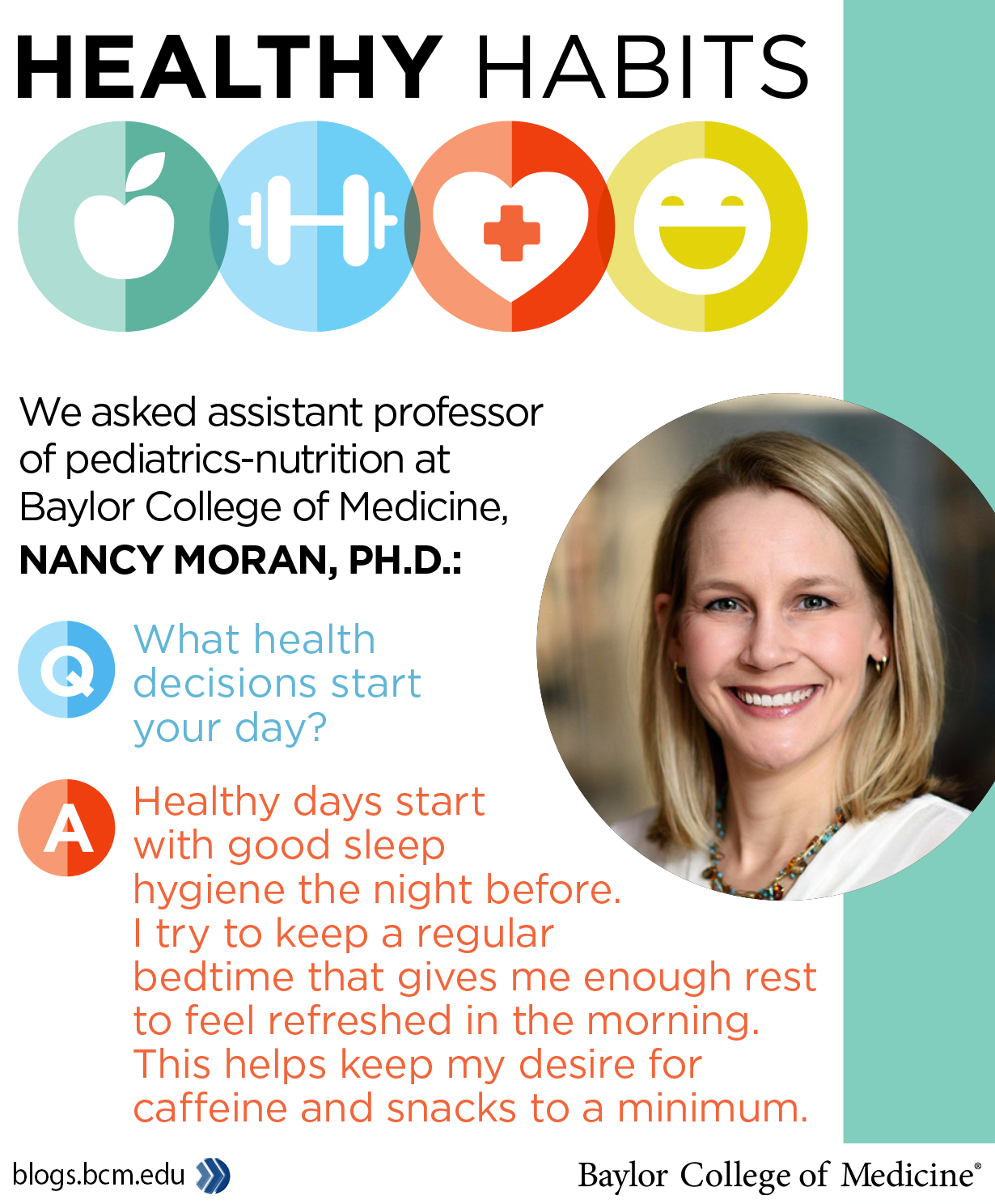 A: Healthy days start with good sleep hygiene the night before. I try to keep a regular bedtime that gives me enough rest to feel refreshed in the morning. This helps keep my desire for caffeine and snacks to a minimum.
Q: What is your go-to healthy breakfast?
A: Cold cereal with milk and fruit and either a hard-boiled egg or a handful of nuts.
Q: What is your favorite healthful snack?
A: Pretzels or baby carrots with hummus or a cup of reduced-calorie Greek yogurt with some cereal added for crunch.
Q: Do you take vitamins and if so, which ones?
A: Just a daily multi-vitamin with iron.
Q: What do you include in your child's lunch?
A: My daughter enjoys lots of different foods. Lunch-friendly foods for her can be sliced carrots or sugar snap peas, fresh apples, berries, peaches or a no-sugar added fruit cup. She also enjoys yogurt, string cheese, pretzels, and reduced-fat milk or water.
Q: How do you make an unhealthy recipe healthy (healthy substitutions)?
A: If I need to make dinner from store-bought, packaged food (think frozen or dried noodle and sauce mixes, pizzas, etc.), I add some frozen vegetables or beans. This helps to reach my daily goal for vegetables and also reduces the amount of salt I am getting from the sauce by "diluting" it with vegetables and beans.
Q: What hobbies do you have to help you relax?
A: Going to the park or the swimming pool with my daughter.
Q:   What is your go-to Houston restaurant for a healthy meal?
A: There are so many wonderful restaurants serving international cuisines that feature vegetables, beans, and fruits. I like to be adventurous and try new ways to enjoy these foods! I usually leave with some ideas of how to prepare them at home. I just try to keep an eye on the added salt and fat (cheeses and oils) that sneak into restaurant foods.
Q: What is your favorite health tip that you live by?
A: I try to plan out a healthy menu for the week and make my grocery list ahead of time. I search for recipes I am excited to make and then make a double batch so that we have plenty to last the week. This helps our family bring healthy foods home and helps us to stay focused at the store so we don't make too many impulse purchases.
Additional Resources
Dr. Alli Antar enjoys outdoor time, plays musical instruments to relax
Home-cooked meals, weight training keep Dr. Helen Dunnington fit
See how Baylor stays fit with more healthy habits from members of our community
See how Baylor promotes a culture of healthy living and wellness