Recognizing signs of child abuse, maltreatment
Whether you are a teacher or caregiver, working with children can be a rewarding experience. This daily interaction also puts you in a position to notice signs of abuse or neglect.
A study published by JAMA Pediatrics predicts "maltreatment will be confirmed for 1 in 8 U.S. children by 18 years of age, far greater than the 1 in 100 children whose maltreatment is confirmed annually."
Signs of abuse
Dr. Marcela Donaruma, associate professor of pediatrics-emergency medicine at Baylor College of Medicine, noted:
"When babies have injuries to their mouths or bruising to the face, throat or trunk, that's when we worry about force being used to handle them that exceeds activities of daily living," Donaruma said. "Infants don't typically hurt themselves because they don't have the muscle strength and coordination to do so."
For older children, look out for injuries to soft tissue areas, including the cheek, throat, belly and inner aspects of the arms and legs.
"Those are not places that are routinely injured in the course of rough and tumble playground activity," she said.
Signs of neglect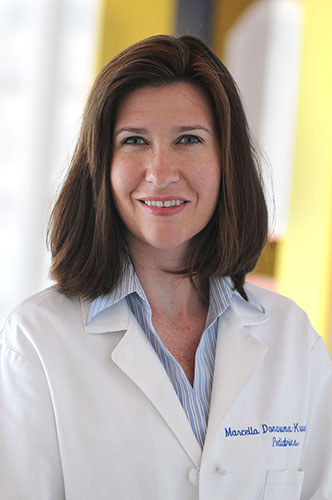 How do signs of neglect vary from signs of abuse?
"From a behavior standpoint, most kids who are toddlers or kindergarten age are willing to engage in conversation when they feel safe. Of course there are shy children, but kids who don't seem to have language abilities on par with their developmental expectations may not be getting spoken to or are being babysat by technology," she said.
Children who experience maltreatment may also have difficulty regulating emotions. Donaruma says these reactions can be appear to be behavioral disorders such as oppositional defiant disorder.
"Kids develop the protective brain and sometimes they are offensive or defensive. They will have difficulty paying attention in daycare or school because they are constantly scanning their environment for threats. They often react to situations in ways that appear out of proportion," she said.
Long-term impact of abuse
A study by the University College London found that children exposed to abuse show the same pattern of brain activity as soldiers exposed to combat.
"There is trauma of the abuse and trauma of separation if they are removed from their homes. That's why it's important to get the child into therapy as soon as possible – a child is much less able to process these things than an adult," said John Bickel, social worker with the Pediatric Psychiatry team at Baylor and Texas Children's Hospital.
Trauma-focused cognitive behavioral therapy focuses on building up a child's resilience, confidence and human connections so they can develop their own character. It also helps them begin to understand their narrative and that what happened to them was not their fault.
"When you have a thought or feeling, there are usually words that go with it. Young kids can have a hard time because they don't have the words to communicate how they are feeling. Whereas older kids have the vocabulary and can sometimes make better sense of it." Bickel said.
How to help heal and provide support
Bickel says it's important to give children space to recover in their own time and offer to help when possible.
"What I've learned is that children are really resilient. When you're interacting with an abused child, I wouldn't ask them a lot of questions in the immediate aftermath of a report being made. If they talk to you, listen empathetically rather than trying to fix it. Ask 'what can I do to help?' and let them tell you how to help solve the problem." he said.
Donaruma emphasized that individuals who are state-mandated reporters should not wait to voice concerns if they see signs of trouble.
"If you see something, say something. Early reporting can prevent a child from injuries that result in disability, disfigurement or death."
Additional Resources
Learn more about Child Abuse Pediatric Services at Baylor College of Medicine and Texas Children's Hospital.
Visit the Children's Assessment Center for more resources.
Learn more about National Child Abuse Prevention Month.
-By Nicole Blanton