Healthy Habits: Outdoor walks, Pilates keep Dr. Elizabeth McIngvale active
Taking care of your health is a priority and nobody knows that more than physicians and healthcare providers.
It can sometimes be difficult to find ways to stay healthy, so we've asked members of our Baylor College of Medicine community to share what they do in their daily lives to maintain a healthy lifestyle.
Dr. Elizabeth McIngvale, assistant professor of psychiatry and behavioral sciences at Baylor, shares some of her healthy habits with us.
Q: What health decisions start your day?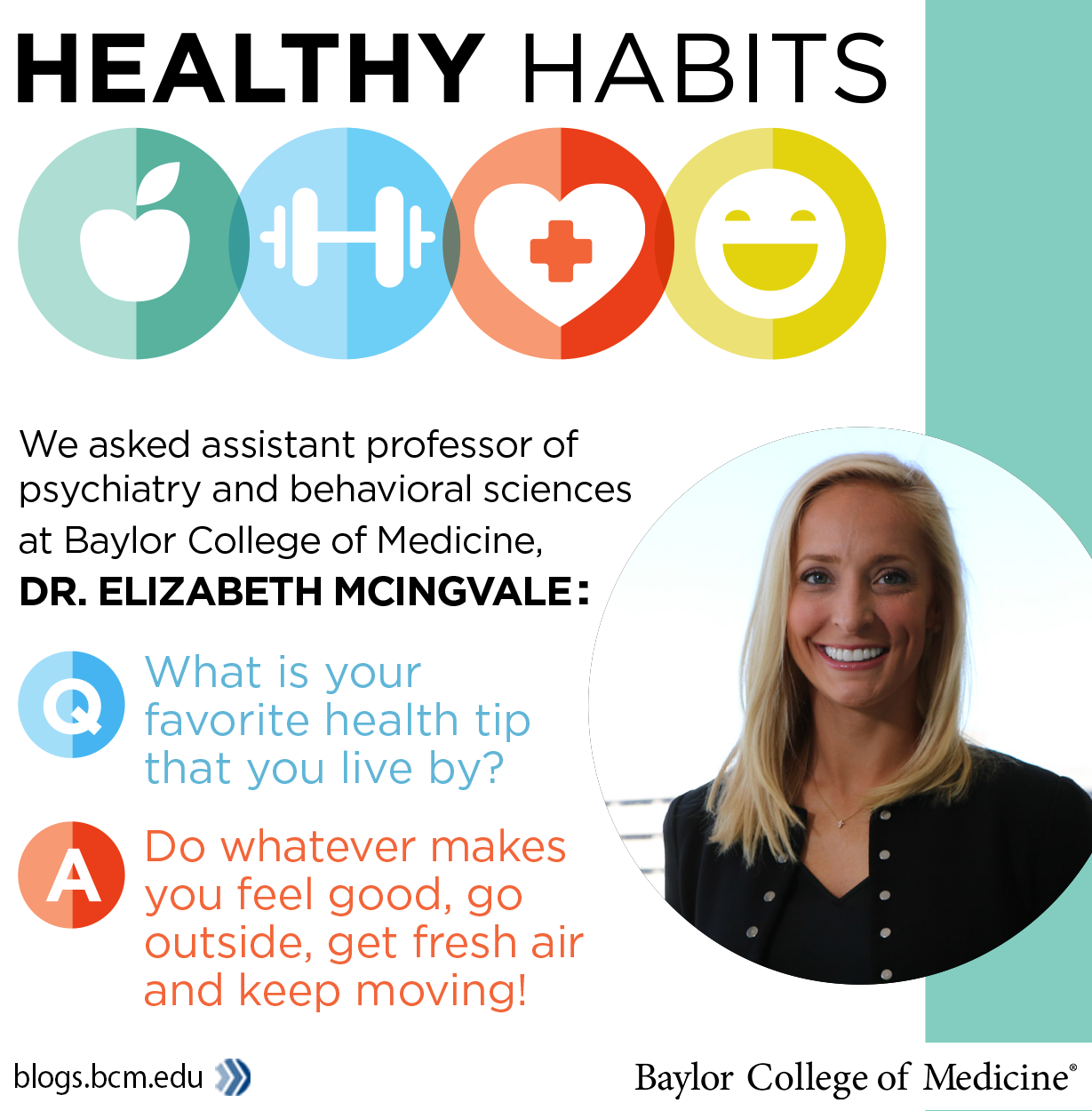 A: What workout class I can squeeze in today!
Q: What is your go-to healthy breakfast?
A: Coffee and fruit or Greek yogurt.
Q: What is your favorite type of exercise?
A: Reformer (lagree) Pilates.
Q: What keeps you motivated during your workout?
A: Getting to the end!
Q: What activities do you do when you can't fit in a full workout?
A: I walk my dogs or just make sure I get outside.
Q: What is your favorite healthful snack?
A: Mango.
Q: How do you make an unhealthy recipe healthy (healthy substitutions)?
A: I use meat substitutions like ground turkey and Greek yogurt instead of sour cream.
Q: What is your nighttime skin regimen?
A: Moisturize.
Q: What hobbies do you have to help you relax?
A: Spending time with family and friends.
Q: What is your go-to Houston restaurant for a healthy meal?
A: I usually get the Oh Kale Yeah salad from Ruggles Green or the Harvest Salad from Local Foods.
Q: What is your favorite health tip that you live by?
A: Do whatever makes you feel good, go outside, get fresh air and keep moving!
Additional Resources
Dr. Michelle Ludwig sets reasonable goals, prioritizes to stay focused
Moderate workouts, limiting red meat intake key for Dr. Neal Barshes
See how Baylor stays fit with more healthy habits from members of our community
See how Baylor promotes a culture of healthy living and wellness