Healthy Habits: Interval training, family time key for Elizabeth Elliott
Taking care of your health is a priority and nobody knows that more than physicians and healthcare providers.
It can sometimes be difficult to find ways to stay healthy, so we've asked members of our Baylor College of Medicine community to share what they do in their daily lives to maintain a healthy lifestyle.
Elizabeth Elliott, assistant professor in the Physician Assistant Program at Baylor, shares some of her healthy habits with us.
Q: What is your go-to healthy breakfast? 
A: Eggs and fruit, sometimes with bacon.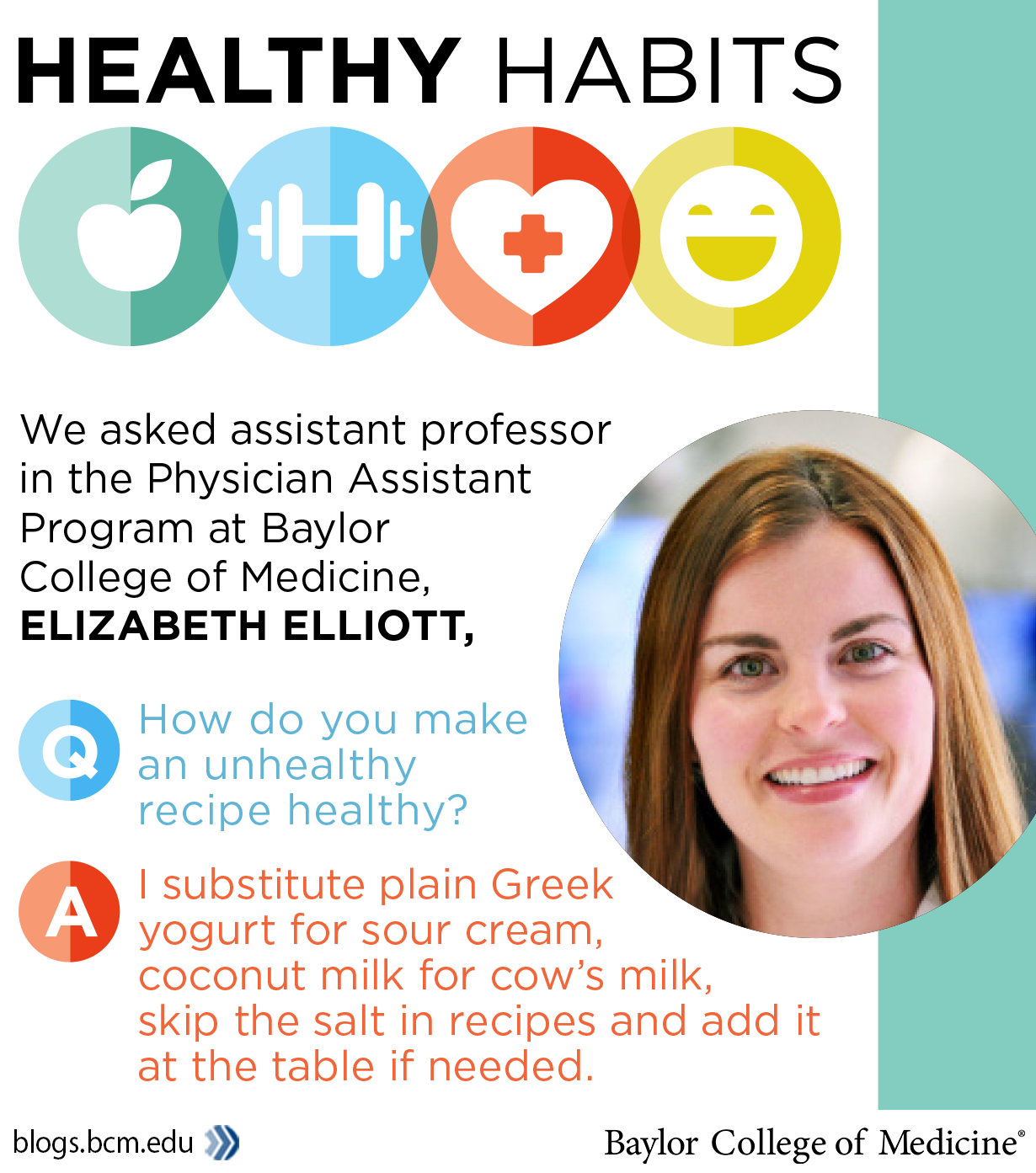 Q: What is your favorite type of exercise?
A: I work full time and have three young kids. I used to enjoy running, but fitting that into my schedule is difficult these days.  So I have joined a gym with group interval training classes. I just show up ready to work out, and they take me through a complete routine, including cardio and weights. I try to go twice a week and then fit in another workout on my own.
Q: What keeps you motivated during your workout? 
A: I don't need too much motivation, but I know I feel much more tired when I don't work out. I also pay for my membership, so I want to make sure I get my money's worth.
Q: What activities do you do when you can't fit in a full workout? 
A: Running around the backyard and taking walks with my kids are both good activities for me.
Q: What is your favorite healthful snack? 
A: Nuts, including cashews and pistachios.
Q: What do you include in your child's lunch? 
A: She actually packs her own lunch. However, she has to pick a protein, a fruit or vegetable, a carbohydrate, and milk or water. We have been using those terms with her since she was pretty young, so she is really good at picking out what should be packed. We let her buy her lunch at school on Fridays. I have been really impressed by what is included in the school-bought lunches. They are well-balanced. I expect to do the same with the other kids as they get old enough to make their own lunches.
Q: How do you make an unhealthy recipe healthy (healthy substitutions)? 
A: I substitute plain Greek yogurt for sour cream, coconut milk for cow's milk, skip the salt in the recipe and add it at the table if needed. Sometimes I serve dishes and leave out certain ingredients; for example, I will serve fajitas from the crock pot with all of the fixings and skip the tortillas.
Q: What is your go-to Houston restaurant for a healthy meal? 
A: I have found that I can pretty much eat anywhere and make the meal more healthy (skip the bun/tortilla, change the sides to vegetables, etc. ) So I eat out at my favorite restaurants and adjust the meals to make them healthier.
Additional Resources
Dr. Stacey Berg avoids added sugar, enjoys weightlifting to stay fit
Elliptical training, morning workouts keep Dr. Joseph Lamelas active
See how Baylor stays fit with more healthy habits from members of our community
See how Baylor promotes a culture of healthy living and wellness
Save
Save