Healthy Habits: Dr. Stacey Berg avoids added sugar, enjoys weightlifting to stay fit
Taking care of your health is a priority and nobody knows that more than physicians and healthcare providers.
It can sometimes be difficult to find ways to stay healthy, so we've asked members of our Baylor College of Medicine community to share what they do in their daily lives to maintain a healthy lifestyle.
Dr. Stacey Berg, professor of pediatrics – hematology and oncology at Baylor, shares some of her healthy habits with us.
Q: What health decisions start your day?
A: Looking at my schedule so I can see where my workout will fit in.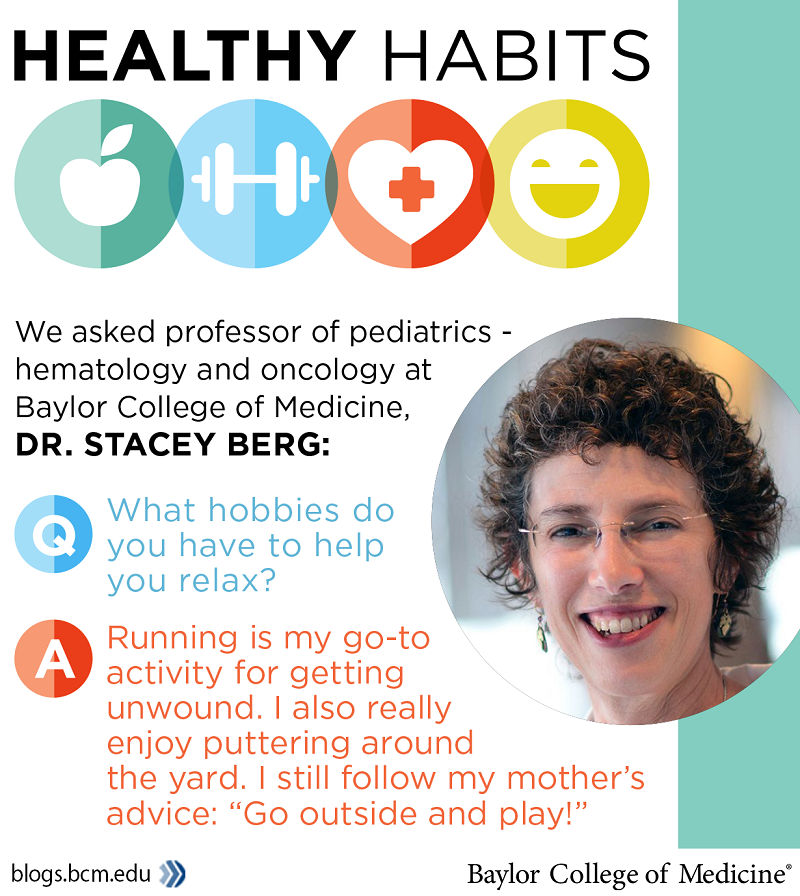 Q: What is your go-to healthy breakfast?
A: Oatmeal, especially in the winter. I enjoy overnight refrigerator oatmeal with fruit and yogurt or kefir. It's tasty and easy to make.
Q: What is your favorite type of exercise?
A: Hmmm. Running and weightlifting are tied.
Q: What keeps you motivated during your workout?
A: During long runs I often listen to podcasts or audiobooks. During shorter runs I listen to the radio. With weightlifting I don't really need too much extra motivation!
Q: What activities do you do when you can't fit in a full workout?
A: Half a workout is better than none. I might do a really short run, or if it's a weightlifting day, just focus on chest and back and not worry about arms and shoulders. If you're really pressed for time, you can do three to five sets (30 seconds per set) of all out running, jumping, or stair climbing. However, for those short workouts, it really has to be an all out effort.
Q: What is your favorite healthful snack?
A: A small handful of nuts and raisins.
Q: Do you take vitamins and if so, which ones?
A: Just vitamin D. If you eat a reasonably healthy and varied diet, you can get plenty of vitamins that way.
Q: How do you make an unhealthy recipe healthy (healthy substitutions)?
A: I used to use lower fat ingredients as substitutes – but now that is probably not the best advice. Avoiding too much added sugar is probably more important. That usually means using more fresh ingredients and fewer processed foods. If you're really in the mood for something unhealthy, go for it! Just not too often.
Q: What hobbies do you have to help you relax?
A: Running is my go-to activity for getting unwound. I also really enjoy puttering around the yard. I still follow my mother's advice: "Go outside and play!"
Q: What is your go-to Houston restaurant for a healthy meal?
A: We're lucky in Houston that you can find healthy food at almost any non-fast food restaurant.
Q: Do you use a pedometer or Fitbit and what is your daily step goal?
A: I have an Apple Watch but I don't have a step goal. I do listen to it when it tells me it's time to get up and move. I have a sit-stand desk, and if I'm in my office working all day, I try to spend part of the time out of my chair.
Q: What is your favorite health tip that you live by?
A: "Eat real food, not too much, mostly plants." –  Michael Pollan
Additional Resources
Elliptical training, morning workouts keep Dr. Joseph Lamelas active
Dr. Sebastian Winocour swims, reads to relax
See how Baylor stays fit with more healthy habits from members of our community
See how Baylor promotes a culture of healthy living and wellness