Hair retention device bolsters spirits of cancer patient
In 2014, Shawna Mayberry had just retired from teaching after 30 years of service. She was rarely sick and accumulated a lot of her flex spending so she decided to schedule a routine mammogram. The tech performing the mammogram told Mayberry all she needed to know simply by her facial expression.
"That's not good," Mayberry told herself as she was rapidly whisked in for a biopsy. "There was a nurse who was there only to hold my hand."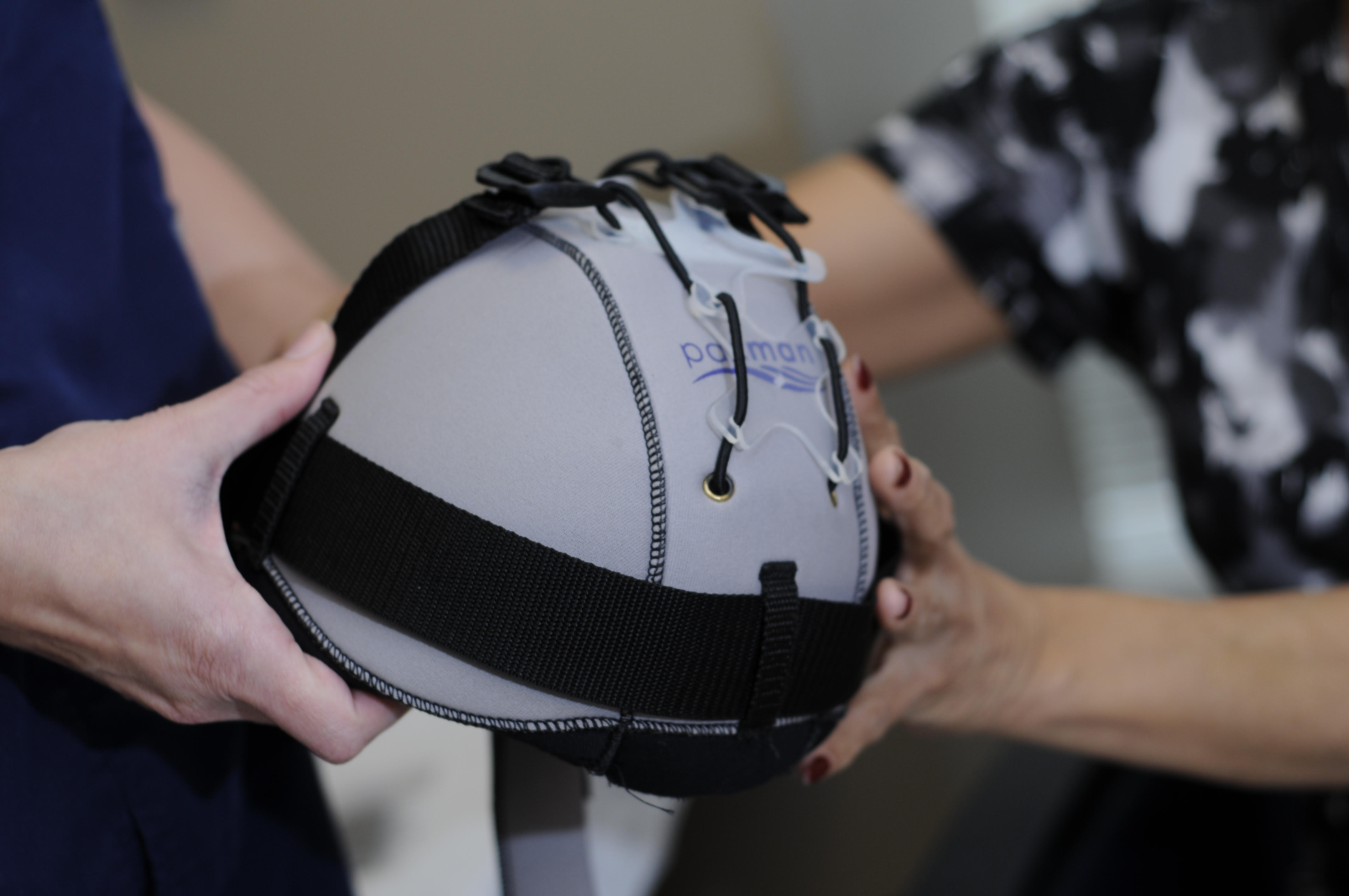 Mayberry was then diagnosed with stage two breast cancer.
"I saw a picture of a feather and felt as if I was falling just like it was," she said. "Here I was retired, yet God had taken me on a different journey."
She immediately began asking about research studies she could participate in. While Mayberry's cancer could be readily treated with standard therapies, she did qualify for Baylor College of Medicine's Dan L Duncan Comprehensive Cancer Center clinical trial aimed at preventing hair loss, led by Dr. Julie Nangia. She was treated at trial site partner Baylor Sammons Cancer Center in Dallas.
"My hair was so much of a part of me. With all the things coming at me all at once, it was comforting to have control over something like keeping my hair," Mayberry said.
The Orbis Paxman Hair Loss Prevention System (OPHLPS), a product of Paxman Coolers Ltd., works as a two-cap system, to ensure the coolant stays at a consistent temperature. Nangia says scalp cooling helps reduce the flow of blood to hair follicles, which limits the amount of chemotherapy drugs reaching the follicles.
Mayberry experienced thinning of her hair, but believes the cooling cap prevented her from losing all of her hair.
"I had thick, shoulder-length hair before treatment," she said. "But I never looked like I was undergoing a cancer treatment."
After six treatments of chemotherapy, Mayberry is now cancer-free.
"My friends would often feel sad for me after the diagnosis. Then they would say, 'But you still have your hair!' I'd smile and tell them about the Paxman cold cap," she said.
Nangia's research will allow Paxman to file for FDA approval for its device.
Mayberry now has a new mission in life – spreading the word about the cap. "You don't have to lose your hair during chemotherapy. I want everyone to know about it," she said.
Additional Resources
Read more about Nangia's research.
Visit the Dan L Duncan Comprehensive Cancer Center website.
-By Allison Toepperwein, senior communications specialist in the Dan L Duncan Comprehensive Cancer Center