Healthy Habits: Dr. Philip Lupo stays fit through portion control, walking breaks
Taking care of your health is a priority and nobody knows that more than physicians and healthcare providers.
It can sometimes be difficult to find ways to stay healthy, so we've asked members of our Baylor College of Medicine community to share what they do in their daily lives to maintain a healthy lifestyle.
Dr. Philip Lupo, assistant professor of pediatrics – oncology at Baylor, shares some of his healthy habits with us.
Q: What health decisions start your day?
A: I try to wake up every morning and go for a run. Otherwise, I will plan to run in the evening if I have an early morning meeting. Making time for breakfast is important, but I don't always succeed at that task. Planning and packing my lunch helps!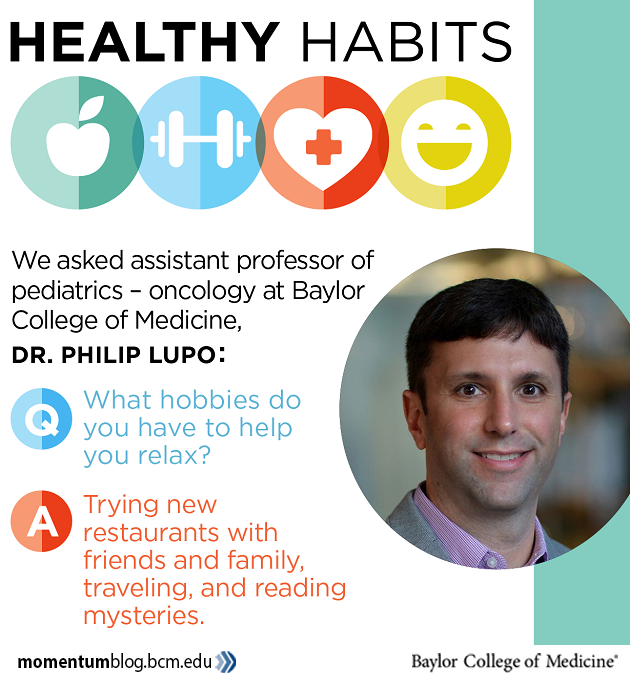 Q: What is your go-to healthy breakfast?
A: Fresh fruit and plain, nonfat Greek yogurt.
Q: What is your favorite type of exercise?
A: Running always tops my list. It helps with my physical health and peace of mind.
Q: What keeps you motivated during your workout?
A: It helps me to listen to a mix of music (it is hard to make sense of my playlist). When I go for a longer run, I like going with a friend. Above all, I really enjoy the sense of accomplishment at the end.
Q: What activities do you do when you can't fit in a full workout?
A: Lately, I have been trying to take more walking breaks at work when I know I can't plan a run.
Q: What is your favorite healthful snack?
A: Unsalted almonds (sometimes more than seven!)
Q: Do you take vitamins and if so, which ones?
A: No.
Q: What hobbies do you have to help you relax?
A: Trying new restaurants with friends and family, traveling, and reading mysteries.
Q: What is your go-to Houston restaurant for a healthy meal?
A: Local Foods.
Q: Do you use a pedometer or Fitbit and what is your daily step goal?
A: I have a Fitbit Surge and I love it. I'm an epidemiologist, so having data to review (steps, maps, heart rate, calories burned) is a good thing! My average daily step goal is 15,000.
Q: What is your favorite health tip that you live by?
A: Practice portion control!
Additional Resources
Biking, running help Dr. Paul Ling stay fit
Family time keeps Dr. Sumitra Khandelwal motivated
See how Baylor stays fit with more healthy habits from members of our community
See how Baylor promotes a culture of healthy living and wellness