Keep it simple: How to use adaptive cooking devices
When you've lived your whole life with a severe mobility impairment as I have, you don't blink an eye when the label  "accessible" or "adapted" causes a product's price tag to jump $1,000 – and I'm not exaggerating! You learn to shop around and find alternatives, swap ideas with friends across the country, and most of all, you become very creative.
Good news though – one area that is surprisingly inexpensive is the world of adaptive cooking equipment!
You see, I am physically unable to do much in the kitchen. All I can really do is plan meals, shop for groceries and direct others how to prepare my meals. I've never looked into these devices simply because they wouldn't help me much.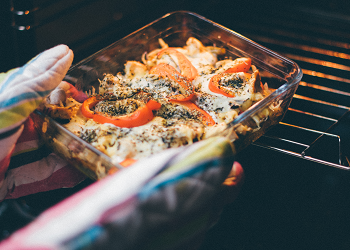 Then I started working on GoWoman, a disability and gender-specific online weight management program, and familiarized myself with the presentation on adaptive kitchen items developed by our awesome team. It contains links to multiple videos showcasing these gadgets. Most are available online or in-store from major store chains. These adaptive gadgets are similar in cost to the "typical" versions.
Most products made by OXO Brand serve as an example. According to its website, the company started when the owner's wife had trouble using a vegetable peeler due to arthritis. Now they sell easy-to-grip cooking utensils, easy open canisters, and other adaptive kitchen equipment at a reasonable cost.
Many adaptive kitchen items are not adaptive in the way the majority of the population would use this term. Like in most other areas of life, individuals with mobility impairments get creative! Below I have listed some of my favorite adaptive kitchen hacks.
Zip ties: imbonnie's YouTube videos show her using zip ties to make refrigerator and cabinet pulls. She also uses them around storage containers and canisters to pull them across the counter into her lap.
Container swaps: If you find a bottle of something that is light weight and easy for you to grip, reuse it for a different product. For example, save half-gallon cartons to distribute the contents of a gallon.
Lap desk: Since many wheelchair users can't fit under a counter and end up cooking on their lap, a lap desk provides a stable surface and protects skin from heat and cold (and let's be honest, probably our clothes, too.)
Clear pots and pans: These can be a little more difficult to find but for those of us instructing others to make our dinner, they can mean the difference between perfectly browned and burnt.
Non-slip drawer liner: Lining surfaces with this non-slip liner keeps things like mixing bowls and cutting boards from moving around, which is a big help for cooks with only one arm, paralyzed or weak hands, or limited reach.
To my friends with mobility impairments, more independence in the kitchen can open a world of possibilities, including the difference between a frozen TV dinner and a gourmet meal, the ability to eat when you are hungry if there's no one around to help you cook, and maybe even a new hobby! Some of the devices mentioned can be helpful for able-bodied individuals as well just by making cooking a little simpler.
Happy cooking, my friends!
Additional Resources
What's the scoop on food allergies, weight gain, and disabilities?
Read more from the GoWoman team.
-By Rachel Markley, MPH, research assistant for the GoWoman study at the Center for Research on Women with Disabilities at Baylor College of Medicine and TIRR-Memorial Hermann