From Brazil to Baylor: Avon Global Breast Cancer Clinical Scholars
Beyond providing excellence in care to patients with breast cancer and developing new approaches to treating the disease, Baylor College of Medicine's Lester and Sue Smith Breast Center, part of Baylor's NCI-designated Dan L Duncan Comprehensive Cancer Center, is helping advance care around the world through the Avon Global Breast Cancer Clinical Scholars program.
Created in 2012, the program brings outstanding international clinical scholars to study at 10 leading Avon-funded breast cancer centers across the United States. After training under a mentor for four weeks, the scholars then attend the American Society of Clinical Oncology annual meeting, participating in educational sessions with world-renowned oncologists.
This year, Dr. Matthew Ellis, McNair scholar and director of the Smith Breast Center, mentored two physicians from Brazil.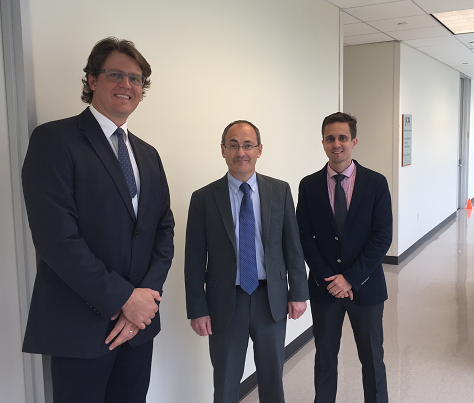 "The Avon Global Clinical Scholars program is a wonderful, unique opportunity to collaborate with talented physicians from all over the world," said Ellis. "These health care professionals spend time in our clinic and with our staff, and while the goal is for them to take valuable healthcare insights and programs back to their home countries, we often learn just as much from them about the way their clinics operate. Additionally, the program gives us life-long partnerships with physicians across the globe."
"My partner, Dr. Lievin Rebouças, and I were honored to be selected to come to Baylor College of Medicine in Houston, under the mentorship of Dr. Ellis," said Dr. Gustavo Zucca-Matthes, coordinator of the breast surgery department at the Barretos Cancer Hospital in Brazil. "At Baylor we felt incredibly welcomed. The staff was very helpful and made us feel immediately comfortable, easing our doubts and teaching us as much as they could about everything from the flow of patients and the navigation process, to the most updated chemotherapy options."
Zucca-Matthes and Rebouças attended meetings and clinical lessons with the Breast Center lab staff and joined discussions with the Global Cancer Institute's live, online Global Tumor Board meetings. Clinical and surgical staff at Smith Clinic shared how they take a personalized approach with patients, discussing their care and how they propose clinical trials.
"I wanted to see how the treatment works in a world-renowned institution, and the ways I could improve the cancer assistance in my home country," said Rebouças, radiation oncologist at the Instituto do Cancer do Ceara in Fortaleza, Brazil.
He said throughout Brazil a lack of radiation oncology facilities causes delays in treatment and frequently some patients are not able to receive radiotherapy at all.
Ellis suggested that upon their return home, the physicians work with their clinics to develop a project to evaluate the delays in the diagnosis and treatment of breast cancer and its possible negative impact on patients' outcomes.
By including other institutions in Brazil, the research would give them a clear understanding about their current situation and strong evidence about the benefit that broader cancer care would have in patient survival, Ellis said.
"We live in different worlds, and sometimes we use different tools to accomplish the same goal, but beyond treating breast cancer, we help people," Zucca-Matthes said. "I am proud to have visited Baylor and to have spent time at such an important health institution. I am certain that we can continue to foster a strong partnership for the future."
-By Allison Huseman