Healthy Habits: Support, encouragement help you stay fit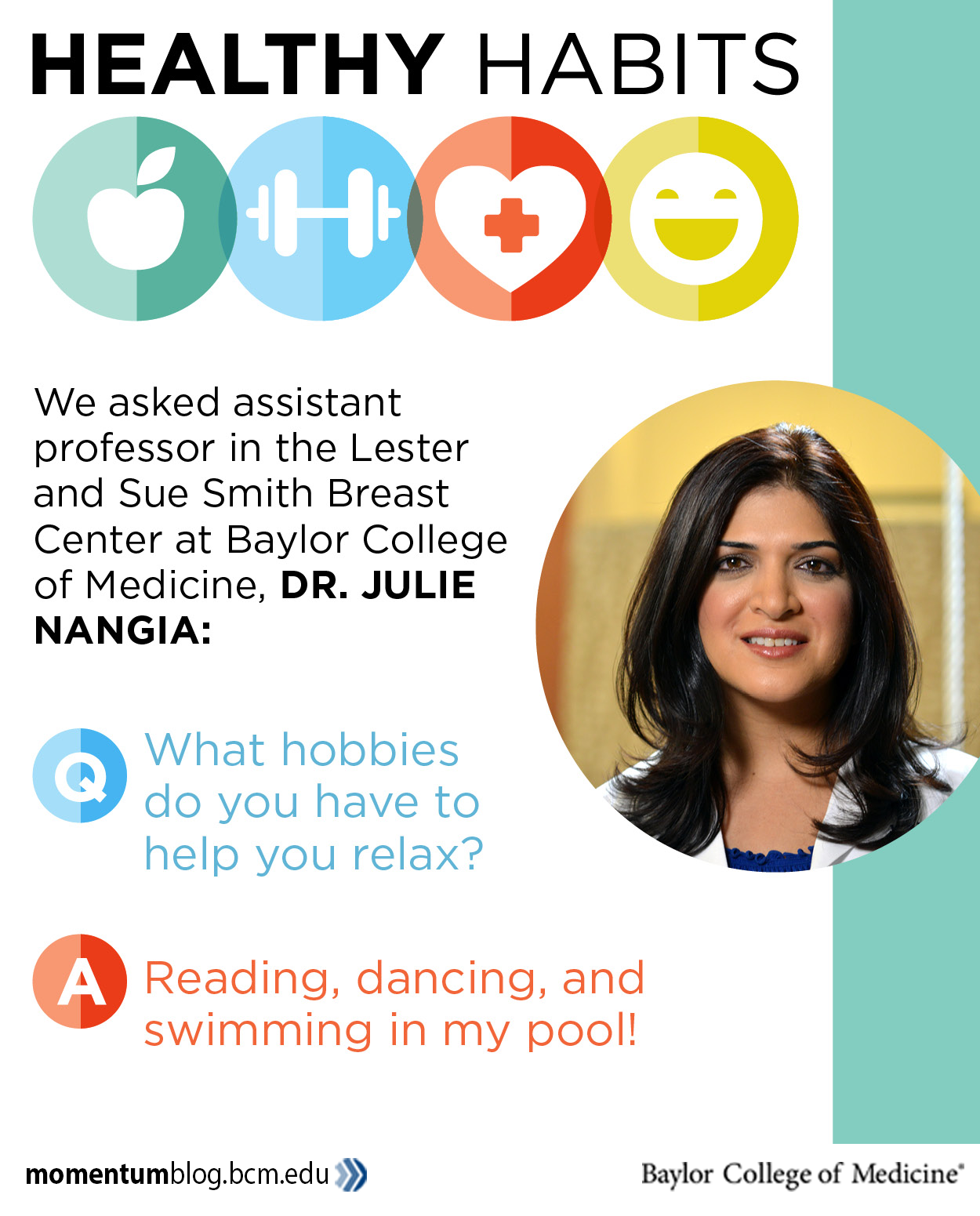 It can sometimes be difficult to find ways to stay healthy, so we've asked members of our Baylor College of Medicine community to share what they do in their daily lives to maintain a healthy lifestyle.
Dr. Julie Nangia, assistant professor in the Lester and Sue Smith Breast Center, a part of the Dan L Duncan Comprehensive Cancer Center at Baylor College of Medicine, talks about her healthy habits as a new mother.
Q: What healthy decisions start your day?
A: A good breakfast and on the weekends and an early morning walk with my baby!
Q: What is your go-to healthy breakfast?
A: I usually have milk with Folgers coffee stirred into it and a nature valley granola bar or a slice of toast with peanut butter.
Q: What is your favorite type of exercise?
A: I like to cycle and do a weight lifting class at 24 hour Fitness called body pump. On the weekend I walk two miles daily with my baby and my mom.
Q: What keeps you motivated during your workout? (music, tv, phone call, etc.)
A: Classes are great because of the group support and it's enjoyable to be out walking with my family
Q: What activities do you do when you can't fit in a full workout?
A: I wear a Fitbit and try to get in as many steps as I can by taking the long way when I walk somewhere or the stairs if it's just a few flights
Q: What is your favorite healthy snack?
A: Greek yogurt with fresh fruit or honey
Q: Do you take vitamins and if so, which ones?
A: I take generic vitafusion prenatal gummy vitamins
Q: What do you include in your child's lunch?
A: He's 11 months old so usually baby cereal and purred veggies/fruit with some puffs
Q: How do you make an unhealthy recipe healthy (healthy substitutions?)
A: I use a lot of ground turkey, baked fish or grilled chicken.
Q: What is your nighttime skincare regimen?
A: I wash my face with Clean & Clear papaya cleaner and use Oil of Olay face lotion
Q: What hobbies do you have to help you relax?
A: Reading, dancing and swimming in my pool!
Q: What is your go-to Houston restaurant for a healthy meal?
A: Ruggles Green. I love the fish tacos there!
Q: Do you use a pedometer or Fitbit and what is your daily step goal?
A: I do and its 10,000 steps a day (to lose my baby weight!) with a minimum of 5,000 steps no matter what!
Q: What is your favorite health tip that you live by?
A: Live a good life–avoid bad things like cigarettes and alcohol, eat lots of fresh fruit and veggies. It's ok to enjoy the good things, like a glass of wine on the weekend or having dessert in moderation (three bites of cake or a skinny cow fudge bar!)
Additional Resources
Healthy habits: Progress, not perfection
How Dr. Steven Curley stays active
See how Baylor stays fit with more healthy habits from members of our community
See how Baylor promotes a culture of healthy living and wellness