Ethics student to study medicine through lens of history
Holland Kaplan, a third-year medical student in Baylor College of Medicine Center for Medical Ethics and Health Policy's Ethics Track, will have the opportunity to explore medicine through the lens of history after accepting the Fellowship at Auschwitz for the Study of Professional Ethics (FASPE).
This competitive program examines the conduct of doctors and medical professionals during the Holocaust as the backdrop for an intensive course on issues in modern medical ethics. As a fellow, Kaplan will visit sites in Berlin, Germany, as well as Auschwitz and other sites in Poland, to use historical perspective as a framework for the ethical challenges in medicine today.
In the Q&A below, Kaplan discusses the opportunity and what she hopes to learn from the experience.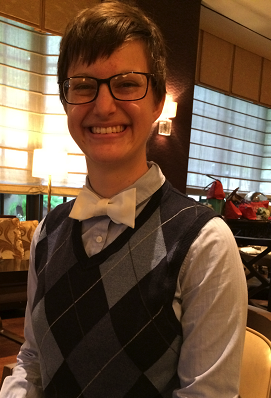 Q: Why did you apply for the fellowship? What do you hope to gain from the fellowship?
A: With physician-assisted death being increasingly legalized in the United States, I think it is critical that doctors involved in end-of-life and palliative care engage seriously with the potential implications. As someone interested in caring for patients with end-stage chronic disease, I want to be aware of the historical and philosophical underpinnings of my actions so that I can hold myself and my future colleagues accountable for our practice of medicine.
History tells us that well-meaning physicians who believe they are on the moral high ground can still end up committing horrible atrocities. I want to ensure that I can detect any action or inclination that might lead me and my future colleagues to practice medicine in ways that are not patient-centered and autonomy-focused.
I believe the best way for me to achieve these goals is to fully immerse myself in understanding the most egregious historical example we have of what happens when physicians think they have a right to decide who lives and who dies – the Holocaust.
Q: In what ways do you believe your participation in the Ethics Track will influence your experience with FASPE?
A: The Ethics Track has provided me with a framework with which to think about ethical issues in medicine. I think this framework will allow me to better articulate my thoughts and communicate them to other people in the fellowship.
Q: What are your career aspirations?
A: I enjoy working with patients with progressive, chronic illness. I value developing personal relationships with these patients and am fascinated by the complex decision-making and ethics involved in their care. I will be pursuing a residency in internal medicine and am particularly interested in patients with end-stage heart failure and those with terminal cancer. I plan on integrating clinical training in palliative care and medical ethics into my future career.
Q: How has your participation in the Ethics Track influenced your medical education?
A: The Ethics Track has allowed me to think critically about ethical issues faced by patients in the hospital and has consequently helped me better analyze clinical issues in medicine. It has enabled me to articulate thoughts I previously couldn't and has made me more aware of my personal actions when caring for patients.
Additional Resources
Learn more about the FASPE.
Read about Baylor's Center for Medical Ethics and Health Policy's Ethics Track.