For Dr. Rajani Katta healthy habits mean vegetables
Taking care of your health is a priority and nobody knows that more than physicians and healthcare providers. It can sometimes be difficult to find ways to stay healthy, so we've asked members of our Baylor College of Medicine community to share what they do in their daily lives to maintain a healthy lifestyle.
Dr. Rajani Katta, professor of dermatology at Baylor, gives us insight into how she stays healthy.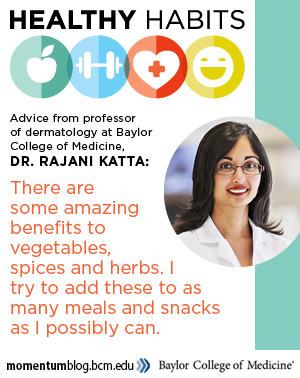 Q: What healthy decisions start your day?
A: I learned a long time ago that I need to eat a real breakfast every morning in order to be at my best. Plus, studies have shown that breakfast helps jump start your metabolism. The other decision is planning out when in my day I'm going to exercise.
Q: What is your go-to healthy breakfast?
A: Since we're in Texas, it's got to be breakfast tacos. We scramble eggs with baby spinach and cherry tomatoes, top with avocado slices, and wrap the whole thing in a whole wheat tortilla. It sounds like a lot of work, but it takes less than five minutes to prepare. If I wrap it in foil, I can take it with me and eat it at my desk if needed.
Q: What is your favorite type of exercise?
A: I started walking for exercise when I was 17, and although I've tried lots of other types of exercise over the years, walking is still my favorite. Especially outdoors.
Q: What activities do you do when you can't fit in a full workout?
A: The one that I find easiest to do during the workday is walking up multiple flights of stairs. In less than five minutes, you can really get your heart rate up. I consider it my version of interval training, where you focus on getting your heart rate up for short bursts of time.
Q: What is your favorite healthy afternoon snack?
A: I really like hummus and homemade pita chips, or guacamole and homemade pita chips. These count as vegetables!
Q: What do you include in your kids' lunches?
A: I focus on getting at least two fruits or vegetables in every lunch. We often include bananas, apples, or grapes, along with whatever's in season and easy to pack and eat. Right now it's nectarines, and we're looking forward to plums and figs.
Q: How do you make an unhealthy recipe healthy?
A: My favorite healthy substitution is using mashed bananas in place of some of the sugar and butter in a recipe.
Q: What is your nighttime skincare regimen?
A: I always tell my patients that the most important factor in their skin care regimen is that it's customized to their own skin type. For myself, with sensitive skin, I wash my face every night with a gentle cleanser formulated for sensitive skin, followed by moisturizer.
Q: What hobbies do you have to help you relax?
A: I find being in nature to be very relaxing. One of my favorite activities is hiking. I also love to just spend time in the park or gardens. Right now, I'm really enjoying the new McGovern Centennial Garden in Hermann Park.
Q: What is your go-to Houston restaurant for a healthy meal?
A: My family loves Fadi's Middle Eastern restaurant. They offer a large variety of really flavorful dishes, many of which incorporate vegetables easily.
Q: What is your favorite health tip that you live by?
A: One of my favorite tips is to add vegetables, along with spices and herbs, to any dish that you possibly can. When I was researching an article about diet and cancer prevention, I reviewed many studies about the foods that can help reduce the risk of cancer, as well as other chronic health conditions. There are some amazing benefits to vegetables, which I knew, as well as spices and herbs, which I didn't realize were also quite powerful. I make every effort to add these to as many meals and snacks as I possibly can.
Additional Resources
Healthy Habits: Dr. Adam Kuspa shares his motivation
Healthy Habits: What a dietitian eats for breakfast
See how Baylor stays fit with more healthy habits from members of our community
See how Baylor promotes a culture of healthy living and wellness