Komodo dragon puts right foot forward with Baylor College of Medicine help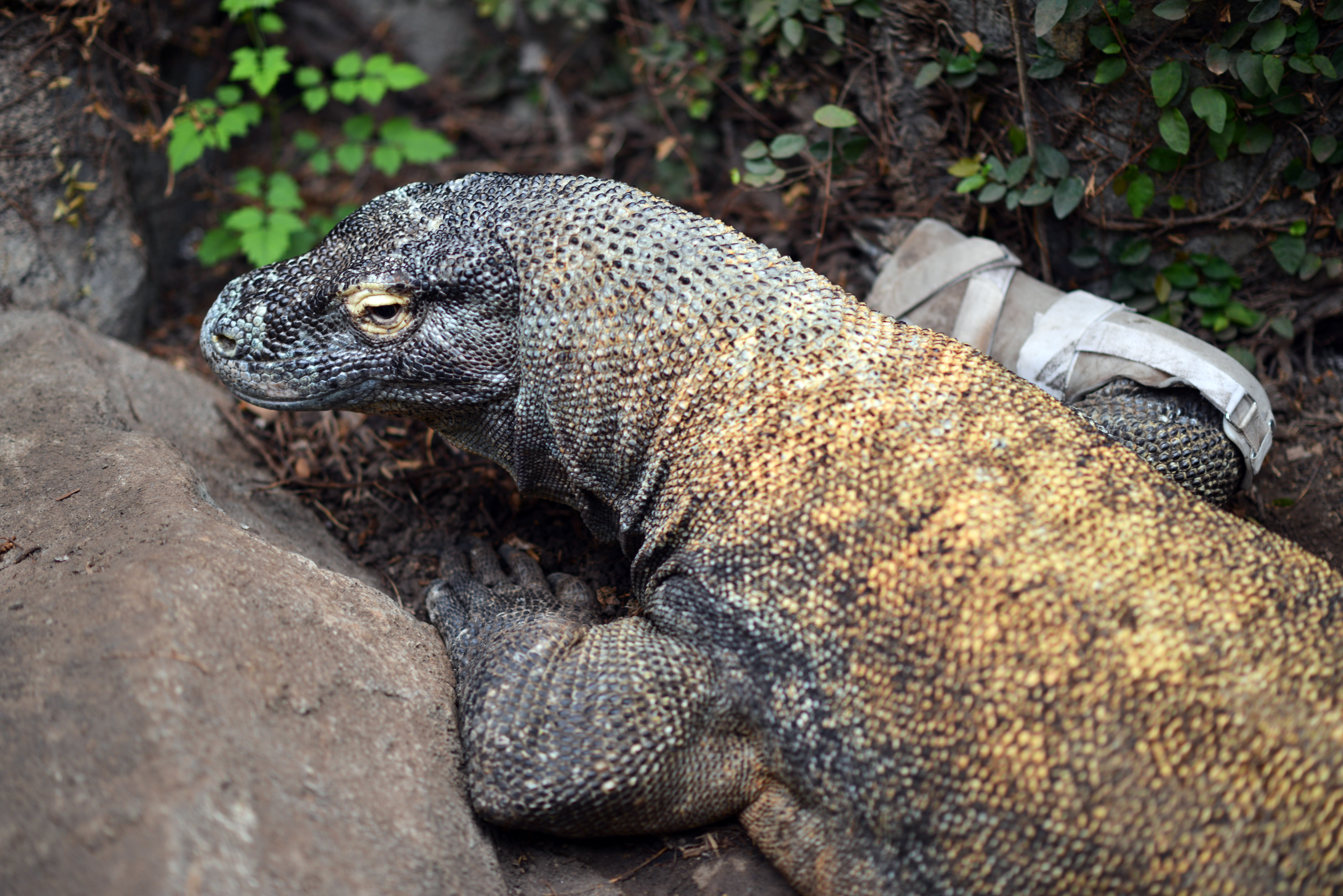 By Dipali Pathak
In the book The Hobbit, helping the dragon Smaug was the furthest thing from the mind of band of heroes who sought to regain the Dwarven kingdom and its treasure.
However, when a 16-year-old, 200 pound Komodo dragon named Smaug at the Houston Zoo needed help in using his right foot more efficiently, Baylor College of Medicine faculty in the Orthotics and Prosthetics Program offered to help. They have been working closely with zoo veterinarians and keepers since November to develop an orthosis to help the 7-foot, 200 pound Komodo dragon use his right foot more proficiently.
Walking on his toes
"About a year ago, we noticed that Smaug wasn't using his right, front foot normally and that occasionally he was flipping it underneath and walking on the top of his toes," said Dr. Lauren Howard, associate veterinarian at the Houston Zoo. "So that started the last year-and-a-half of our diagnostic investigation into what was going on with him. We're still trying to determine why he's not holding his foot the right way, but in the meantime our goal is to keep him holding his foot upward so he doesn't continue to walk on the tops of his toes."
Howard got in touch with Jared Howell, director of the Orthotics and Prosthetics Program at Baylor, to see if he could help. When Howell got the call from the zoo, it was a huge surprise, but he was eager to assist.
What went wrong
"When a Komodo dragon picks up its foot, it slides forward and they fire their muscles and they are able to put their palm downward. What happened for Smaug is that he wasn't able to fire his muscles to pull the foot forward, so as he picked up his shoulder to pull the foot forward, it stayed in the flex position and then he would land on it and roll his wrist underneath every single time he took a step," said Howell. "He's over 200 pounds, so that's a lot of weight going onto that hand."
Howell and colleagues visited Smaug at the zoo and took pictures and videos of him walking and came up with a plan to develop a rubberized spring-loaded device that would allow Smaug to have a natural range of motion at the wrist while still being able to then have it spring up when he took weight off of it so the palm would fall flat on the ground the way it should.
Howell and colleagues then took two casts of Smaug's limb and came back to their labs at Baylor where they worked on a prototype of the orthosis. After a few iterations and some fine-tuning, they designed an orthosis that worked well for Smaug. The orthosis is made of urethane laminate, which is a flexible material that has tackiness to it to adhere to the scales and is easy to put on and take off.
Second device
But that wasn't the end of their work. A short while after he was fitted for the orthosis, Smaug developed an infection in his foot, unrelated to the orthosis, which caused some mild cellulitis and swelling of the fingers. Howell and colleagues developed a second device to hold his foot in place while he healed. This device, made with silicone polymer, is also easy to get on and off and pre-positions the hand to help Smaug walk well. Smaug now has both devices and uses them as needed.
"We've noticed a difference in the management of Smaug's right front foot. One thing we were having trouble with was his toes were starting to get swollen and infected from the trauma from how he was carrying the foot. With this latest brace, we were able to keep the toes straight and they healed up – they stopped getting traumatized, the swelling went down and they weren't infected anymore. What we're looking at is a long-term goal of keeping this brace on for four to six to eight months and hoping that over time, it will strengthen his arm and maybe help him keep it in the right position," said Howard.
Learning curve
Howell notes that there was a learning curve in working with the reptile.
"It's a bit different. You don't have human tissue, you have scales, different muscle functions and joints that all move in different ways. All of those things added to the challenge, but it was a great learning experience and a lot of fun," said Howell, who emphasized it was a collaborative effort of the entire Orthotics and Prosthetics Program at Baylor.