San Antonio Breast Cancer Symposium kicks off this week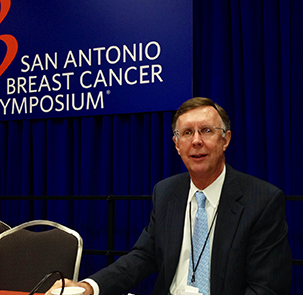 Did you know Baylor College of Medicine co-sponsors and helps organize the largest and most prominent breast cancer meeting in the world?
The San Antonio Breast Cancer Symposium kicks off its 37th annual conference today, together with sponsors including the American Association of Cancer Research and the Cancer Therapy and Research Center at the UT Health Science Center in San Antonio.
The meeting draws thousands of clinicians and scientists from all over the world to discuss the latest breakthroughs in basic, translational and clinical research. Last year more than 8,000 people attended.
Major national and international media follow the late-breaking science intently over the week.
Baylor scientists have been involved in the meeting since the inaugural symposium was held in 1978. Dr. Kent Osborne, director of the NCI-designated Dan L. Duncan Cancer Center at Baylor, was on the faculty at UTHSCSA at the time, when the meeting was held in a downtown San Antonio hotel for one day.
Over the years, the meeting grew significantly as top-tier scientists from around the world were invited and accepted to speak at the meeting.
While Baylor faculty are involved in a majority of the programmatic planning of the conference, Osborne has served as co-director of the meeting since 1992. Baylor became a sponsor in 1999 when he was recruited to Baylor to lead the cancer program (and now Dan L. Duncan Cancer Center).
"The SABCS this year should be another exciting meeting with outstanding educational sessions and exciting new research," said Osborne.
Additional Resources
Read more about the research being presented.
Learn more about the San Antonio Breast Cancer Symposium.
-By Glenna Picton