Community health fair takes "whole family" approach COVID-19 vaccines, healthcare needs
In April 2020, Dr. Hoda Badr launched a study to learn how the new COVID-19 pandemic was impacting people's health and well-being. She wanted to gather data to understand how healthcare providers could better help families cope with the pandemic. Two years later, she is using what she learned to help address COVID-19 vaccine hesitancy in the Houston area.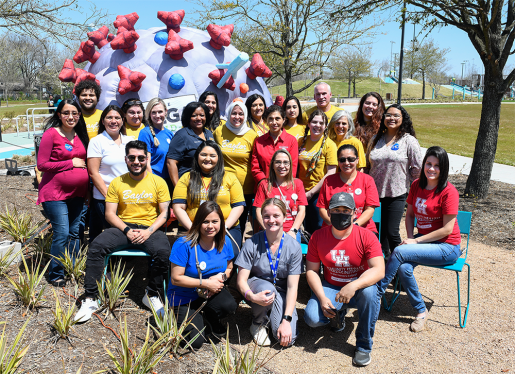 Badr, an associate professor of medicine in epidemiology and population sciences at Baylor, received a research grant as part of the NIH-funded Texas Community Engagement Alliance (TX CEAL) consortium to conduct research and outreach efforts to help reduce the impact of COVID-19 on vulnerable populations. She and the Baylor CEAL team that she leads decided to focus on the Aldine area because it is home to a large Latino community that has been particularly hard hit by COVID-19 cases and vaccination rates there remain low.
"Providing a one-size-fits all approach to COVID-19 vaccination isn't working," said Badr, leader of the Cancer Prevention and Population Sciences Program at Baylor's Dan L Duncan Comprehensive Cancer Center. "To close the vaccination gap in our racial/ethnic minority and medically underserved communities, we need to engage residents to understand the barriers that they are facing and really listen to their issues and concerns. Then, we can develop tailored vaccine promotion campaigns that seek to meaningfully address these issues."
The Baylor team met with Aldine community residents who explained language was a major barrier to getting vaccinated. They also emphasized that their community has many other health concerns in addition to COVID-19. Residents suggested that a "whole family" approach to health and wellness would gain community trust and persuade people to get vaccinated. Based on this feedback, Badr's group partnered with Harris County Precinct 2 Commissioner Adrian Garcia's office to design Día de la Salud, a free community health fair for the whole family.
They hosted the event at Aldine's North East Community Center in March, with approximately 325 community residents in attendance. Spanish-speaking community health workers provided COVID-19 vaccine education and staff from Harris County Public Health were there to provide COVID-19 vaccination and testing. Badr's team handed out $50 H-E-B gift cards to those who got vaccinated. In all, 61 people received a COVID-19 vaccine during the event.
"Harris County officials who were administering the COVID-19 vaccines told us they have been averaging about 10-15 vaccinations per day at that site," Badr said. "The fact that we were able to vaccinate about six times that amount is definitely a win."
As part of the whole health initiative, faculty, staff, trainees and students from across Baylor joined to provide health screenings and demonstrations for attendees. The Latino Medical Student Association provided glucose screening, Physician Assistant Program students screened attendees for hypertension, and Orthotics and Prosthetics Program students demonstrated foot exams, all under the supervision of Baylor vascular surgeons. Staff from the Duncan Cancer Center passed out 100 $10 Fiesta gift cards to raise awareness about hepatocellular carcinoma. The Duncan Cancer Center Office of Community Outreach and Engagement provided education about colorectal cancer screening, and there also was information about lung cancer and smoking cessation.
To make the event fun for the whole family, Badr and her team organized fitness and cooking demonstrations, face painting and balloon artists for kids, raffles and prizes, a mariachi band, and free tacos for all attendees.
"Working on this project from its inception has definitely been my 'silver lining' of the pandemic," Badr said. "After all we have been through these past two years, it was really gratifying to join forces with my Baylor colleagues, county government and community partners, and an amazing group of students and volunteers to provide needed preventive health services and health education to the Aldine community. It still takes a village to beat COVID-19, and through this process, I think we showed we can accomplish that goal if everyone comes together to do their part."
-By Molly Chiu