Colder temperatures mean people will seek a warm hug from a bowl of soup this fall and winter. Although comforting, soups, if prepared incorrectly, can have negative health impacts. Dr. Luis Rustveld, registered and licensed dietitian at Baylor College of Medicine, shares the best ways to avoid ingredients that can ruin the nutritional value of your favorite soup.
"My favorite soup has matzo balls in it, lots of fiber – it is light but hearty," Rustveld said. "I also like soups that have lots of lentils, kale, vegetables and a lean protein."
Building the soup
Most soups consist of a few components: the broth, a source of fiber and a source of protein. Generally, a serving of soup should not consist of more than 300 milligrams of sodium and should contain no more than 7% saturated fat. On commercially produced soups, these facts can be seen on nutrition labels, but when making soup at home, it is important to be mindful of where these can come from in your ingredients. Pre-cooked meat or "dippables," like saltine crackers, also can add unexpected amounts of sodium to your soup.
The broth
As the most abundant component of a well-rounded soup, broth is the easiest way to make or break the healthiness of your soup. Rustveld says that when purchasing broth, look for options that have little to no salt in them. Avoid chicken, beef or vegetable bouillons as they have very high and concentrated amounts of salt. Ingredients that impart more savoriness into foods, such as coconut aminos, soy sauce or fish sauce, can be included in soups at a lower amount to offset the desire for more salt. Additionally, using herbs and spices will provide a well-rounded flavor that can satisfy flavor cravings.
Rich, creamy soups often use dairy products as part of their base, which can be high in saturated fats, especially in combination with fatty proteins like pork. For alternatives, Rustveld suggests adding blended potatoes or garbanzo beans to provide a creamy texture with none of the saturated fats. For other additives, Rustveld advises avoiding anything with maltodextrin, as this ingredient can raise blood sugar levels to unhealthy amounts. Yogurt is another dairy ingredient low in saturated fat and may add a desired creamy texture.
The fiber
Most fiber intake from soups will come from the vegetables in your soup. Rustveld says vegetables are the best way to fill up your bowl without adding too many negative components.
"Fresh and frozen vegetables are the best to add in your soup, but be sure to prepare them in your soup as you don't want to lose key vitamins and minerals if you prepare them separately," said Rustveld. "Canned vegetables can also work; however, some brands include salt in their products, which is not an ideal addition to your soup."
The protein
Rustveld says to limit the number of fatty protein sources in your soup. This includes sausage, bacon, and fatty cuts of beef, chicken and pork. Each of these protein sources has leaner cuts that can be substituted. However, it is worth pursuing soups that use alternative sources of protein. Beans, lentils, tofu and chickpeas all can meet protein needs while making soups vegetarian-friendly.
Soup can be a dish on its own or the beginning of a larger meal. When deciding on how to best keep your soup healthy, Rustveld says to keep an eye on what is going on in your soup and seek out what is missing on the side.
"Try to make your soup as well-rounded as possible. If your soup has plenty of vegetables and protein, consider adding a whole grain in your soup, like brown rice, or on the side, with whole-wheat bread, to dip in your soup," said Rustveld. "If you can't make soup at home, pay close attention to the labels of purchased food to know exactly what you are consuming."
By Aaron Nieto
Dr. Rustveld's Hearty Lentil Soup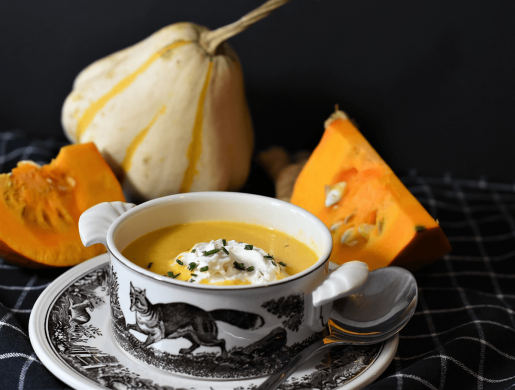 Ingredients:
1 cup dried brown or green lentils, rinsed and drained
1 medium onion, chopped
2 cloves garlic, minced
2 carrots, chopped
2 celery stalks, chopped
1 medium potato, peeled and diced
1 can (14 oz) diced tomatoes (or use fresh tomatoes if available)
6 cups vegetable broth (low-sodium if possible)
1 teaspoon ground cumin
1/2 teaspoon ground coriander
1/2 teaspoon ground turmeric
1/2 teaspoon paprika
Salt and pepper to taste
2 tablespoons olive oil
Juice of 1 lemon (optional, for garnish)
Fresh parsley or cilantro, chopped (optional, for garnish)
Instructions:
In a large soup pot, heat the olive oil over medium heat. Add the chopped onions and garlic, and sauté for about 3-4 minutes, or until they become translucent.
Add the carrots and celery to the pot, and sauté for another 3-4 minutes, stirring occasionally.
Stir in the ground cumin, ground coriander, ground turmeric, and paprika. Sauté for an additional minute to toast the spices and release their flavors.
Add the rinsed lentils, diced potato, diced tomatoes, and vegetable broth to the pot. Stir to combine all the ingredients.
Bring the soup to a boil, then reduce the heat to low, cover, and let it simmer for about 20-25 minutes or until the lentils and vegetables are tender. Stir occasionally.
Once the soup is cooked, season it with salt and pepper to taste. Adjust the seasoning according to your preference.
If you prefer a smoother consistency, you can use an immersion blender to partially blend the soup while leaving some chunks for texture. Alternatively, use a regular blender, but be cautious as hot liquids can splatter.
Serve the healthy lentil soup hot. You can garnish each bowl with a squeeze of fresh lemon juice and a sprinkle of chopped parsley or cilantro for added flavor.