Healthy Habits: Meal prep, evening walks help Brittany Lostak stay fit
It can sometimes be difficult to find ways to stay healthy, so we've asked members of our Baylor College of Medicine community to share what they do in their daily lives to maintain a healthy lifestyle.
Brittany Lostak, a physician assistant with the Bobby R. Alford Department of Otolaryngology – Head and Neck Surgery at Baylor, shares some of her healthy habits with us.
Q: What health decisions start your day?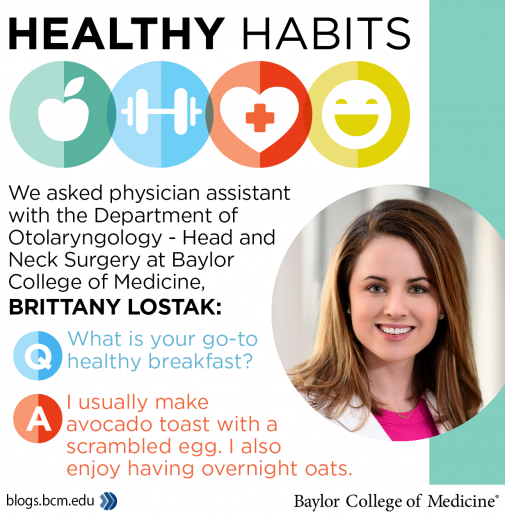 A: Meal prepping the night before.
Q: What is your go-to healthy breakfast?
A: I usually make avocado toast with a scrambled egg. I also enjoy having overnight oats.
Q: What is your favorite type of exercise?
A: Orangetheory, but I also love jogging.
Q: What keeps you motivated during your workout?
A: Accountability from loved ones.
Q: What activities do you do when you can't fit in a full workout?
A: I go on a walk following dinner.
Q: What is your favorite healthful snack?
A: Skinny Pop.
Q: Do you take vitamins and if so, which ones?
A: Yes! SmartyPants Organics Women's Complete Gummies.
Q: How do you make an unhealthy recipe healthy?
A: I use applesauce in baking instead of butter or oils.
Q: What is your nighttime skin regimen?
A: My regimen includes:

Origins Checks and Balances face cleanser
Origins Mega-Mushroom Relief & Resilience Treatment Lotion
SkinCeuticals C E Ferulic Serum
Origins Three Part Harmony moisturizer and eye cream
Lastly, I spray my face/neck with the Elemis Superfood Kefir-Tea Mist
Q: What hobbies do you have to help you relax?
A: Baking.
Q: What is your go-to Houston restaurant for a healthy meal?
A: Local Foods.
Q: Do you use an activity tracker or Fitbit?
A: Yes, I use an Apple Watch.
Q: What is your favorite health tip that you live by?
A: Eat to live, don't live to eat.
Additional Resources
Emily Monfiletto enjoys elliptical workouts, low-fat meal substitutions
Scrapbooking, avoiding the snooze button help Dr. Hoda Badr stay focused
Read more healthy habits from members of our community.
Learn how Baylor promotes a culture of healthy living and wellness.