New research supports benefits of bariatric surgery in long-term weight loss and cancer risk reduction
Bariatric surgery represents a useful tool in treating obesity, and emerging research has demonstrated its efficacy in lowering the risk of cancer. At Baylor Medicine, collaboration between the bariatric surgery team and our medical/surgical oncology colleagues helps to identify patients who have obesity and may be at risk of developing certain types of cancers.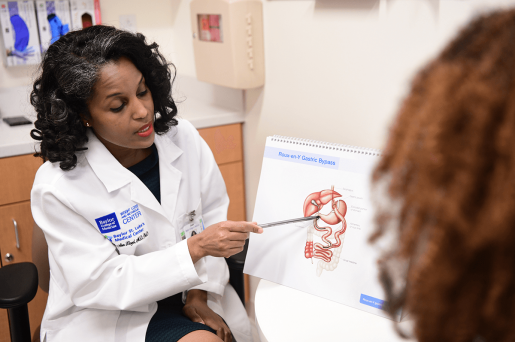 Last month, researchers at Cleveland Clinic highlighted the benefits of metabolic and bariatric surgery in reducing the prevalence and progression of cancer. The authors evaluated more than 650,000 patients who suffer from obesity, comparing those who underwent either sleeve gastrectomy or Roux-en-Y gastric bypass to similar patients who had not had surgery. The cohort study demonstrated a statistically significant decrease in the incidence of obesity-associated cancers, namely, breast cancer, endometrial and ovarian cancer, esophageal adenocarcinoma, gastric cancer, colorectal cancer, hepatobiliary cancers, renal cell carcinoma, thyroid cancer and multiple myeloma.
Furthermore, the incidence of mortality from all types of invasive cancers were significantly lower in the surgery group than in the control. The effects were most pronounced in the analysis of endometrial cancer.
These results are quite promising. The disease of obesity has a known association with promoting an inflammatory state that leads to organ dysfunction, immune dysregulation and insulin resistance. Although some mechanisms underlying the metabolic effects of surgery remain elusive, research is underway to better enhance our understanding of the complex network of resulting cellular changes and its translation into improved overall health. Results from an earlier study, called the STAMPEDE trial, showed the superiority of bariatric surgery to medical weight loss in providing a durable treatment and, in some instances, complete remission for diabetes, hypertension and hyperlipidemia2. Similarly, in the present study, patients had greater success with long-term weight loss, out to 10 years after surgery.
Our goal at the Baylor Medicine Weight Loss and Metabolic Center is to capitalize on these outcomes. Specifically, Baylor Medicine patients being evaluated for bariatric surgery receive comprehensive, multidisciplinary care with a patient-centered approach. Together with our colleagues at the Dan L Duncan Comprehensive Cancer Center, we ensure that our patients have had their routine screenings for colorectal, breast, uterine and prostate cancer before proceeding with surgery and, for patients who have been diagnosed with cancer, we work to reduce their risk of recurrence through surgical weight loss.
This fall, a symposium at the Michael E. DeBakey Veterans Affairs Medical Center will showcase lectures and discussions by our bariatric faculty on how metabolic and bariatric surgery may protect against certain cancers and prolong survivorship in patients who have been diagnosed with cancer.
One of the major remaining challenges in the field of bariatric surgery is access to care. Without adequate education, an overwhelming majority of providers remain unaware of the health benefits of surgical weight loss, including a reduction in cancer risk and cancer-related mortality. Therefore, we need to continue to educate our colleagues and encourage patients dealing with obesity to seek evaluation to reduce their risk for cancer.
Learn more about the Weight Loss and Metabolic Center at Baylor Medicine.
By Dr. S. Julie-Ann Lloyd, assistant professor in the Michael E. DeBakey Department of Surgery at Baylor College of Medicine.