Growing Up Baylor: Precious Williams Owodunni
Not every high school student knows what job they want to eventually have.
But Precious Williams Owodunni, a member of Baylor College of Medicine's Board of Trustees and chief executive officer and founder of Mountaintop Consulting, knew she wanted to be involved in STEM – science, technology, engineering or mathematics. She serves as an independent board member of Cadence Bank and the Episcopal Health Foundation.
A special group of physicians, faculty members, researchers, staff, and now trustees, at Baylor have had the unique experience of returning to their educational stomping grounds to play a larger part of the college's offerings. Owodunni tells us how her education at Michael E. DeBakey High School for Health Professions started her on a successful career path.
When and where did your journey with Baylor College of Medicine start?
At the time, it was called the High School for Health Professions. I started in 1989 and graduated in 1993. I wanted to be a pediatrician and growing up science fair was my sport of choice. A school of health professions was ideal to pursue both of those interests. It was very ethnically diverse. It was a very comfortable place to be a brown girl focused on STEM.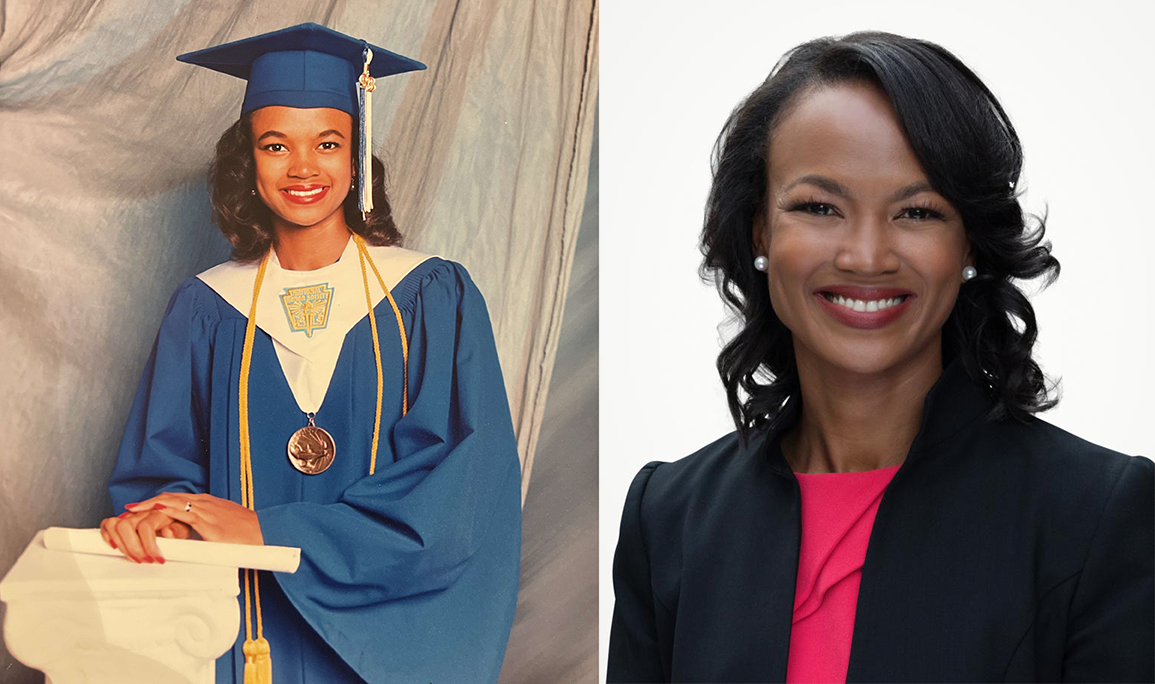 Our curriculum included clinical rotations in the Texas Medical Center. I got direct access to patient care opportunities, which for me, helped me realize that medical school ultimately wouldn't be the right fit. Seeing patient care and the healthcare industry up close led me to an interest in law and policy.
Ultimately, I went to Yale Law School after receiving my undergraduate degree in ethics, politics and economics from Yale. My concentration was in international health policy. The more you study international issues, the more you realize how similar we are and how similar our needs are.
What inspired you to join our board?
It was a great chance to really give back to an institution that had given me so much. In a funny way, it's a bit of a homecoming. Back then, my role as the DeBakey student body president gave me a seat on a Medical Center student board that met at Baylor.
This feels like a progression. As a high school student, Baylor was magical to me.
Knowing what you know now, what you would you tell your younger self?
I would tell my younger self to stay intellectually curious and to always have the courage to define and redefine yourself. I've had the privilege of having several careers and career aspirations – from wanting to be a pediatrician to wanting to be a lawyer. I left law school and worked on Wall Street as an investment banker and private equity investor before becoming an entrepreneur 12 years ago.
Looking back, that progression feels very natural. I couldn't have anticipated when I left DeBakey exactly where opportunities would take me. Stay curious because if you're curious and do things on your own terms, you will end up in a place that works best for you.
Also, you will never regret time spent mentoring. It often becomes a situation of "who's mentoring whom?"
What do you think makes Baylor unique?
Baylor is unique in its connectivity. In that, I think it plays an important role in connecting both cutting-edge research with clinical work that is happening in the Texas Medical Center with our broader community through public schools or just outreach.
Do you have a mantra? If so, what is it?
I don't have a daily mantra. But I have an approach to life, which is that I very deliberately protect my joy.
-By Julie Garcia