What you should know about COVID-19 booster shots
The Food and Drug Administration (FDA) and Centers for Disease Control and Prevention (CDC) recently approved and recommended Pfizer booster shots for some Americans. Dr. Hana El Sahly, professor of molecular virology and microbiology and of medicine – infectious diseases at Baylor College of Medicine, explains what you need to know about COVID-19 booster shots.
Q: What is the difference between a third dose and a booster?
A: Third doses and boosters are different things. For vaccines in general, a third vaccine dose is sometimes required when trials reveal that many people do not develop full immunity after two doses. An example of this is the hepatitis B vaccine. At the population level, we need three doses of this vaccine to get the full protective effect.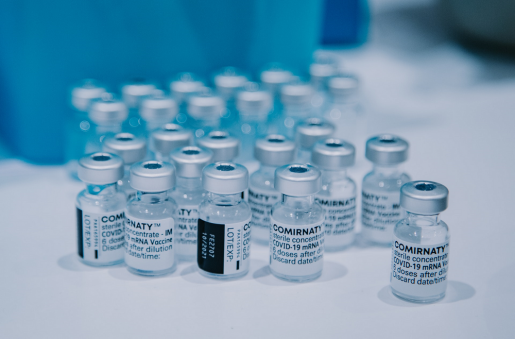 In the case of booster shots, you have already gotten full immunity with the initial doses, but immunity wanes over time and a booster is required to restore immunity and full protection. An example of this is the tetanus vaccine.
We have seen that with COVID-19, at least for the mRNA vaccines, more than 95% of people will develop a good immune response after two doses. More importantly, the vaccines are highly protective against disease, severe disease and death. We are seeing the full benefits with two doses.
At the moment, there appears to be some waning COVID-19 vaccine effectiveness against the Delta variant of SARS-CoV-2 infection. So far, this waning immunity increases the chance someone who is vaccinated could develop mild to moderate disease. Fortunately, the vaccines seem to be maintaining effectiveness against development of severe disease.
Q: Who is eligible for a third dose and who is eligible for a booster?
A: Individuals who are significantly immunocompromised are eligible for and recommended to get a third dose. These are people who underwent organ transplantations or who are on high-level immunosuppressing agents for inflammatory diseases or cancer treatments. See the complete list of conditions for which a third dose is recommended.
Pfizer submitted for approval of a booster shot for all Americans 16 and older. However, the data on the risk vs. benefit was not compelling enough to the FDA Vaccines and Related Biological Products Advisory Committee (VRBPAC) to recommend widespread boosters at this time. Instead, VRBPAC and FDA took a more targeted approach.
The committee recommended emergency use authorization of a booster shot for those older than 65 and those at risk of severe disease or occupational risk. The CDC subsequently recommended a booster shot for those older than 65 years of age and those 50-64 years of age with underlying medical conditions. Individuals 18-64 years of age with underlying medical conditions or who have occupational risk of exposure may get the booster if they deem their risk benefit profile favorable.
Q: How do I know if my immunity is fading and how do I know if I need a booster?
A: One means of following your immune response is to measure your levels of circulating neutralizing antibodies to SARS-CoV-2. This is known as antibody testing. These are the actual molecules that are present in your blood in response to vaccination. They attach to the invading coronavirus to activate your body's defenses. This test is not recommended for routine clinical care, as it does not predict well your protection against COVID-19 and its outcomes. Even in the absence of antibodies or the presence of low antibody levels, you can still have a significant level of immune protection based on "cellular immunity;" that is, cells that have been primed by vaccination to react, and produce more antibody, upon exposure to the virus.
At this point, there is not a defined antibody level below which we are at severe risk of disease. At Baylor, we helped write a publication (currently in pre-print) that shows around 65% of the benefit we see with the Moderna vaccine is not explained by antibody levels. We believe this is also likely true for the Pfizer vaccine because the two vaccines are quite similar.
We are studying immunity and antibodies clinically to determine the need for a booster. The biggest indicator we are following is whether the vaccines are still effective at preventing hospital admission and death. The CDC has been putting out data on this every week, and other agencies around the world are doing the same.
Q: Are the third dose and the booster shot the same dose?
A: For Pfizer, the third dose and booster shots are the same dose received in the first two doses. Moderna has submitted a half-dose booster to the FDA for approval, but we are still waiting for FDA review of these data.
Q: Does it matter which booster I get? Is it OK to get a vaccine different from what I initially received?
A: The booster dose reviewed and authorized is for a Pfizer booster shot for those who got primed with a Pfizer series. There are no current recommendations to address the Johnson and Johnson (J&J) or Moderna vaccine recipients, but we should learn more in the coming weeks.
Q: What about boosters for the J&J vaccine?
A: The CDC data shows that the effectiveness of the J&J vaccine at preventing COVID-19 related hospitalization is in the 65-70% range, which is lower than Moderna and Pfizer. That protection estimate is substantial, but not ideal. We expect there will be further recommendation from the CDC regarding the need for a J&J booster, so please stay tuned.
Q: When can I get a booster shot, and what should I do while I wait?
A: People who qualify for a booster can go to their local pharmacy or call their primary doctor.
While waiting for a booster, everyone should be wearing a mask if they are indoors. Please encourage everyone you know to get vaccinated against COVID-19 with the primary series if they have not done so already. It's also important for everyone to get the flu shot.
Q: Could getting a booster shot cause any harm?
A: Based on the data available to date, the booster dose appears to be very safe. Further research and monitoring are necessary to fully define the risk. We do know that two doses are affording significant benefit with a good safety profile. Is the value of any incremental benefit balanced by the risk of a third dose? The early safety data are reassuring, and the CDC will continue to monitor safety data via active and passive surveillance to detect any concerning signal.
-By Molly Chiu