Lost, but not forgotten: Preserving a stranger's memory
Editor's note: The following story highlights the importance of simple good deeds and raises questions of memorializing and responsibility postmortem. A version of this piece was performed at Off-Script, The Texas Medical Center's storytelling hour, sponsored by Baylor College of Medicine's Narrative Medicine Program.
The house across the street from ours had been abandoned for many years and was now falling apart. The roof was collapsing, the front door hardly standing, and many windows were shuttered. The vegetation grew wild and unchecked, the vines taking hold of the house like tentacles of a giant octopus.
The woman who used to live there, Mrs. Harris, was a widow who died many years ago. Nobody ever moved into the house after she passed away.
We knew there must have been an owner, perhaps someone living out of town, but for some reason, he never showed up to take care of the place, and the "For Sale" sign never appeared.    The city's authorities were informed of the dilapidated conditions of the house, and they came to inspect it. A court day was set for the mysterious owner to show up and take responsibility, or else the house would be condemned by the city and torn down.
My husband, Nick, had a few chats with Mrs. Harris when she was still alive. He felt a sense of kinship toward her and decided to check the inside of the house before its inevitable demise. He hoped to rescue family photos and items that could have been of sentimental value, in case any relatives ever showed up. I was concerned that the house would collapse during his inspection and advised him against it, to no avail.
"You won't believe what I found inside!" he said, when he returned home carrying a bag full of photos, framed and unframed. "There is a marble headstone with the name 'Marc Harris' carved on it – 'U.S. Army, World War II, 1912-1966.' He was Mrs. Harris's husband, a World War II veteran!" Nick paused, then continued: "It looks like Mrs. Harris never found a way to take the headstone to the cemetery where he was buried. Most likely she had no help and no family around to take care of it."
I looked at the dusty family photos and wondered what had happened to those people. Some were children, some young adults, some looked like grandparents. There were graduation photos, formal photos, photos of a family having an outdoor party, photos of an older, well-dressed woman with star earrings and a fancy hairstyle.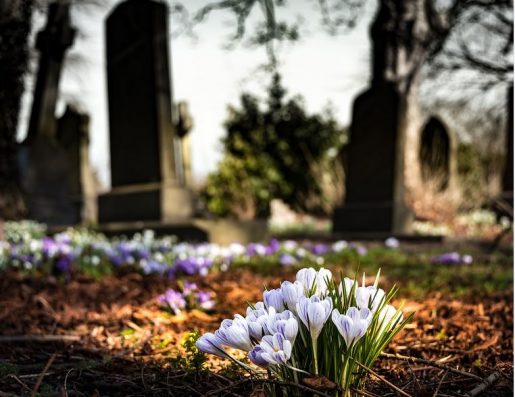 How was it possible that everybody had disappeared? Where were they? While I was wiping the photos with a wet rag, Nick went on to say how sad it was that Mr. Marc Harris could be forgotten like that. Nick felt the only honorable next step for him was to retrieve the heavy tombstone, bring it to the cemetery, and finally place it where it rightfully belonged.
One day, Nick went on his second mission to the abandoned house across the street. He reemerged a while later with the heavy tombstone on a wheelbarrow. He deposited it in our backyard against the garage wall, and pointed at a few dark stains that he planned to erase. He wanted the tombstone to be immaculate.
Once the tombstone passed Nick's inspection, it was time to plan our trip to the Josserand Cemetery, about 120 miles North from our home in Houston. On a Sunday morning, I packed drinks and food, while Nick loaded the truck with all the tools necessary to do the job.
I cut some flowers from our backyard and took a yellow votive candle with me. We were planning a small ceremony with prayers and even sprinkles of holy water from the Sanctuaries of Fatima and the Black Virgin of Costa Rica.
The cemetery was located in the woods, along a dusty dirt road and a few falling apart homes. It felt surreal that not too far from a major metropolis, there could be a place so seemingly isolated and in a state of total abandonment.
Nick unloaded all the tools from the back of the truck, but there was a problem: Mr. Harris's tomb did not have any marker at all. If there was a wooden one, it must have gone, maybe destroyed over the years by the elements. But Nick had done his research well and knew where Mr. Harris's relatives were buried. So he guessed that Mr. Harris must have been buried next to his father's tomb, and started to dig a few feet away from it, where there seemed to be a likely resting place.
After much digging and sweating, Nick reached the top of a coffin. That must have been Mr. Harris's casket. I was relieved he was able to find it. Without a marker, nobody would have known that somebody was buried there.
While Nick was laying the foundation for the tombstone, I walked in the cemetery and wondered how many more unmarked graves there must have been there. So many forgotten people, left behind by history, literally swallowed by earth, dust on dust, nothing left to remember them by, not even their names.
Placing Mr. Harris's headstone seemed even more necessary then. While the Harris family home was abandoned and falling apart, soon to be demolished, the headstone would stay in the ground, solid, unmovable, planted forever.
When Nick completed his job, I placed the flowers in front of the headstone and lit the votive candle. We recited prayers for Mr. Harris, and concluded our ceremony with a heartfelt "Amen" while sprinkling the holy waters.
On our way back home, we thought how little we knew of Mr. Harris after all, but how important it felt to us to honor his memory. We hope that some distant great grandchild will finally visit Mr. Harris's burial place and easily locate his tomb marked by the shiny headstone.
-By Dr. Fabrizia Faustinella, professor of family and community medicine at Baylor College of Medicine