Resilience Through COVID-19: 'Super Sherrie'
To her friends, family and colleagues, Sherrie Benson is known as "Super Sherrie." Not only because of her love of Superman, but also because they know they can rely on her to swoop in and save the day if they ever need it.
So it was no surprise that when Baylor College of Medicine was looking for volunteers to help with a drive-thru COVID testing site in March 2020, Benson, a certified medical assistant in the Division of Thoracic Surgery at Baylor, raised her hand to help before the organizers even finished their recruitment spiel.
Benson is in her 37th year of working in healthcare, and her expertise has ranged from phlebotomy to OR tech to teaching. She joined Baylor as a medical assistant in 2014 when the Division of Thoracic Surgery was first established in the Michael E. DeBakey Department of Surgery.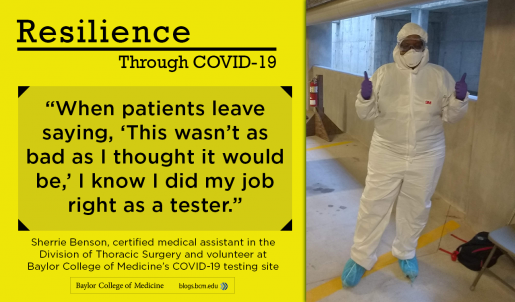 It has been her lifelong dream to be a doctor, so when she heard about the virus that was infecting individuals in China, she became fascinated and wanted to learn more about it. As she learned more, she knew that with travel, the virus would easily spread to all parts of the world.
As fears grew about the virus among her colleagues, patients and family, she was not afraid to face the it head on.
"I knew it was like a battle," she said. "You have to change your way of life."
She immediately began to adapt to this new way of life that included more handwashing, PPE and social distancing. When she learned about Baylor establishing a COVID testing site in the early days of the virus, she knew she wanted to help.
"I love what I do and I knew I could do it well," Benson said.
Her routine involves helping to run the thoracic surgery clinic operations with an efficient team of colleagues, which continued even while helping with the testing site two to three times a week. She loves her thoracic team like family, since she does not have any family in Houston.
Benson has worked at the drive-thru testing site in100-degree temperatures in the summer and temperatures in the 20s in February.
Her goal is to yield the best nasal swab sample without causing pain or discomfort to the patient.
"When patients leave saying, 'This wasn't as bad as I thought it would be,' I know I did my job right as a tester," she said.
Helping at the testing site also allowed her to connect with individuals who worked in other departments at Baylor who she may not have previously had an opportunity to work with. She's mentored other medical assistants on taking nasal swabs and met nurses from different specialties.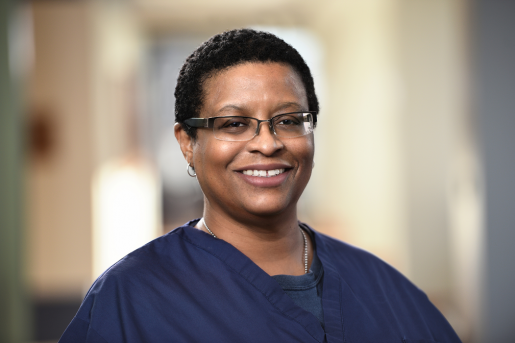 Benson also has had the opportunity to work alongside two surgeons from her division – they served as her backup at the testing site, where she taught them how to wrap the specimens before they were sent to the lab.
Once the vaccine became available, Benson also volunteered to help with vaccine administration at the College.
Serving the community has always been important to Benson, who also worked with her department to coordinate a blood drive during the pandemic and hopes to coordinate volunteer opportunities for the department with the food bank.
"Sherrie Benson has been a pinnacle in the care of our thoracic surgery patients from our very beginning as a division nearly seven years ago," said Dr. Bryan Burt, chief of the Division of Thoracic Surgery at Baylor. "Sherrie is literally the first person our patients see when they walk through our doors, and her bright and disarming personality have had enormous impact on individuals who are struggling with difficult diagnoses."
She also knows that as a healthcare provider, she serves an important role in the community during the pandemic. She shares as much information about the virus and vaccine that she can with friends and family to combat the misinformation that is being spread.
"Recently, when I was wrapping up with one of my patients in clinic, they asked me if I could have Sherrie come back in for a few minutes to discuss some of the holistic aspects of their care," Burt said. "She is the face of Baylor thoracic surgery and we are so grateful to her."
See more from the Resilience Through COVID-19 series
Read Dr. Dharani Narendra's story
Caring for cancer patients during a pandemic
-By Dipali Pathak