Resilience Through COVID-19: Dr. Dharani Narendra
Before sunrise, Dr. Dharani Narendra is treating critically ill patients, including those with COVID-19, at Ben Taub Hospital. By nighttime, she is finishing electronic records and spending time with her family.
Dr. Narendra, an assistant professor in the section of Pulmonary, Critical Care and Sleep Medicine at Baylor College of Medicine, works in the intensive care unit at Ben Taub as an intensivist, and sees patients for pulmonary consults in the wards and outpatient pulmonary clinic.
She discusses her experience as a physician during the COVID-19 pandemic, how it has impacted her, and what gives her hope in the following Q&A.
Q: What is a typical day like for you?
A: During my ICU shifts, my day starts early to see critically ill patients in the intensive care unit. I work with fantastic team members, including residents, pulmonary critical care fellows, nurses, respiratory therapists, pharmacists, and social workers, to care for our patients.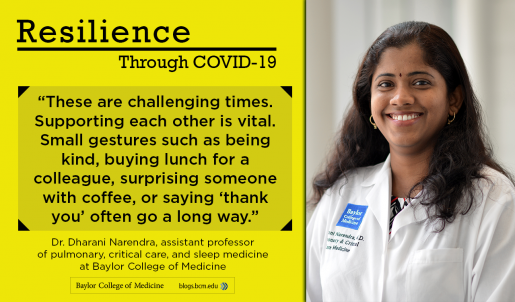 I take a short break for lunch and in the afternoon, call and update families as there is strict visitation policy, do bedside procedures as needed, do evening rounds and end the shift with sign out to my colleagues at 7 pm. Upon arriving home, I shower right away, pray, sit down with my family for dinner and wrap up the day by finishing electronic charting during my pajama time.
Q: How has the pandemic impacted you as a physician?
A: In the beginning, it was challenging and scary that I could get COVID and give it to my family. I would worry about health of my patients, colleagues, my parents in India, and friends who I could not visit.
At times, I couldn't fall asleep at night. It was a tough work-life balance with two teenage boys at home and a physician husband. I felt the social isolation and fear of the unknown. The inpatient critical care need expanded tremendously with every COVID surge, meaning more ICU shifts and started new night shifts. All teaching and meeting became virtual and I missed meeting fellows and other pavilion faculty in person.
As a UME respiratory course director, I had to teach over 180 medical students virtually – this was a challenging and life-changing experience.
Q: How have you and the healthcare team been coping?
A: These are challenging times. Supporting each other is vital. Small gestures such as being kind, buying lunch for a colleague, surprising someone with coffee, or saying 'thank you' often go a long way.
Talking to friends and family often is a big stress reliever. Surprisingly, my teenage boys are handling it better than I could have imagined. Boomerang, my dog, is a miracle healer to our family during these challenging times. I have started online yoga over the weekends from a Philippine instructor and my colleague, Dr. Elizabeth Guy, which got me in good health. Practicing the 'four W's' – washing hands frequently, wearing a mask, watching physical distancing, and worshiping/watching my health helped me immensely.
The healthcare team adapted so quickly to the pandemic, and are true heroes for their selfless service, dedication to patient care. Burnout rates among the critical care staff are at the peak. Adequate time off, sufficient work-life balance, healthy eating habits, and personal care are paramount during this crisis. This a marathon that the healthcare system is facing.
Q: What gives you hope?
A: Trust in medical research, vaccines, excellent house staff, colleagues, Baylor leadership, family, and friends keep me going. I am hopeful that with immunization and adequate measures, we will all be safe and back to pre-COVID life. I am more resilient than ever before.
Q: Is there anything you appreciate more now due to the pandemic?
A: I appreciate the hard work of all the medical and non-medical frontline workers. I also appreciate the restaurants that supplied food during the crisis. I value the new normal, virtual world to provide patient care and meet my family and friends. I am grateful for my former section chief, Dr. Kay Guntupalli, who brought us lunch every day while at work and sometimes dropped off home-cooked food to our fellows and at my home.
I appreciate Baylor and Harris Health's leadership for providing adequate PPE, resources to protect the staff. I am thankful for all my MICU nurses, nursing leadership at Ben Taub hospital, colleagues, residents, and fellows, without whom I couldn't survive the pandemic. Finally, I appreciate my husband and kids' support for allowing me to do things that I am passionate about.

-By Nicole Blanton
See more from the Resilience Through COVID-19 series
Caring for cancer patients during a pandemic