Resilience Through COVID-19: Caring for cancer patients during a pandemic
Dr. Mothaffar Rimawi remembers the exact moment when he realized clinical operations would have to change at the Dan L Duncan Comprehensive Cancer Center due to COVID-19.
"The day the Houston Rodeo was canceled stands out," said Rimawi, who is the executive medical director and associate director of clinical affairs at the Duncan Cancer Center at Baylor College of Medicine. "It dawned on me that things are going to have to be different. I thought, 'it's in our community and it's going to affect everything we do.'"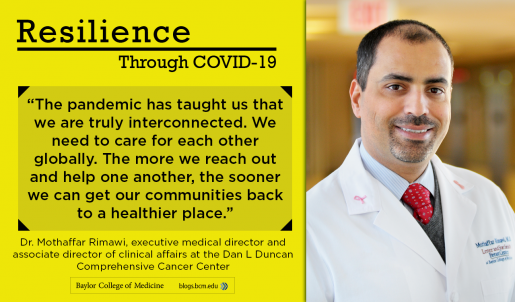 Rimawi started thinking about what's going to happen next. He reached out to experts and stakeholders in the Duncan Cancer Center, and the team started to strategically prioritize patients who needed to continue in-person visits.
"We all knew this wasn't going away by shutting down for two or three weeks. Cancer isn't going to stop during a pandemic. We still needed to see infusion patients, those who are receiving cancer therapy, chemotherapy, or biologics. By canceling or rescheduling appointments for patients who are doing well and don't need to be immediately seen, we were able to take care of those who were more acutely ill."
This shift in approach wasn't limited to the scheduling of appointments. At the affiliate clinics, acrylic glass was installed, social distancing was enforced in waiting rooms, and providers began wearing face shields in addition to masks.
"It's always been a team effort. We have been in close touch with the leadership of Baylor St. Luke's Hospital, we coordinate between our incident command centers and follow the regulations of both institutions."
The number of cancer screenings across the country dropped significantly during the spring of 2020. Diagnosing and treating cancer early during the pandemic remains a priority at the Duncan Cancer Center.
"I'm proud that we've been able to maintain services for cancer patients who need to receive in-person treatment. We did not delay their biologics, which makes a huge difference in their outcomes."
Continuity of care through telehealth
For patients who need ongoing care, but don't necessarily need to be seen in person, the development of telehealth has been an effective resource. In the Duncan Cancer Center, telehealth visits initially started as phone calls, and eventually transitioned to video calls.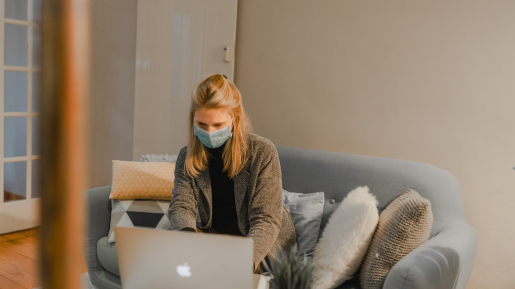 "The IT team and others who helped with telehealth solutions are unsung heroes in this pandemic. There were many people who helped along the way, including those who were able to create surveys and get feedback about how we're doing on telehealth."
Many patients travel from around the country to the Duncan Cancer Center to receive care – for them, Rimawi says telehealth has been a game changer.
"Some of our patients are doing well and just have a few questions to address with their oncologist. Many like the convenience and access to their physicians. Because they can see the doctors on video, they also feel a little bit more reassured about their care."
From a physician's perspective, telehealth visits are opportunities to examine the patient holistically. In cancer care, Rimawi says being able to see the patient on video provides a good starting point for physical examination.
"You can get a glimpse into how the patient is doing by their facial expressions, whether they're grimacing or not, whether they're laughing at the physician's jokes. If they have a symptom, they can point out where they feel the pain, rather than trying to describe it over the phone."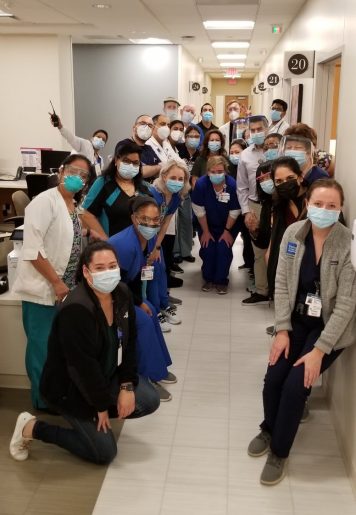 Rimawi, who is a breast oncologist, knows the importance of the connection that's formed between patients and physicians. Through telehealth, the Duncan Cancer Center has been able to maintain the doctor-patient relationship.
"Any long-term cancer survivor who's used to the doctor showing them results of their X-ray, CT scan or mammogram, may feel a little anxious at first about telehealth visits. We call patients and walk them through each step to help them connect for visits."
Importance of vaccination
Cancer patients are at an increased risk for developing COVID-19 – and when they develop it, they are also at an increased risk for severe complications and death. In late January, the Duncan Cancer Center held a COVID-19 vaccination clinic, and the volunteer team of clinical providers and staff vaccinated 630 patients in one day. The team also vaccinated 1,524 cancer and high-risk patients earlier this month.
"The happiness and joy we saw on the faces of patients who received their vaccination was priceless."
"The pandemic has taught us that we are truly interconnected. We need to care for each other globally. The more reach out to help one another, the sooner we can get our communities back to a healthier place."
-By Nicole Blanton
See more from the Resilience Through COVID-19 series