International Women's Day: Interview with Dr. Meagan Pitcher
From the Labs met with Dr. Meagan Pitcher, licensing associate in the Baylor Licensing Group. Pitcher shared her transition from biomedical research to licensing, the nuances of her work and how she keeps in shape.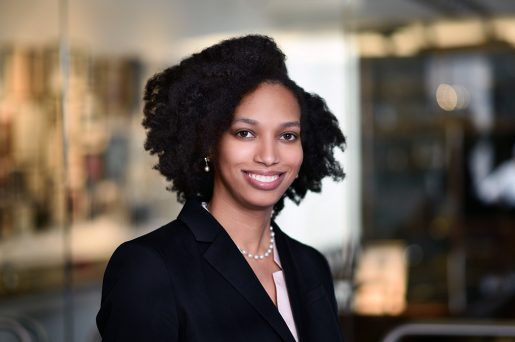 How did your professional journey start?
I grew up in an environment that always fostered learning science and education.
My grandmother had a master's in education at a time when not many women of color did.
I attended public schools in Baton Rouge, La. In high school, I took pre-college programs that set me on a path to study a hard science college career. I spent summers working in university research labs, but I also participated in fun activities like attending football games and concerts.
I went to Texas A&M University for my bachelor's degree in genetics. I spent one summer as an intern in the pharmaceutical company Amgen in San Francisco, and this experience exposed me to what research looks like in an industry setting. At the time, I decided that was what I wanted to do professionally.
After I graduated from college, I worked four years at Lexicon Pharmaceuticals in The Woodlands as a laboratory technician. I realized that without a doctorate degree I had a ceiling in my career development. I came to Baylor to earn my Ph.D. in translational biology and molecular medicine. The plan was to return to the industry with a doctorate under my belt and pursue a scientific career.
During my time at Baylor, I was an intern at Baylor Licensing Group and learned about intellectual property (IP), how Baylor produces it and what it does with it. I became interested in the process through which Baylor partners with companies to get ideas developed in the lab, to eventually reach patients to make the world a better place. Before this internship, I had never heard of this line of work. It became the thing that I wanted to do.
After I completed a postdoc at UT Houston, a position became available at Baylor Licensing Group. I applied and was accepted. I've been doing IP management for the college for about four-and-a-half years now.
Licensing and IP management bridges the transition from the bench to the clinic. My training as a scientist has been a plus because my job involves not only licensing and legal processes, but also understanding basic science behind the IP. It's a perfect combination of things I am interested in.
From an IP management standpoint, the job is about negotiation. We negotiate on Baylor's behalf with a company that is interested in getting access to our IP to derive products from it. Baylor is interested in making sure that IP transfer is conducted appropriately and the college is protected from potential lawsuits. In the negotiations that go on, the main point we all agree on is that we want to move IP from Baylor into the company so the company can develop it into a product. Keeping that in mind, we can negotiate the details. Sometimes agreements don't happen, but for the most part, with a good faith effort we can move forward.
How can institutions and researchers foster the interest in science?
One way to engage students in middle school and high school would be by integrating them into science-related activities, such as science fairs and summer science programs. These programs expose students to the science process and hopefully to scientists that might make a difference to a young mind looking to find what to do with his or her life.
In addition, learning that scientists can work in a variety of roles, not only as laboratory researchers but in other careers like mine, may open options for those who are interested in science but not in a career in academia or industry.
Tell us something few people know about you
Few people know that I practice kick boxing. I am not competitive, I just go to the gym and hit the heavy bags and spar a little bit. During the COVID-19 pandemic, I practice with Zoom and hit the air. It's fun!
Receive From the Labs via email