Inspiring hope for a more equitable future in healthcare
Editor's note: This piece was originally submitted as an entry to the Progress Notes' Diversity Essay Contest.
We have been in the midst of a pandemic that is defined by growing disparities and alarming trends, highlighting the lack of investment in marginalized communities. A pandemic supplemented by social and political unrest that continues to impact our lives.
Healthcare has been no exception to these trends. As information becomes more accessible with advancing reliance on and improvements in technology, these inequities have become more glaring.
It is easy to forget that behind these data trends in healthcare is a growing lack of diversity and investment in human beings. This reality was made tangible to me when I volunteered to offer prosthetic care to those living in Quito, Ecuador in 2019. As I was offered a glimpse into the lives of the patients we served, I began to uncover that many of them had lived with access to prosthetic care for years and, in same cases, their entire lives.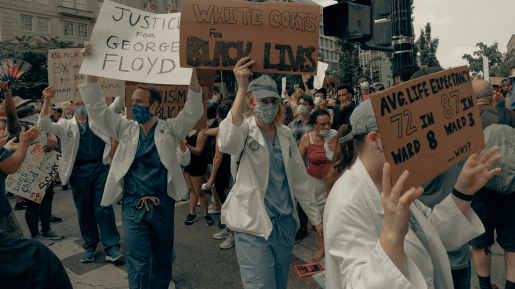 Over the course of ten days, we provided 18 impoverished Ecuadorian amputees with crucial and thorough access to prosthetic care so they could begin to access their full potential. I felt inspired having been a small part in providing these individuals with the care they needed. The ways in which their faces lit up as we presented them with their new prostheses saying, "Esto es tuyo" or "this is yours," is something that will forever be engraved into my memory.
I left Ecuador feeling incredibly inspired. However, at the same time, I felt a profound sense of remorse. I was remorseful that, for most of my life up until this pivotal moment, I had been lacking in my own understanding of the global state of healthcare. I had been lacking a sense of urgency to become a part of the solution dedicated to mitigating these disparities in healthcare.
I continue to navigate these newfound truths, and I find myself craving more diverse experiences. It truly was a pivotal moment in my life that ultimately led me to the opportunity to earn my degree from Baylor College of Medicine, located in one of the most diverse cities in the United States.
I am grateful to be included in an environment that continues to foster my growth and celebrates diversity. One that applies the professional experiences of faculty and colleagues in a collaborative effort to enhance standards of care. It amazes me, for example, that despite the various backgrounds from which we have all come from, we are all collectively devoted to improving the well-being of those around us.
My education has been supplemented by values set in place to cultivate introspection and inspire hope for a better future. A future void of healthcare disparities that know no geographical borders or socioeconomic limits. A future where equal access to healthcare for those who need it is our uniform standard of care.
This is not a radical vision, but rather one that I believe has been desired and sought after for decades. And, as difficult as it may be to see in our current climate of overwhelming surpluses of information and uncertainty, this past year alone has seen urgency demanded by our nation for diverse and equitable standards of life.
For this reason, I am hopeful that I will look back on the past year as a year of life changing progress. Of resiliency and hope. A year pioneered by visionaries demanding a better future –because the health and longevity of those around us depend on it.
-By Karrigan Smith, student in the Orthotics and Prosthetics Program at Baylor College of Medicine