Hispanic Heritage Spotlight: Interview with Dr. Elizabeth Zúňiga-Sánchez
From the Labs sat down with Dr. Elizabeth Zúňiga-Sánchez, assistant professor of ophthalmology at Baylor College of Medicine. Dr. Zúňiga-Sánchez shared what inspired her to become a neuroscientist, her passion for discovery and something few people know about her.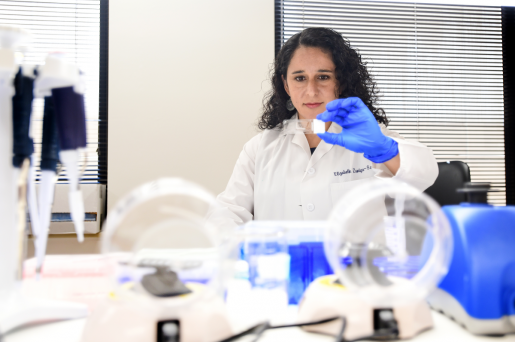 How did the journey that brought you here today start?
I was born and raised in Bakersfield, California. My parents emigrated from Mexico to work as farm workers in the Central Valley. I am the first in my family to go to college and the first to obtain a graduate degree.
I was interested in science since I was a kid, but when I was 15 years old my brother was born, and he inspired my interested in neuroscience. He has Down syndrome. I became very curious about how the brain functions and what caused disabilities, like in the case of my brother.
It was not until I went to college as an undergraduate student at the University of California, Berkeley that I learned what research was and began toying with the idea of becoming a scientist. I realized that doing scientific research could be my job! I could study how the brain works and how neurodevelopmental diseases happen and maybe one day I could generate treatments for them.
What is the main area of research of your lab?
In my lab, we are interested in how different neural circuits form. Neural circuits are groups of neurons that are connected to each other and communicate with one another. We have several neural circuits throughout the entire body.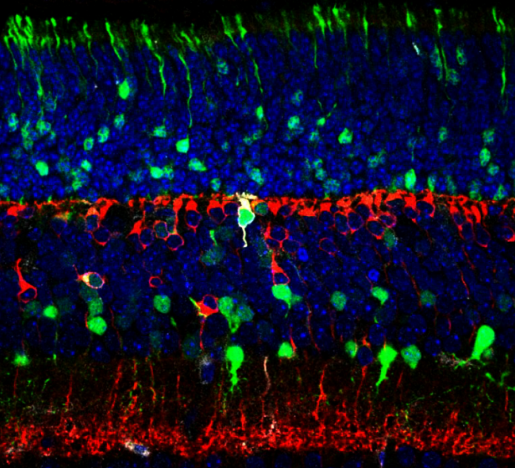 How these neural circuits form during development is still not clear to us scientists. For instance, it is not well known which are the genes and molecules that instruct neurons to come together. This is the type of question my lab is trying to answer using the mouse retina as a model.
We work with the mouse retina for various reasons. One is that it is a simple circuit. We know exactly all the different neurons that form it and when they come together to form a circuit. My lab is trying to identify the molecules that instruct circuits to form properly.
The idea is to take what we learn from our research with the retina and apply it to try to understand how circuits in the brain form. Are they using the same genes and molecules to connect to one another?"
In addition, many of the genes that I have been interested in are linked to neurodevelopmental disorders, such as Down syndrome. So, my interest has taken a 360-degree loop. I study the genes involved in neurodevelopment and in children with Down syndrome, autism and other developmental disorders. By understanding these processes, my lab hopes to develop therapies that possibly restore these circuits.
I am currently very excited about a project on genes we have recently discovered. These genes play a role in the retina but also seem to influence human addiction. It seems that the retina not only helps us to study neurodevelopmental disorders, but also can provide insights into the neural basis of addiction. You would have never thought that the retina could have been useful in that sense!
What can institutions and researchers do to foster interest in scientific careers among Hispanics?
While I was growing up, I had school teachers that prepared science-related activities that ignited my curiosity, but I never saw a research scientist until I went to college.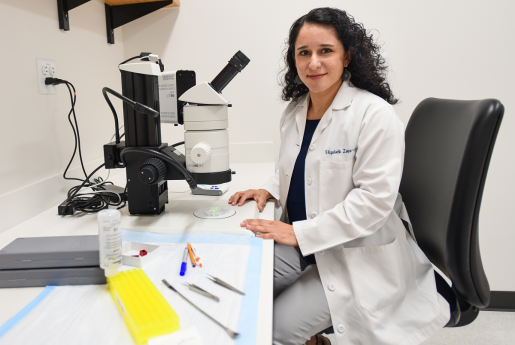 I think that institutions and researchers could reach out to young students, telling them about their jobs or volunteering with scientific activities, for example. This would be a phenomenal way to inform school-age students about scientific careers. Outreach may be an eye-opener for budding scientists who, like me as a child, love science but are unaware that it can be a job.
A kid exposed to science could be inspired to follow a scientific career when he or she realizes that "there is somebody that looks like me, or comes from where I come from, that is doing this amazing work."
Tell us something few people know about you?
As a kid, I always wanted to be a professional figure skater. However, it never gets too cold in the Central Valley so there was no ice rink in my hometown. Instead, I learned how to rollerblade and to this day I really enjoy it!
Receive From the Labs via email