The future of mobile medicine in Houston: SmartPods
COVID-19 has impacted nations around the world – and it is more important than ever to care for communities closer to home.
In partnership with Harris County Precinct 2, Baylor Global Health is utilizing their portable SmartPods™ to offer care to local neighborhoods that not only have limited access to healthcare, but are also impacted by natural disasters.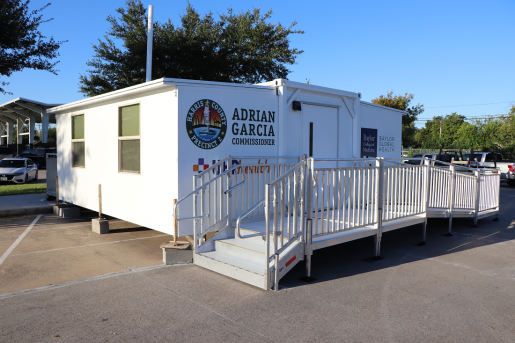 "There are parts of Harris County that need alternative healthcare infrastructure solutions, particularly because of our tendency toward natural disasters like hurricanes," said Dr. Sharmila Anandasabapathy, director of Baylor Global Health and professor at Baylor College of Medicine. "Precinct 2 was an area that needed it, and the commissioner had a vision to make it happen."
In early October, Baylor College of Medicine and Harris County Commissioner Adrian Garcia revealed the nation's first portable and adjustable SmartPod clinic, "Access2Health." COVID-19 testing and care for other health concerns, such as treatments for infectious diseases, routine vaccinations, primary care and women's health, will be offered at the SmartPods.
Developed at Baylor and validated with the help of industrial engineers from NASA, the SmartPods™, Anandasabapathy says, are designed with infection control surfaces and rooms that provide respiratory isolation so that patients can be safely treated for airborne infections like COVID-19 and tuberculosis.
"Our clinics are designed to handle regular community-based care, patients with diabetes, heart disease and those suspected of having diseases like COVID-19," she said. "The negative pressure isolation room is capable of removing air from the room, which allows us to handle the patient safely."
Also designed to be mobile, the SmartPods™ can be transported to areas that are heavily affected by natural disasters like hurricanes or flooding.
First developed by Baylor Global Health to address the Ebola epidemic in West Africa, the purpose of the Access2Health SmartPods™ are to provide community-based care in areas that have limited access to healthcare.
"This is an example of something global going local – we designed this for under-resourced areas in other countries, but we never thought there would be applications here in Harris County," Anandasabapathy said.
So far, there are plans for three SmartPods™ in Harris County. The first is installed at a community center in Aldine, while the others will later arrive in Pasadena and Channelview.
"We started the process of acquiring Access2Health long before COVID-19, so it wasn't a health emergency that was the catalyst. It has been my mission since day one to provide expanded access to care," Garcia said. "We know that this pandemic will end at some point, but lack of access to care will remain. We can use it to increase COVID-19 testing for now, then we can transform it do preventative care."
"BCM historically has had such a strong footprint internationally," Anandasabapathy said. "The SmartPods™ were developed from the soil of our medical school and were designed to help globally.  It's fantastic that it can be used locally as well, because it's an example of our science, research and innovation being implemented for healthcare everywhere."
Learn more about the SmartPod™ and see photos of the Access2Health unveiling in Harris County Precinct 2 below.