Mesothelioma and COVID-19: Don't skip screening and treatment
We are now six months into the COVID-19 pandemic in the United States. In mid-March, a few patients and I debated whether to proceed with surgery for malignant pleural mesothelioma (MPM) or to delay as the 'peak' passed. At that time, we shut down elective procedures, reduced visits to urgent and emergent only, and limited public gatherings. We improved telemedicine and virtual visits and instituted safety protocols in the hospitals.
We did not experience a peak in April or May. We hoped, incorrectly, that our area avoided the extent of the tragedies that occurred in other cities such as New York City. Due to significant risk of progression of MPM as well as other cancers such as lung and esophageal cancer, we continued to operate as necessary during the initial shut down.
Fortunately, we did not delay those operations. This pandemic did not rise and fall in one month. In our city, operating in June would be no safer than April. In July, our community in Houston and in Texas experienced peaks in both the numbers of patients with disease and, importantly, those with critical illness requiring intensive care support. While this timing is specific for Texas, the pattern is not different from much of the United States given that COVID-19 continues to claim thousands of lives.
Most of the patients with MPM we have treated during this crisis have had an established diagnosis. Patients with MPM and lung cancer often are older and have lung disease such as COPD and emphysema. The risk of severe illness with COVID-19 is much greater with this group of patients compared to the general population.
Many of our patients have remained quarantined now for six months. Telemedicine has kept us in contact with our established patients while limiting travel outside of their home. Telemedicine may help our established patients; however, the continued quarantine may prevent patients from seeking care who were not diagnosed prior to the pandemic.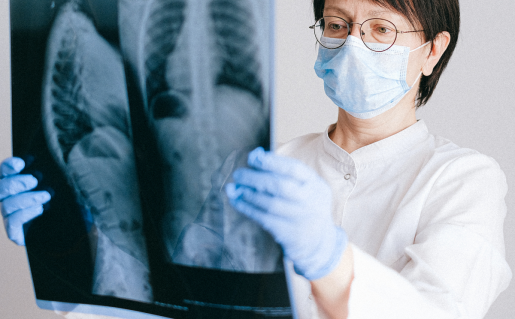 In June, Dr. Norman E. Sharpless, director of the National Cancer Institute, warned that consequences for avoiding screening, diagnosis, and treatment of non-COVID-19 disease will likely result in excessive cancer deaths over the next several years. He predicts that cancers that are missed now at a potentially early stage, will eventually appear and likely be a higher stage.
Anecdotally, we are seeing fewer patients with new diagnoses of MPM who are minimally symptomatic. Many of our patients are symptomatic with shortness of breath and chest pain. We may look back and note that more patients had higher-staged disease during this period. Unfortunately, observing these differences after the fact will not help our patients at this time. So, what can we do now?
Symptoms for MPM and lung cancer are often associated with advanced disease. For patients experiencing increased shortness of breath, chest pain, persistent cough, swelling in extremities, or any other new symptom, I would strongly recommend seeing your physician and not waiting for COVID-19 to pass. Seeking care for screening and diagnosis is as important as ever.
Significant progression of MPM often occurs over six months. While clinics have improved safety protocols, patients can reduce risk by wearing a mask, washing hands, and distancing of at least six feet when visiting their physicians. Ignoring symptoms and avoiding screening is not a safety protocol.
We remain committed to caring for all patients. Please reach out to your physician with any new symptoms.
-By Dr. R. Taylor Ripley, director of the Mesothelioma Treatment Center, co-director of the Thoracic Oncology Working Group at the Dan L Duncan Comprehensive Cancer Center and associate professor of General Thoracic Surgery at Baylor College of Medicine