Living with, through and beyond colorectal cancer
I came to Baylor College of Medicine in 2005 and worked diligently in a cancer research lab, a job I was passionate about. However, it was not until 2012 when I was diagnosed with colorectal cancer that I truly understood what the word "cancer" actually meant to those facing the disease I was tasked with trying to help cure.
When I was diagnosed, I had no idea it was even remotely possible for someone my age to develop colorectal cancer, but obviously I was completely misinformed. At age 32, I was faced with the biggest challenge of my life and the best way I knew how to deal with it was by welcoming the support of my family, friends, and coworkers.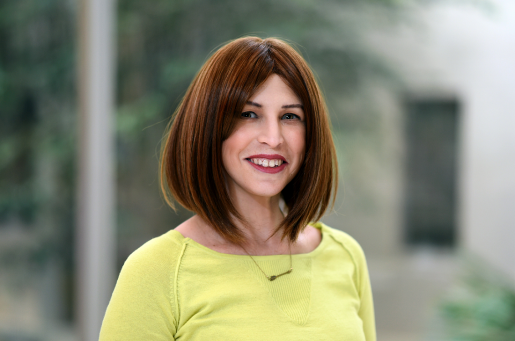 Working in the cancer field, my fellow research personnel understood better than I, and their love and emotional support was incredible. I had a long, arduous treatment plan that included chemotherapy, radiation, and multiple surgeries ahead of me. I knew I had to face all that, one day at a time.
The uncertainty of life or death didn't actually sink in until I was told I was cancer free in September 2013. I celebrated the small victories throughout my journey, but could never forget the scars, the procedures, and the various transformations that cancer produced.
Some might assume that when my cancer journey ended, I was100% healthy and could go back to the life I had before the diagnosis. But they were sorely mistaken, because that was when my life beyond cancer and my survivorship road began.
My treatments left me with osteoporosis, chemobrain, and kidney issues. I experienced hair loss and other body image issues. I was now post-menopausal and left infertile. All of this at the age of 33 as a result of colorectal cancer treatment. I struggled to figure out my new path in life and how to adjust to these changes. I dealt with all of this the best way I knew how, to dive headfirst into volunteering for a cause I now cared deeply about – cancer.
I found out about the world of cancer advocacy. I desperately wanted to learn, connect with others, and make a difference. Through this volunteer work, right under my nose, I found out that the very place I had worked for 12 years had an office down the hall from my lab that would soon become my new home.
I had a meeting with Dr. Kent Osborne, director of the Dan L Duncan Comprehensive Cancer Center, about a colon cancer 5K called Get Your Rear in Gear-Houston that I had become heavily involved in. He told me about the Office of Outreach and Health Disparities, and the amazing work they were doing in cancer outreach and education.
Fast forward a few months, and I had interviewed and accepted a new job with the office that seemed to be my destiny; so much so that it seemed like a dream. Everything I was doing outside of work was now going to be my actual day job. I got to use my personal story and experience as a survivor to help others understand the importance of cancer screening and early detection.
My work is primarily centered on populations that need us the most, the underserved and uninsured. There are barriers these groups face and I was determined to do my part to educate and motivate. I had never shown anyone publicly a picture of me bald during my cancer treatment until I started this job. As a survivor, my perspective is different than my colleagues. The journey I went through motivates me every day to help prevent others from having to endure the same struggles I faced.
Our work is always important, but in the present time, it seems even more essential. There is a fundamental fear people within the community have that is leading them to avoid going to the doctor. I will raise my voice as loud as necessary to help the community understand that they cannot let that fear outweigh the need to protect and maintain health and wellness.
If something seems wrong, please seek medical attention and go to the doctor. If you are due for cancer screening, do not delay. If I had waited six more months to get screened, I do not know if I would be here today writing this.
I can wholeheartedly say that today, despite all the long-term side effects, I am living life to the fullest extent possible. I can proclaim that I have proudly lived with, through and now beyond cancer, with a lifelong goal of helping others do the same.
Additional Resources
Learn more about colorectal cancer.
Register for a free webinar on colorectal cancer screening options during COVID-19.
-By Allison Rosen, lead project coordinator with the Office of Outreach and Health Disparities in the Dan L Duncan Comprehensive Cancer Center at Baylor College of Medicine