Healthy Habits: Aerobic exercise, frequent stretching help Dr. Annette Li stay active
It can sometimes be difficult to find ways to stay healthy, so we've asked members of our Baylor College of Medicine community to share what they do in their daily lives to maintain a healthy lifestyle.
Dr. Annette Li, assistant professor of family and community medicine at Baylor, shares some of her healthy habits with us.
Q: What health decisions start your day?
A: I always try to leave some time in the morning to think about my day and plan it out. I like to also squeeze in a bite before I head off to work so I don't get hungry by mid-morning or lunchtime.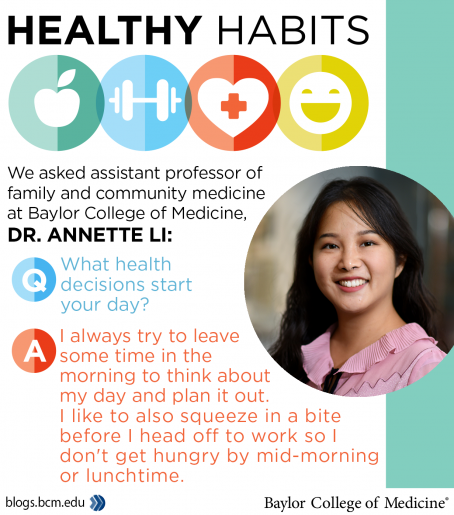 Q: What is your go-to healthy breakfast?
A: I really like any type of yogurt, but mostly Greek yogurt. I recently visited Israel and mixed some date honey with Greek yogurt, tahini, chia, and sesame seeds. It was delicious!
Q: What is your favorite type of exercise?
A: I like aerobic exercises, whether that means biking, running or getting in a good dance work out.
Q: What keeps you motivated during your workout?
A: Good music.
Q: What activities do you do when you can't fit in a full workout?
A: I always make sure I get some cardio and stretching in. I find stretching really opens up my joints and helps me relax.
Q: What is your favorite healthful snack?
A: Probably some type of fruit like durian!
Q: Do you take vitamins and if so, which ones?
A: I do take vitamins every day, and I usually take them with fish oil.
Q: How do you make an unhealthy recipe healthy (healthy substitutions)?
A: I usually use less salt, sugar, and butter than is usually requested. I like to substitute liquid oils for butter.
Q: What is your nighttime skin regimen?
A: Honestly, my nighttime skin regimen is pretty simple. I use water and a cleanser every once in a while. I believe the most important ingredients for healthy skin are good sleep and a healthy diet and exercise.
Q: What hobbies do you have to help you relax?
A: I like to listen to music, podcasts, read a good book, and spend time with family.
Q: What is your go-to Houston restaurant for a healthy meal?
A: I like to go to Chinatown and check out what's new there.
Q: Do you use an activity tracker or Fitbit and what is your daily step goal?
A: Not formally, but I do like to check out my heart rate on my iPhone after I work out to see how I did.
Q: What is your favorite health tip that you live by?
A: I always try to maintain a positive attitude and appreciate the little things in life!
Additional Resources
Dr. Nancy Eriksen enjoys CrossFit, limits processed food intake
Core exercises, whole grain substitutions help Dr. Kanta Velamuri stay on track
Read more healthy habits from members of our community.
Learn how Baylor promotes a culture of healthy living and wellness.