Healthy Habits: Dr. Krishna Shah enjoys weightlifting, basketball to stay active
It can sometimes be difficult to find ways to stay healthy, so we've asked members of our Baylor College of Medicine community to share what they do in their daily lives to maintain a healthy lifestyle.
Dr. Krishna Shah, assistant professor with the Department of Anesthesiology at Baylor, shares some of his healthy habits with us.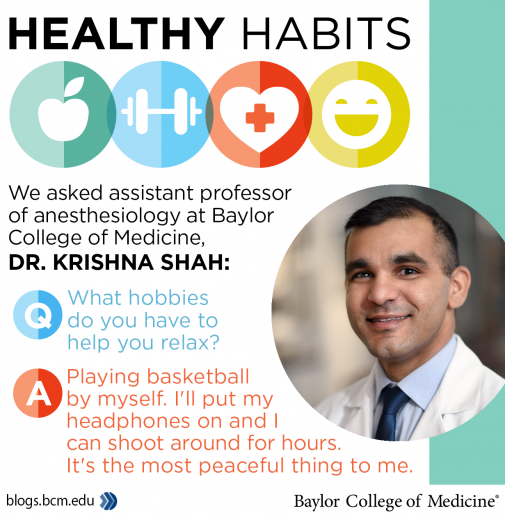 Q: What health decisions start your day?
A: Eating a healthy breakfast.
Q: What is your go-to healthy breakfast?
A: On a work day, I like to have something quick – oatmeal, avocado toast, or a banana. On a day off, I love eating egg whites with wheat toast.
Q: What is your favorite type of exercise?
A: Playing basketball! Otherwise, I love running and lifting weights.
Q: What keeps you motivated during your workout?
A: The thought of being healthy in 20 years.
Q: What activities do you do when you can't fit in a full workout?
A: I'll do push-ups and planks at home.
Q: What is your favorite healthful snack?
A: Mandarin oranges or hummus with veggies!
Q: Do you take vitamins and if so, which ones?
A: Yes! I take a multi-vitamin.
Q: How do you make an unhealthy recipe healthy?
A: I leave out rice, bread, and any carbs that aren't necessary.
Q: What hobbies do you have to help you relax?
A: Playing basketball by myself. I'll put my headphones on and I can shoot around for hours. It's the most peaceful thing to me.
Q: What is your go-to Houston restaurant for a healthy meal?
A: Kata Robata! It's our favorite sushi restaurant.
Q: Do you use an activity tracker or Fitbit and what is your daily step goal?
A: Yes, I have an Apple Watch. My daily goal is 10,000 steps.
Q: What is your favorite health tip that you live by?
A: Be positive and happy. I remind myself to eat healthy, but I don't deprive myself of the simple pleasures in life, like chocolate cake as long as I eat it in moderation. And most importantly, exercise!
Additional Resources
Meal prep, evening walks help Brittany Lostak stay fit
Emily Monfiletto enjoys elliptical workouts, low-fat meal substitutions
Read more healthy habits from members of our community.
Learn how Baylor promotes a culture of healthy living and wellness.