Managing anxiety in children with autism
If you're a parent or caretaker, the COVID-19 pandemic has likely forced your child's school to close indefinitely. While remote learning can be a challenge for everyone, Dr. Eric Storch says families of children with autism spectrum disorder (ASD) may experience unique challenges.
"Reduced access to beneficial resources, the dramatic change in structure and scheduling, and the overall stress of the situation can cause anxiety in children with ASD, as well as those without," said Storch, who is a psychologist at Baylor College of Medicine. "Particularly, the lack of social contact makes practicing social interactional skills problematic. Fortunately, there are ways to mitigate this with technology."
Storch says it may be beneficial for kids to participate in video meetings with a peer where they can engage in a preferred activity or interact.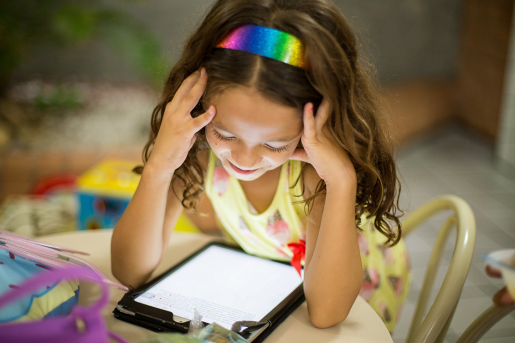 "Video communication can often be successfully used by someone with ASD because the social demands such as maintaining eye contact may be reduced relative to in-person interactions."
Group video sessions with other children and parents can also be helpful. These provide an opportunity for practicing social interaction while also giving parents some respite.
Managing anxiety and treatment
Storch offers these tips to help alleviate anxiety in children with ASD:
Set up a schedule and clearly outline what the day is going to look like. Set up times for schoolwork, breaks, meals, snacks and recreation.
Pair the schedule with a reward system where you are rewarding engagement and healthy behaviors.
Provide support as you would for any child – and do it with confidence and optimism.
There are a number of studies that provide remote treatment for anxiety in children on the autism spectrum through the Baylor Psychiatry Department and the Autism Center at Texas Children's Hospital.
"Be sure to reach out to trusted professionals for help and support. Many treatments, such as cognitive-behavioral therapy, can now be successfully implemented  via telehealth."
Find a silver lining
The onslaught of news surrounding coronavirus can be overwhelming. Storch says it's important to keep things in perspective as you manage your family's new routine.
"Give yourself a break. We have a tendency to think in a black and white fashion – meaning, if we're not doing it "perfectly" we're doing it "horribly," which is almost always not the case. While this is a difficult time, it can helpful to try to find meaning in the whole situation."
Storch also encourages parents to be flexible in trying out new things.
"Many parents may not believe that this way of learning is adequate or sufficient for their child's needs – while you may not necessarily be happy with it, try to appreciate the flexibility to do something differently and the opportunity to spend valuable time together. There will be growth out of this time, we will learn lessons, and be more prepared for future challenges."
Dr. Storch is a professor and McIngvale Presidential Endowed Chair in the Menninger Department of Psychiatry and Behavioral Sciences.
Additional Resources
Learn more about autism clinical trials at Baylor.
See services at the Autism Center at Texas Children's Hospital.
View more community resources for COVID-19.
-By Nicole Blanton