Pediatric plastic surgeon helps patients thrive through literature
When Dr. Edward Buchanan realized he had a message to share with his patients that was beyond the scope of his medical consultations, he decided to get creative.
Buchanan is the chief of plastic surgery at Texas Children's Hospital, and the director of the Cleft Lip and Palate Clinic, which sees children with congenital malformations. Buchanan says families had expressed concerns about how their children were going to handle social situations.
"As you can imagine, this is a very personal topic and a tough conversation to have with a child," he said. "It's also one that you don't want to rush. Our clinic is extremely busy, and there is so much information to discuss at any given appointment, there just isn't time to thoroughly discuss these sensitive issues."
Buchanan felt strongly that it was important to give his patients tools to help them, not just with physical healing, but also with the mental challenges of dealing with facial differences — or any other difference that a child sees when they compare their looks to someone else.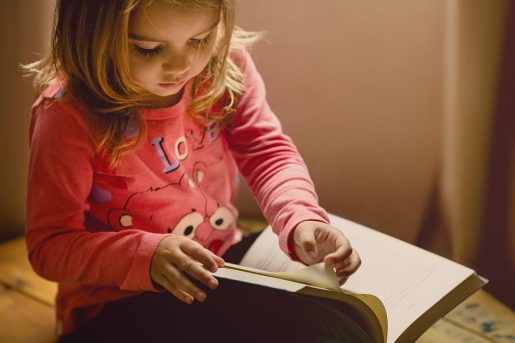 "It's tricky trying to convey complex psychological life tools to children. How do you tap into the psyche of a child? How do you put an idea or an image in there that will last, that they can use repeatedly, and will be useful for them as they navigate life?"
After some time pondering these questions, Buchanan came up with the idea for writing a children's book with characters that his patients could identify with and the family could read together. "It needed to be a fun and engaging story but it also needed to relay an underlying message."
The first book Buchanan wrote and published was titled "The Adventures of Prickly Pear and the Happy Hoglet." The book tackles a universal question: How does one interpret life and life circumstances?
"When things happen in life, you can either view them positively or negatively. We have all met people who have tendencies to lean one way or the other. What we tried to do in the book is reveal this human tendency and allow the reader to recognize its existence and begin to start looking at situations in different ways."
The second book that Buchanan authored is called "Pit Bully," and it aims to help kids gain awareness, perspective, and internal strategies for dealing with bullying in a way that empowers and strengthens their inner self.
"The reason we give out these books in our clinic is so that children can take them books home and read them over and over again. This engages their parents and facilitates a healthy dialogue within the family."
As a working father himself, Buchanan knows the importance of maximizing time with kids by engaging in activities that are educational and meaningful.
"Many people don't become interested in emotional intelligence and internal success until their early 20s. There are wonderful books about how to turn problems into opportunities, but by that time, our neural pathways are already hardwired. The goal of these books is to create the potential for a different experience for the individual from a young age."
So far, three books, including "The Tale of Fenny Fox," have been published and one more is slated for publishing in mid-2020. Buchanan's brother is the illustrator. The next set of books will focus on the virtues outlined by the Roman philosopher, Marcus Aurelius, as well as the three theological virtues—faith, hope, and charity.
The success of the books has sparked an online community called "The Mental Ninja." The website includes a space for kids to write and share their own story of facing and overcoming challenges, i.e. becoming a "mental ninja."
It also provides structured, well-researched, comprehensive, and accessible content on relevant topics including self-image, self-management, and social awareness.
"The idea is to give kids a place to learn and grow, exercise their voice, share their stories and insight, and learn how they are able to inspire others."
Dr. Buchanan is an associate professor and chief of pediatric plastic surgery at Baylor College of Medicine. He also holds the Melvin Spira Endowed Professorship in Plastic Surgery at Texas Children's Hospital, where he is also chief of the Division of Plastic Surgery.
-By Debbie Sugarbaker, editor in the Michael E. DeBakey Department of Surgery at Baylor College of Medicine