Doctors team up with students to improve cervical cancer treatment
For women with advanced cases of cervical cancer, radiation therapy is generally the only curative treatment. The treatment of cervical cancer is unique, in that, brachytherapy, a form of radiation treatment where radioactive isotopes are placed within or near tumors, is a necessary  component.
Dr. Michelle Ludwig, a radiation oncologist at the Dan L Duncan Comprehensive Cancer Center at Baylor College of Medicine, and Dr. Alexander Hanania, fourth-year resident physician in radiation oncology at Baylor, both see patients at Harris Health System's Attwell Radiation Therapy Center at Smith Clinic. They are researching a way to make brachytherapy more efficient and less toxic for patients with cervical cancer.
"Cervical cancer is a disease more common in medically underserved patients who have less access to screening and vaccination," Ludwig said. "We are excited to work to bring access to personalized medicine in the form of a customizable device to the medically underserved patients in Harris County, as we have one of the highest volume centers in the country for this patient population."
Reserved solely for the most technical and challenging of cases, a procedure called interstitial brachytherapy allows doctors to deliver higher doses of radiation internally and directly to the tumor.
"Interstitial brachytherapy is generally only needed for patients with large advanced tumors, or when there is another reason such as anatomical challenges or disease recurrence," Hanania said. "In certain areas where we treat the uninsured population, more often than not, we're seeing locally advanced disease, which often requires interstitial brachytherapy."
Historically, the procedure involves suturing a grid template to the body, then inserting a series of needles through the template holes and into the tissue involved with and surrounding the tumor. Radioactive isotopes are run through the needles to deliver the radiation and kill the tumor.
The procedure is highly effective in controlling and often curing cervical cancer that has not spread to other parts of the body, but it can also be damaging to the tissues and organs surrounding the cervix. According to Hanania, new devices on the market allow for more precise treatment but most are too expensive for most hospitals.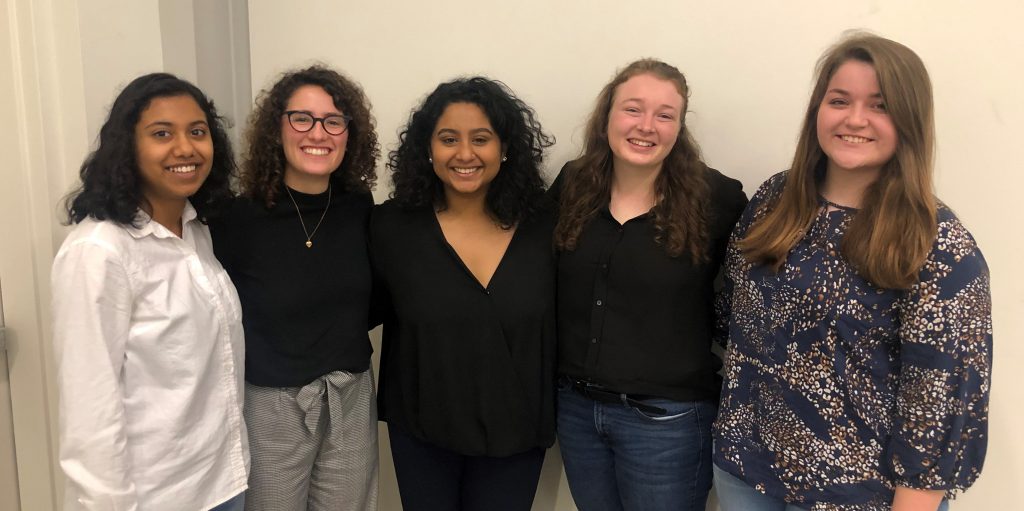 Finding a solution
Last fall, Hanania visited Rice University with the hopes of finding an affordable solution. He presented the problem at an engineering design fair where students met with potential collaborators in a variety of industries. He met a group of five undergraduate students — seniors Elisa Arango, Susannah Dittmar, Krithika Kumar and Sanika Rane and junior Lauren Payne — all interested in addressing a global health issue.
"We know that the women affected by cervical cancer have  less access to healthcare," Dittmar said. "These women shouldn't have to go through this painful, extensive treatment just because of their financial situation. We wanted to find a way to make the procedure better."
The group, which calls themselves "Team At Your Cervix," got to work designing a new obturator that could be built with a 3D printer at Rice's Oshmann Engineering Design Kitchen. After months of research and collaboration with Ludwig and Hanania, they now have a prototype called the Universally Friendly Obturator, or UFO.
"Our goal was to reduce the number of transcutaneous needles," Dittmar said. "The way we're going to do that is by bringing them into the obturator so they're going through the vaginal canal and not through the tissue."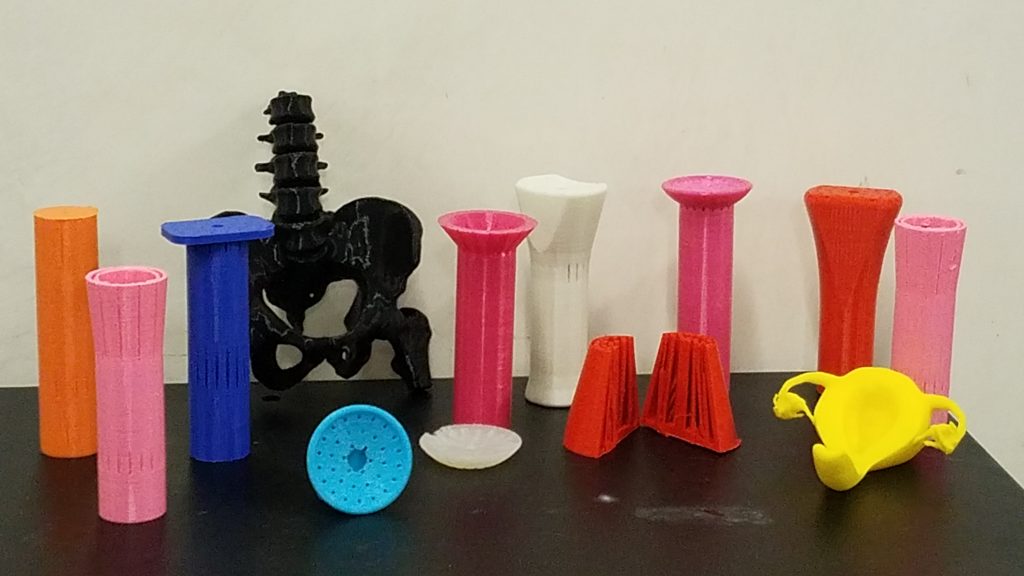 The UFO is also wider than a traditional obturator and has a flexible head so the needles can better reach the cervix without disturbing the surrounding tissue.
"Our goal was for it to be 3D printed so it can be an open sourced file," Payne said. "Because we're a global health project, it has to be low cost. The idea is that anyone in the world can access the file and print it."
In the coming months, the group will continue to develop and test new prototypes. They have designed simulations to see how the device would hold up in a real procedure
"I think this device could decrease the morbidity of the implant. If it's effective, it will not only shorten the amount of time that we're in the operating room, it will also decrease the amount of trauma to the body," Hanania said. "Every needle you put in increases the risk of trauma to other nearby parts of the body. This device would work with existing technology to make the therapy more targeted, and therefore less toxic."
The group will present their final prototype at the Rice Engineering Design Showcase at Tudor Fieldhouse on Thursday, April 16. After graduation, the team hopes another group of seniors will continue their work.
"Dr. Hanania and Dr. Ludwig came to us with an actual problem that they face," said Rane, who will be attending Baylor's School of Medicine in the fall. "Our prototype can have an immense effect here in Houston and across the globe."
-By Molly Chiu