Healthy Habits: Meal planning, avoiding processed foods help Dr. Lydia Sharp stay fit
It can sometimes be difficult to find ways to stay healthy, so we've asked members of our Baylor College of Medicine community to share what they do in their daily lives to maintain a healthy lifestyle.
Dr. Lydia Sharp, assistant professor of neurology at Baylor, shares some of her healthy habits with us.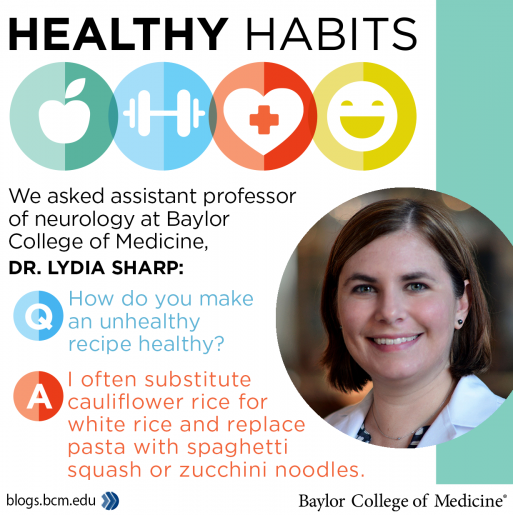 Q: What health decisions start your day?
A: I plan my meals the day before or the morning of, and I only eat what I have planned. Making this decision ahead of time helps me resist any temptations. This is such a simple but powerful tool to stay on track.
Q: What is your favorite healthful snack?
A: A handful of nuts is satisfying and filling.
Q: What do you include in your child's lunch?
A: My kids love fruit, pumpkin seeds, and yogurt.
Q: How do you make an unhealthy recipe healthy?
A: I often substitute cauliflower rice for white rice and replace pasta with spaghetti squash or zucchini noodles.
Q: What hobbies do you have to help you relax?
A: I enjoy gardening, reading, and crafts (mostly quilting, but I also love to make soap.)
Q: What is your go-to Houston restaurant for a healthy meal?|
A: My entire family loves Bellagreen.
Q: Do you use an activity tracker or Fitbit and what is your daily step goal?
A: Yes, I love my Fitbit. My goal is always 10,000 steps per day.
Q: What is your favorite health tip that you live by?
A: I try to eat mostly plants and avoid added sugar and processed foods.
Additional Resources
Dr. Amy Schutt enjoys homemade smoothies, well-balanced workouts
Adequate rest, daily walks help Dr. Ronald Maag stay on track
Read more healthy habits from members of our community.
Learn how Baylor promotes a culture of healthy living and wellness.