Congratulations Dr. Peggy Goodell, Baylor's new member of the National Academy of Medicine!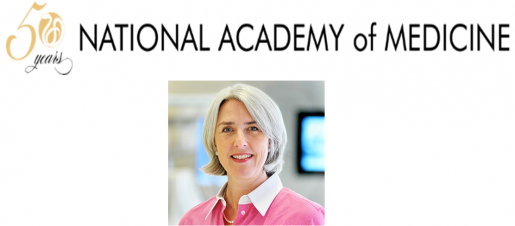 Dr. Margaret "Peggy" Goodell, chair of the Department of Molecular and Cellular Biology at Baylor College of Medicine, has been elected to the National Academy of Medicine. She is among 100 new members, including 10 international members, announced today at the Academy's annual meeting in Washington, D.C.
"Dr. Goodell's long career in regenerative medicine proves she is well-deserving of this distinction," said Dr. Paul Klotman, president, CEO and executive dean of Baylor. "She is a renowned scientist who has made important contributions to the field of stem cell biology, particularly genetic and epigenetic regulation of self-renewal and differentiation of hematopoietic stem cells."
Goodell is known for discovering a novel method to isolate adult stem cells. At Baylor, she serves as a professor in several departments, including pediatrics – hematology-oncology and molecular and human genetics and in the Center for Cell and Gene Therapy, as well as programs in integrative molecular and biomedical sciences, development biology and translational biology and molecular medicine. She is the director of the Stem Cells and Regenerative Medicine Center at Baylor and holds the Vivian L. Smith Chair in Regenerative Medicine. She is co-leader of the Cancer Cell and Gene Therapy Program in the Dan L Duncan Comprehensive Cancer Center at Baylor.
"I am extremely honored by election to the National Academy of Medicine. This distinction represents recognition of my work, as well as the contributions of the many members of my laboratory who have worked with me over the past 20 years," Goodell said. "I am looking forward to the opportunity to contribute to the NAM on relevant national science and medicine issues."
Election to the National Academy of Medicine is considered one of the highest honors in the fields of health and medicine and recognizes individuals who have demonstrated outstanding professional achievement and commitment to service. New members are elected by current members through a process that recognizes individuals who have made major contributions to the advancement of the medical sciences, health care and public health.
Goodell joins the following group of 13 distinguished scientists from Baylor College of Medicine in the National Academy of Medicine:
Dr. Arthur L. Beaudet
Dr. Dennis M. Bier
Dr. Malcolm K. Brenner
Dr. William R. Brinkley
Dr. C. Thomas Caskey
Dr. Mary K. Estes
Dr. Richard A. Gibbs
Dr. Peter J. Hotez
Dr. Brendan Lee
Dr. James R. Lupski
Dr. Bert W. O'Malley
Dr. Cheryl Lyn Walker
Dr. Huda Y. Zoghbi
Receive From the Labs via email