Healthy Habits: Evening walks, low-sodium snacks help Dr. Priya Davar stay on track
It can sometimes be difficult to find ways to stay healthy, so we've asked members of our Baylor College of Medicine community to share what they do in their daily lives to maintain a healthy lifestyle.
Dr. Priya Davar, assistant professor of family and community medicine at Baylor, shares some of her healthy habits with us.
Q: What is your go-to healthy breakfast?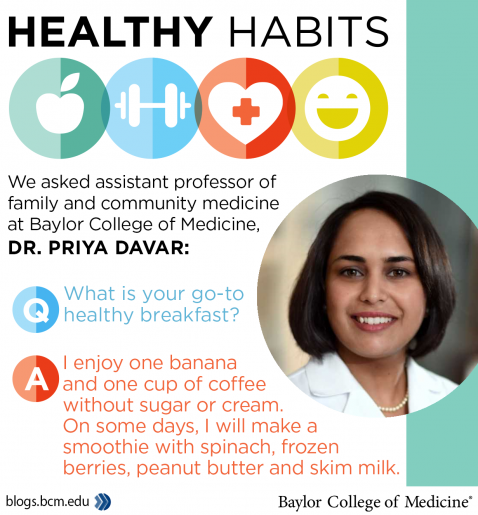 A: I enjoy one banana and one cup of coffee without added sugar or cream. On some days, I will make a smoothie with spinach, frozen berries, peanut butter and skim milk.
Q: What is your favorite type of exercise?
A:  I like team sports! In fact, I play on a co-ed recreational soccer team.
Q: What keeps you motivated during your workout?
A: I enjoy working out with other people and listening to music.
Q: What activities do you do when you can't fit in a full workout?
A: I will often go for walks during the evening time.
Q: What is your favorite healthful snack?
A: Low-sodium, no-fat popcorn.
Q: Do you take vitamins and if so, which ones?
A: I take a multivitamin, fish oil, B12 and vitamin D.
Q: How do you make an unhealthy recipe healthy?
A: I use vegetable-based or chickpea-based pasta instead of grain-based pasta. I also include a higher percentage of vegetables and protein, and a smaller percentage of carbs. I always favor olive oil over canola oil and use more spices and less salt. Sauteing or baking is preferred over frying and I don't eat red meat.
Q: What is your favorite health tip that you live by?
A: Drink more water!
Additional Resources
Ann McMeans enjoys gardening, yoga and high-fiber breakfasts
Strength training, nutritious substitutions key for Jennifer Cleveland
Read more healthy habits from members of our community.
Learn how Baylor promotes a culture of healthy living and wellness.