Growing Up Baylor: Stephanie DeSandro
Imagine studying, training and eventually working at the same institution during the span of your career. A special group of physicians, faculty members, researchers and staff at Baylor College of Medicine have had this unique experience.
Stephanie DeSandro, assistant professor in the Physician Assistant Program at Baylor, tells us how training and working at Baylor has impacted her life and career.
Q: Did you always know you wanted to study medicine?
A: Not always. I found myself interested in several different areas. I initially wanted to be an artist but then found the architectural field to be fascinating, as well as archeology.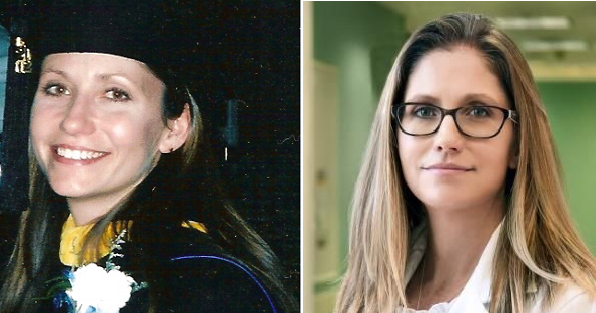 When I reflect on my childhood, I had a passion for pets and stray animals, especially those that were injured. This compassion didn't stop with pets. I would be the first to help my friends when they were injured and I didn't shy away from the skinned up, bloody knees. In high school, I excelled in both science and math. With my caring nature, strong stomach, and love for science, medicine seemed like the perfect fit for me.
Q: Where and when did your journey with Baylor College of Medicine start?
A: I had no idea about the physician assistant (PA) profession in college. Medical school seemed like the only choice for fulfilling my goals as a clinician. However, I had a friend who was accepted into a PA program and after in-depth discussions, I realized that the PA profession was exactly what I wanted. I would obtain the necessary knowledge and skills to care for patients, have the ability to change specialty areas easily, and have a good salary all in a relatively short amount of time.
I wanted to be in a nationally ranked program and Baylor was ranked third in the nation. It had a rigorous curriculum that would provide me with the foundation necessary to care for patients. Nineteen years later, I feel blessed that my interviewers saw something in me worthy of a PA degree.
Q: What inspired you to continue studying at Baylor?
A: After graduating from the PA program, I started working in emergency medicine.  After five or six years, I began to re-evaluate my life and I wanted to serve in other ways and give back to the profession. It was perfect timing because a faculty position became available in the PA Program at Baylor. Eleven years later, I feel blessed the program saw something in me and trusted me to educate the next generation of PAs. 
Q: What is the most valuable lesson you've learned?
A: Working as a team not only in medicine but in education is absolutely necessary. New ideas, supporting each other, effective communication, and similar goals help provide for better patient care as well as foster student learning.
Q: Knowing what you know now, what would you tell your younger self?
A: Don't sweat the small stuff. Things will always get done but sometimes not on the timeline you would like.
Q: What do you think makes the PA Program at Baylor unique?
A: The number of students accepted, the caliber of students accepted, and the diverse faculty.  Smaller class size allows for more one-on-one instruction and advising in order to provide support, encouragement and reassurance. We also have a family-like atmosphere and students are attracted to that. Our faculty members are seasoned, dedicated and completely invested in student success.
Q: Do you have advice for current PA trainees?
A: Work hard, take breaks, and remember that it is all about patient care.
Q: How has sticking with Baylor programs and ultimately becoming a faculty member impacted your life and career?
A: The PA Program at Baylor challenged me in areas beyond my comfort zone. I am more than I thought I could ever be because of the opportunities Baylor has given me. I am now an educator, researcher, leader, supporting faculty member, and compassionate clinician. 
Q: Do you have a mantra? If so, what is it?
A: True success comes from learning. And, as a dear friend says, "Excellence does not require perfection!"
Additional Resources
Read more from the Growing Up Baylor series.
Learn more about the Physician Assistant Program at Baylor.